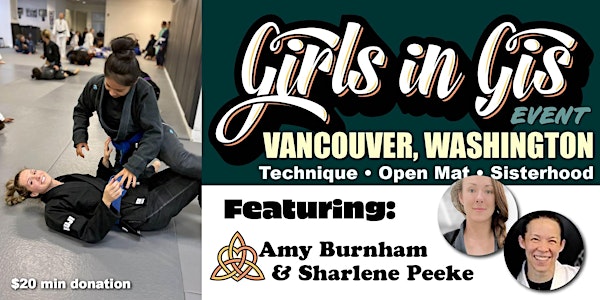 Girls in Gis Washington-Vancouver Event
A Brazilian Jiu Jitsu event for women and girls taught by some of the best women in the sport. No experience required.
When and where
Location
The Base Vancouver 4707 NE Minnehaha St. Suite #103 Vancouver, WA 98661
About this event
Are you ready for some great Jiu Jitsu? because we are!
Girls in Gis is a community of women and girls in Brazilian Jiu-Jitsu that come together through donation based training events which are hosted, instructed, and attended only by women and girls. It's our time to come together and take over the mats! Women and girls of all ages and skill levels are welcome to attend from any academy affiliation. We welcome beginners and don't require any experience. Our events are designed for 100% participation. However, we do allow parents or chaperone to accompany underage participants as spectators.
Our events are donation based in order to provide equal opportunity to everyone. Your donations provide paid teaching opportunities for our guest instructor(s) and help to expand and make Girls in Gis programs such as our events, our leadership program and instructional training programs and our scholarships possible. If you are not able to make a donation please contact us and we will work with you so that you are able to participate.
You can also purchase a GIG t-shirt, patches and more GIG merchandise with your donation. All orders can be picked up during the event.  
GIG Washington-Vancouver Guest instructors: Amy Burnham & Sharlene Peeke
Sharlene Peeke is a brown belt and the women's instructor at the base in Vancouver. She has been training jiujitsu since 2009 and got introduced to it at a Muay Thai gym in San Francisco. She says that she is by far almost always the smallest female in class and only did a few competitions as a white belt and stopped after tearing her ACL against a much bigger opponent in 2009 before there were rooster weight divisions. Sharlene moved to quite a few gyms in the bay and made lots of great female friends that she is still in touch with to this day and trained under Carlos Sapao til 2016 in the bay area where she earned her blue and purple belts before moving to Portland in 2016.
Sharlene began training at Portland judo/PDX BJJ and earned her jiujitsu brown belt from Andy Hung, And her San-kyu 3rd degree Judo brown belt under Roy Kawaji before the school closed down. She then moved to training at The Base Vancouver where she earned her first degree on her brown belt. Sharlene is a jiujitsu enthusiast and a fulltime RN. She has found jiu jitsu to be a great stress reliever in her life and she loves how the women's community has grown. At age 47 Sharlene believes that as a smaller (I'm 4'11 and 102lbs) and older practitioner this will bring some value to helping others who are smaller or older and aren't sure when they start. According to Sharlene "Its always great for all of us to see what can be done and not the obstacles."
Amy Burnham is a 34 year old Brown Belt who trains out of The Base Vancouver under Professor Christopher Dealy. Her and her husband own and operate The Base Longview. She is a wife, and mother to three boys ages 9,11, and 14 who also train Brazilian Jiu Jitsu. As well as being a gym owner and instructor, she is also a licensed massage therapist who specializes in athletic injuries.
Amy's jiu jitsu journey began in 2017 when recently separated, her brother offered to pay for a one year membership to BJJ as a way to heal. As a bonus she found love and a soulmate in her partner Ryan Hart who is also a BJJ brown belt. She began her journey at 10th Planet Portland where she received her blue belt in 2018 before transferring to The Base Vancouver to train both Gi and No Gi. Amy has competed at multiple local tournaments in every belt level to brown, as well as on several super fight shows including Submission Underground. She enjoys a mix of sport style as well as old school grit jiu jitsu.
COST: $20 Min Donation. All Donations Welcome.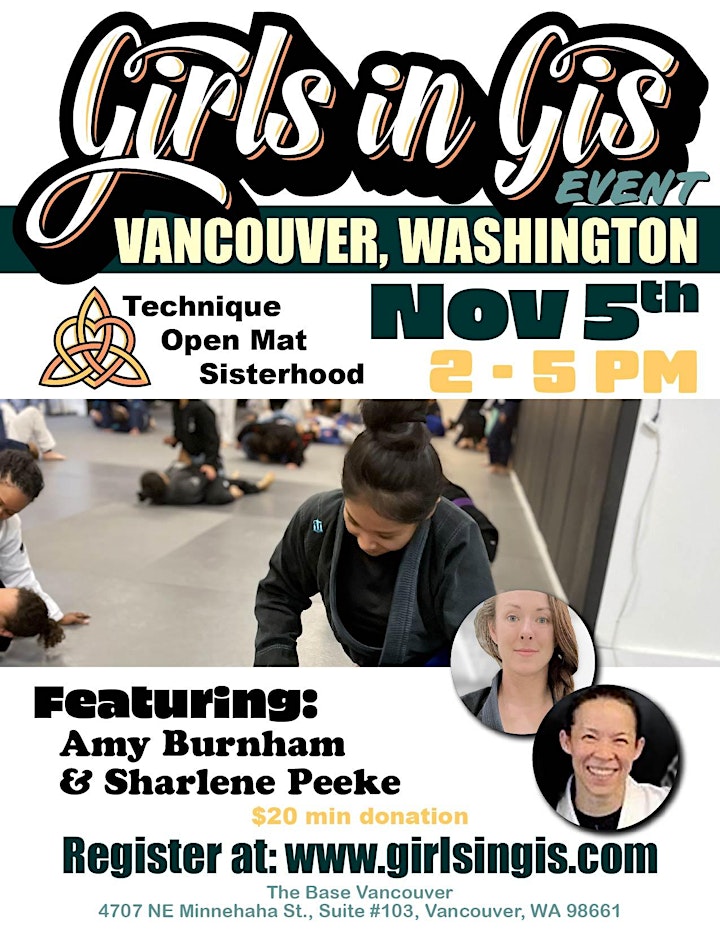 We are closely monitoring the COVID19 ordinances and regulations. This event maybe subject to rescheduling or policy changes at anytime. If you are feeling sick or have any symptoms please stay home. Masks are encouraged & temperature checks will be required to participate at this event. Feel free to contact us with any questions or concerns.
ALL PARTICIPANTS MUST REGISTER ONLINE. ONLINE REGISTRATION WILL BE CLOSED 11/05/22 at 1:30 PM OR ONCE WE REACH CAPACITY. WALK INS WILL NOT BE ALLOWED ONCE CAPACITY IS REACHED. 
Tickets are non-refundable, non-transferable and all sales are final.  Doors open at 1:30 pm. Please arrive early to change and get ready or come ready so we may start on time at 2:00 pm.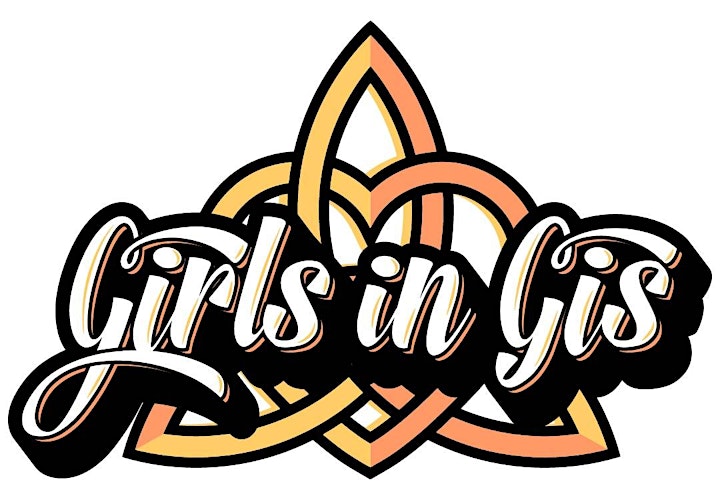 For more info find us online: