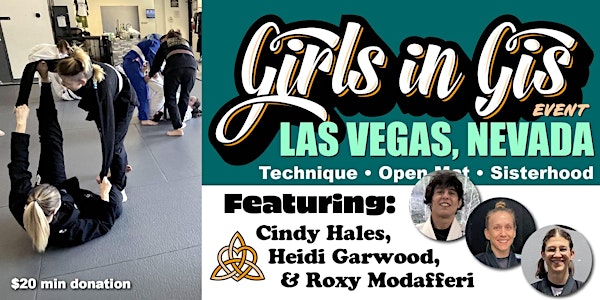 Girls in Gis Nevada-Las Vegas Event
A Brazilian Jiu Jitsu event for women and girls taught by some of the best women in the sport. No experience required.
When and where
Location
Carlson Gracie Green Valley 1483 W Horizon Ridge Pkwy Henderson, NV 89012
About this event
Are you ready for some great Jiu Jitsu? because we are!
Girls in Gis is a community of women and girls in Brazilian Jiu-Jitsu that come together through donation based training events which are hosted, instructed, and attended only by women and girls. It's our time to come together and take over the mats! Women and girls of all ages and skill levels are welcome to attend from any academy affiliation. We welcome beginners and don't require any experience. Our events are designed for 100% participation. However, we do allow parents or chaperone to accompany underage participants as spectators.
Our events are donation based in order to provide equal opportunity to everyone. Your donations provide paid teaching opportunities for our guest instructor(s) and help to expand and make Girls in Gis programs such as our events, our leadership program and instructional training programs and our scholarships possible. If you are not able to make a donation please contact us and we will work with you so that you are able to participate.
You can also purchase a GIG t-shirt, patches and more GIG merchandise with your donation. All orders can be picked up during the event.  
GIG Nevada-Las Vegas Guest instructor: Cindy Hales, Heidi Garwood, & Roxy Modafferi
Cindy "Sleeper" Hales is a 4th degree Black Belt, PNW and grappling legend, . Cindy is one the pioneers of women's BJJ and was named one of the Dirty Dozen in BJJ, the first 12 women outside of Brazil to earn the rank of Black Belt. During her over 20 years in the sport, Cindy has competed at the highest levels in BJJ, Submission Grappling and MMA. She is a three time IBJJF Master World Champion, two time Pan American Champion, ADCC Competitor 2007 and Grappler's Quest Pro Division Champion.
Alongside her impressive competition resume, Cindy has dedicated over 20 years to honing her understanding of the techniques and concepts of BJJ through teaching, refereeing and continually learning and growing as a student of the game Often regarded as the premier kids instructor in the PNW, Cindy has a gift at breaking down concepts and details in a fun and engaging way that is accessible to everyone. She embraces a culture of mutual respect and learning and is committed to creating a safe and welcoming environment for all students.
Roxanne Modafferi (The Happy Warrior) is an American mixed martial artist, who most recently fought for the UFC. Though she last fought in the flyweight division, she has fought in multiple weight classes in her career. A professional competitor since 2003, she is considered one of the pioneers of women's MMA.
Heidi Garwood is a jiu jitsu black belt under Professor Romulo Caiado in Las Vegas Nevada. She began jiu jitsu journey in a small gym in Billings Montana in 2012. She remained at this gym, The Grindhouse, training under Professor Will Grundhauser until moving to Henderson in June of 2019.
According to Heidi, Jiu jitsu has changed her life. She has learned the power of presence, resilience, and confidence. In February of 2022 she had the pleasure of opening her own academy, Carlson Gracie Green Valley along with her husband and four children. She looks forward to many years of empowering women and children through teaching and practicing the art of jiu jitsu
COST: $20 Min Donation. All Donations Welcome.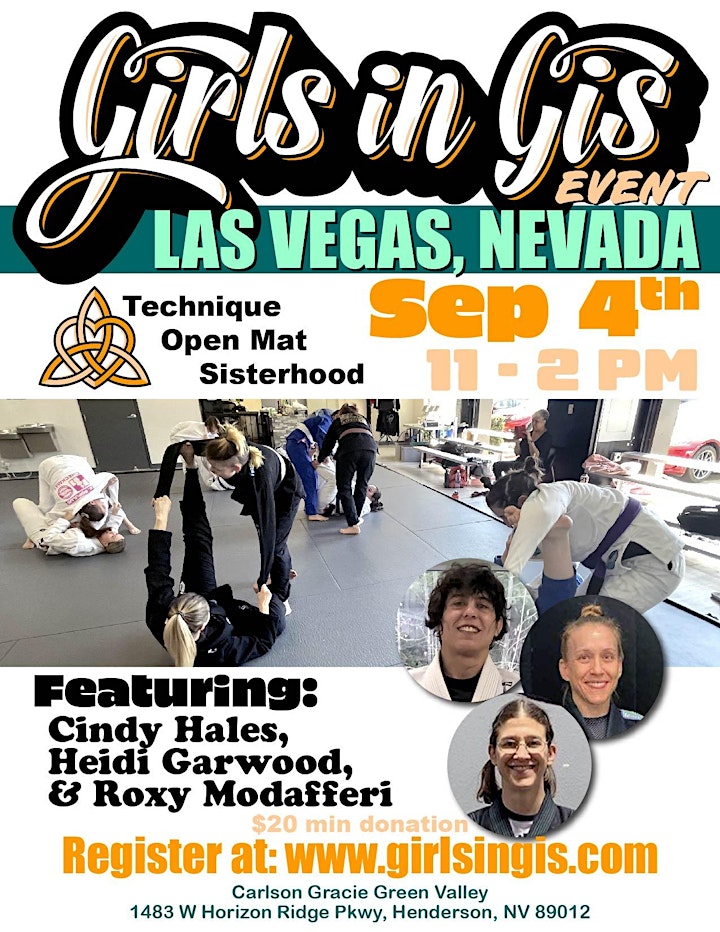 We are closely monitoring the COVID19 ordinances and regulations. This event maybe subject to rescheduling or policy changes at anytime. If you are feeling sick or have any symptoms please stay home. Masks are encouraged & temperature checks will be required to participate at this event. Feel free to contact us with any questions or concerns.
ALL PARTICIPANTS MUST REGISTER ONLINE. ONLINE REGISTRATION WILL BE CLOSED 9/4/22 at 10:30 AM OR ONCE WE REACH CAPACITY. WALK INS WILL NOT BE ALLOWED ONCE CAPACITY IS REACHED. 
Tickets are non-refundable, non-transferable and all sales are final.  Doors open at 10:30 am. Please arrive early to change and get ready or come ready so we may start on time at 11:00 am. 

For more info find us online: