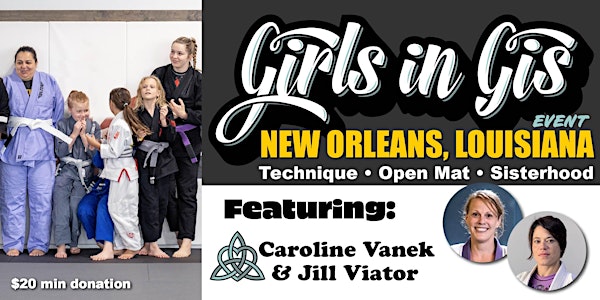 Girls in Gis Louisiana-New Orleans Event
A Brazilian Jiu Jitsu event for women and girls taught by some of the best women in the sport. No experience required.
When and where
Location
NOLA BJJ 4521 Magazine St New Orleans, LA 70115
About this event
Are you ready for some great Jiu Jitsu? because we are!
Girls in Gis is a community of women and girls in Brazilian Jiu-Jitsu that come together through donation based training events which are hosted, instructed, and attended only by women and girls. It's our time to come together and take over the mats! Women and girls of all ages and skill levels are welcome to attend from any academy affiliation. We welcome beginners and don't require any experience. Our events are designed for 100% participation. However, we do allow parents or chaperone to accompany underage participants as spectators.
Our events are donation based in order to provide equal opportunity to everyone. Your donations provide paid teaching opportunities for our guest instructor(s) and help to expand and make Girls in Gis programs such as our events, our leadership program and instructional training programs and our scholarships possible. If you are not able to make a donation please contact us and we will work with you so that you are able to participate.
You can also purchase a GIG t-shirt, patches and more GIG merchandise with your donation. All orders can be picked up during the event.  
GIG Louisiana-New Orleans Guest instructors: Caroline Vanek and Jill Viator
Caroline Vanek, a New Orleans native and Louisiana's first female black belt, began her BJJ journey in 1998. NOLA BJJ is her home, and her training partners are family. After Katrina, she and her teammates trained in someone's garage while New Orleans slowly recovered and NOLA BJJ searched for a new home. On June 15, 2013, she earned her black belt. She has not only witnessed the evolution of the sport, she's been an integral part of it. When she started training, she was the only female for years and toughed it out with the guys in the gym and in competition. She had no other option and eagerly embraced training. She recently started a women's BJJ program at her gym . She is a Girls in Gis ambassador and is passionate about fostering the growth of the female BJJ community.
Jill Viator is a brown belt out of Sulphur LA. She started her Jiu Jitsu journey in December 2015. Her children had already been training for a few years, so she decided to give it a try and instantly fell in love with it. She has been training consistently ever since. She originally started training under Aaron Davis at Olympic BJJ. In 2020, she helped start her own academy at Indigo Jiu Jitsu under Damon Arebalo, where she has enjoyed competing as much as possible, helping coach the kids class and instructing the competition class.
Jiu Jitsu helped Jill discover a confidence she never had in her earlier years. She never considered herself the athletic type in any way so once she started training at 38 years old she was surprised and proud to see what her body was capable of. She is excited to be a part of this Girls in Gis event and help other women discover the same for themselves.
COST: $20 Min Donation. All Donations Welcome.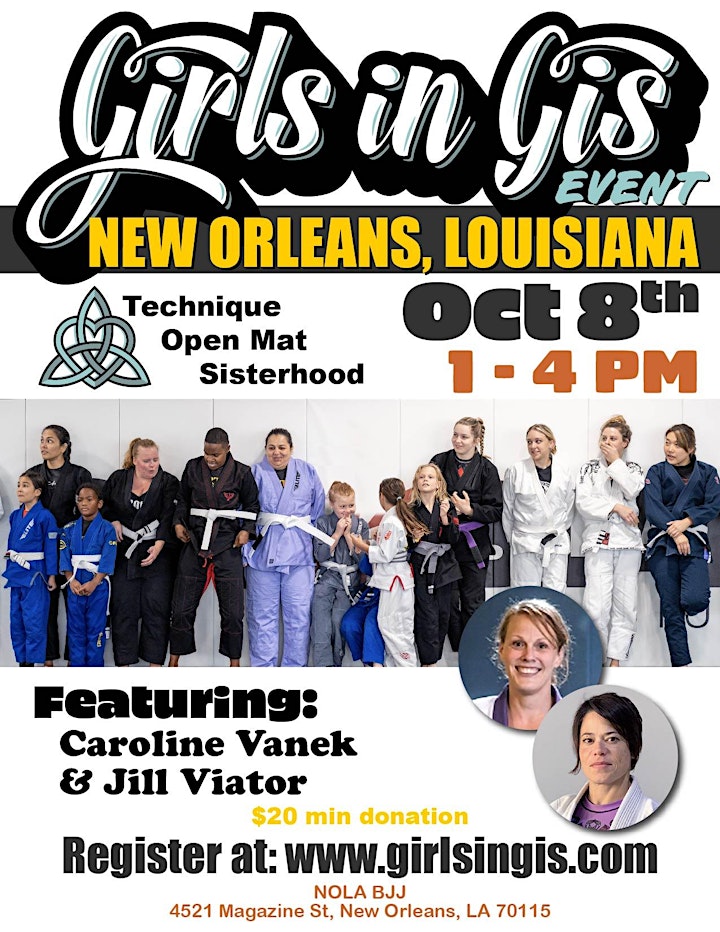 We are closely monitoring the COVID19 ordinances and regulations. This event maybe subject to rescheduling or policy changes at anytime. If you are feeling sick or have any symptoms please stay home. Masks are encouraged & temperature checks will be required to participate at this event. Feel free to contact us with any questions or concerns.
ALL PARTICIPANTS MUST REGISTER ONLINE. ONLINE REGISTRATION WILL BE CLOSED 10/8/22 at 12:30 PM OR ONCE WE REACH CAPACITY. WALK INS WILL NOT BE ALLOWED ONCE CAPACITY IS REACHED. 
Tickets are non-refundable, non-transferable and all sales are final.  Doors open at 12:30 pm. Please arrive early to change and get ready or come ready so we may start on time at 1:00 pm. 

For more info find us online: