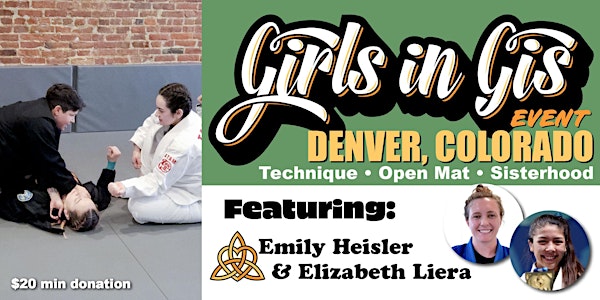 Girls in Gis Colorado-Denver Event
A Brazilian Jiu Jitsu event for women and girls taught by some of the best women in the sport. No experience required.
Date and time
Saturday, April 8 · 12 - 3pm MDT
Location
Lōgōs Jiu Jitsu Academy 3440 Brighton Blvd Denver, CO 80216
About this event
Are you ready for some great Jiu Jitsu? because we are!
Girls in Gis is a community of women and girls in Brazilian Jiu-Jitsu that come together through donation based training events which are hosted, instructed, and attended only by women and girls. It's our time to come together and take over the mats! Women and girls of all ages and skill levels are welcome to attend from any academy affiliation. We welcome beginners and don't require any experience. Our events are designed for 100% participation. However, we do allow parents or chaperone to accompany underage participants as spectators.
Our events are donation based in order to provide equal opportunity to everyone. Your donations provide paid teaching opportunities for our guest instructor(s) and help to expand and make Girls in Gis programs such as our events, our leadership program and instructional training programs and our scholarships possible. If you are not able to make a donation please contact us and we will work with you so that you are able to participate.
You can also purchase a GIG t-shirt, patches and more GIG merchandise with your donation. All orders can be picked up during the event.  
GIG Colorado-Denver Guest instructors: Emily Heisler & Elizabeth Liera
Elizabeth Liera is a recently promoted black belt under Andre Galvao. She has been training at Atos Jiu Jitsu since 2012, where she started as a 12 year old white belt. Since then, she has accomplished multiple titles in the color belts, including 1st place at Pan Ams and 2nd place at Worlds in the brown belt division. She was able to balance full time training with full time school, as she has recently graduated with her bachelors degree in Behavioral Neuroscience from the University of San Diego.
Emily Heisler started training Jiu jitsu when she was 17 in Chatsworth, CA under Todd Nathanson. The day she walked into the gym she knew it was where she was meant to be. That first year of training she competed almost every weekend, big tournaments and small. After a year she got her blue belt, right before moving to Santa Barbara for college. Focusing on her studies kept her preoccupied, so it wasn't until about 2 years later that she started training at Paragon Santa Barbara. She ended up getting her purple belt and doing a few tournaments here and there, both IBJJF and smaller tournaments. In 2021 she moved out to Colorado and started training at Logos, won the IBJJF Denver open last year and received her brown belt from professor Michael Liera jr. She continues to learn, train, and work daily to become her best self and cultivate her best Jiu Jitsu.
COST: $20 Min Donation. All Donations Welcome.
ALL PARTICIPANTS MUST REGISTER ONLINE. ONLINE REGISTRATION WILL BE CLOSED 4/08/23 at 11:30 AM OR ONCE WE REACH CAPACITY. WALK INS WILL NOT BE ALLOWED ONCE CAPACITY IS REACHED. 
Tickets are non-refundable, non-transferable and all sales are final.  Doors open at 11:30 am. Please arrive early to change and get ready or come ready so we may start on time at 12:00 pm. 
For more info find us online:
About the organizer
Girls in Gis (GIG) is an organization dedicated to building and strengthening the Brazilian Jiu-Jitsu community for females and as a whole. We provide experiences that foster the community of females in the martial art while encouraging new females to participate. By coming together we are increasing the presence of females in a primary male dominated martial art and paving the way to equality, change and we are growing the sport and art for females everywhere. Our goal is to empower and unite females in their martial arts training as well as in life.
"Strength in Solidarity" is our motto and it means that together we can accomplish more than we can alone. Whether it is inspiring the next generation for females in the martial art, earning respect as athletes, instructors and achieves equality in a male dominated sport or unifying the Brazilian Jiu-Jitsu community as a whole. Together the potential is limitless and all things are possible.
If you have any interest in finding out how to host an event, learn more about our programs or have any questions, we look forward to hearing from you!