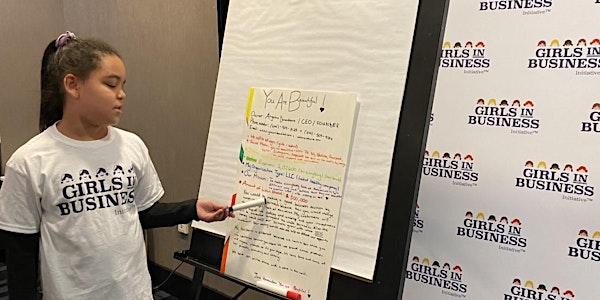 Girls in Business Camp Maui 2023
The Girls in Business Camp Maui 2023 introduces girls ages 10 to 16 to business.
When and where
Location
3700 Wailea Alanui Drive 3700 Wailea Alanui Dr Wailea, HI 96753
About this event
The Girls in Business Camp Maui 2023 introduces girls ages 10 to 16 to basic business principles including the forms and types of businesses, business strategy, marketing and finance. Each student will be guided through creating her own business and completing the activities below.
Name her business
Create a mission statement
Create a logo
Create a slogan or tagline
Design a business card
Create a marketing plan
Create a finance plan including a budget
Create a pitch for investors
After students create their businesses, each student CEO will pitch a group of mock investors (fellow students) for the funding to launch her start-up. Participating Girl Scouts can earn a business owner, business plan badge or the new one of the new entrepreneur badges. Looking for more events?
Each students will be served two pre-packed individual snacks. The class runs from 1pm to 5pm. For additional information contact us at +1 866-226-5911 or via email at info@girlsinpolitics.com or visit our website at www.girlsinpolitics.com. The Girls in Business Initiative was launched by the Girls in Politics Initiative in January 2020 because we believe girls want to make laws and money.
Frequently Asked Questions and COVID-19 Protocols
Is the registration fee refundable? The registration fee is non-refundable unless the organizer cancels the session. If a participant is unable to attend a session a credit will be placed on file that may be used at any time for a future program. The credit does not expire.
Is financial aid available? Financial aid is available on a first come, first serve basis. Email finance@girlsinpolitics.com to for all financial aid inquiries.
Who are the instructors? Our Lead Instructors are women that currently or have previously worked in business/executive management.
COVID-19 Policy
We will be following the guidance and regulations local health departments and the United States Centers for Disease Control in formulating protocols for in-person camps for 2022-2023.
To ensure the health and security of our participants, instructors and support staff, the Girls in Politics Initiative has implemented the following policy:
Proof of full vaccination against COVID-19 is required to attend all indoor camps, classes and events for students 5 years of age and up.
Students with a medical condition or a closely-held religious belief that prevents vaccination must provide proof of a negative COVID-19 PCR test to attend an indoor camp, class or event. The COVID-19 test must be administered within 24 hours of the start of the indoor camp, class or event. Masks are optional unless mandated by the public health authorities however masks are strongly recommended.
All Girls in Politics Initiative instructors and support staff are required to be full vaccinated as of September 22, 2021. All GIP instructors and support staff will wear masks during all indoor camps, classes and events.
For all indoor programming masks are required at all times for students, GIP instructors and GIP support staff regardless of vaccination status.