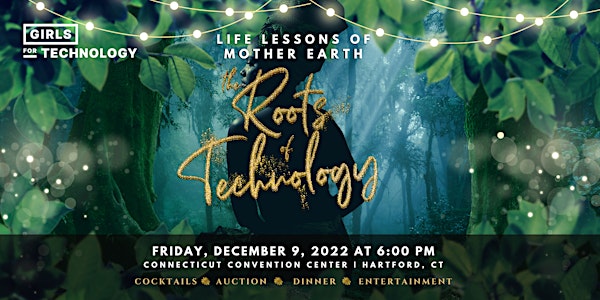 Girls For Technology |Life Lessons of Mother Earth: The Roots of Technology
Girls For Technology Annual Gala Dinner & Charity Auction at the Connecticut Convention Center on Friday December 9th, 2022.
When and where
Location
Connecticut Convention Center 100 Columbus Boulevard Hartford, CT 06103
About this event
Girls For Technology is thrilled to join together again!
After two years of virtual program offerings, we've not only persevered through the ongoing challenges of the COVID-19 pandemic, we've continued to reach the BIPOC communities servicing well over 3,000 individuals to date. A continuous outreach for the next generation of future innovators, tech trainees, and women entrepreneurs, we know that our current model has the bandwidth and potential to serve more individuals throughout Connecticut and beyond in 2023.
The Life Lessons of Mother Earth- The Roots of Technology will be held on Friday, December 9th, 2022 at the Connecticut Convention Center located in Downtown Hartford, CT. Let's CELEBRATE an evening of gratitude, resilience and witness empowerment together!
We would be honored to have your support in this inspiring BLACK TIE GALA to celebrate the growth of entrepreneurs, job placement, and expansion of Girls For Technology and all that is to come in 2023.
FAQS:
What Do I Wear?
The recommended attire is Black Tie (preferred ) or cocktail hour. Formal gowns, cocktail dresses, tuxedos, dark suits, or other appropriate attire are all welcome! Have fun dressing up, as you can't overdress for this event!
For more information or sponsorship opportunities, please email Latonia Tabb, Events Manager, at gala@girlsfortechnology.org
Be sure to follow us on social media channels for updates:
If you are unable to join us, please consider making a donation in support.
Girls For Technology is a non-profit, tax-exempt organization under section 501(c)(3) of the IRS code (EIN 46-5696249)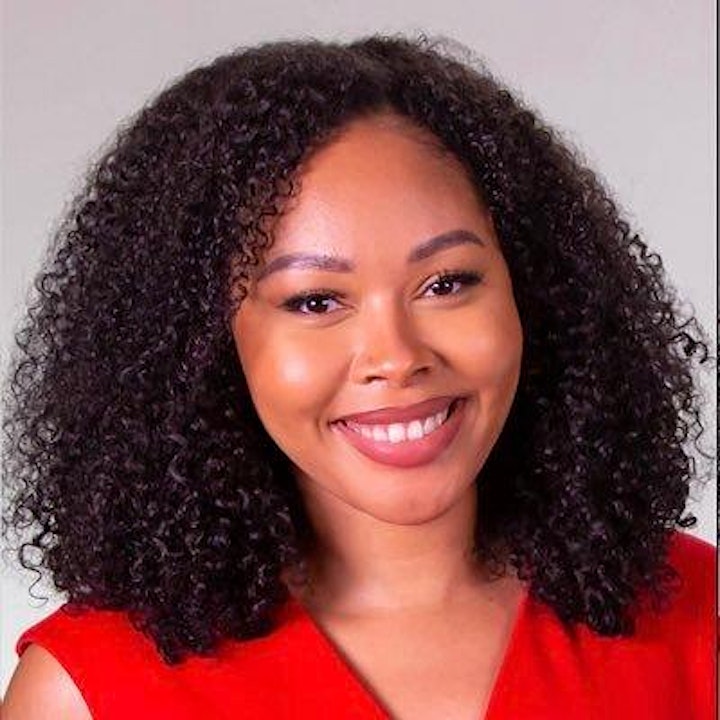 MC - Symphonie Privett
Symphonie Privett is a News Anchor and Reporter at FOX 61 News. You can catch her dark and early on the FOX61 Morning News where she affectionately refers to her viewers as her "Sunshine". Symphonie began her career at the ABC affiliate KAIT in Jonesboro, Arkansas. During her time at KAIT, she was awarded two Arkansas Associated Press Broadcasters Awards. Symphonie continued her career as a weekday Morning News Anchor at WLBT in Jackson, Mississippi, where she was awarded a Louisiana-Mississippi Associated Press Award for her "Women in Civil Rights" series. She brought her cheerful disposition to Hartford's FOX61 News in October 2021, and has been sharing her sunshine with viewers as they start their day during the workweek. Symphonie also tracks the day's top talkers in her daily "Buzz" segments on the FOX 61 Morning News and FOX 61 News at 5 pm. When she's not on-air, Symphonie enjoys reading, cooking, traveling, going to concerts, and spending time outdoors.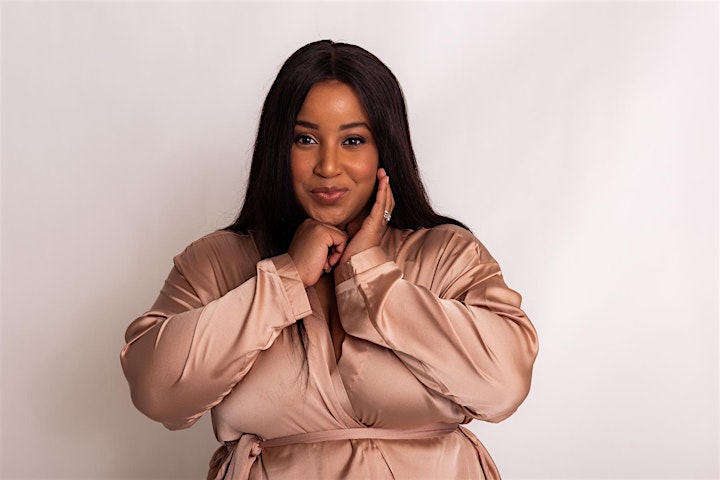 Featured Speaker Arion Long is the self-proclaimed "Chief Estrogen Officer" at Femly
Some people go through their entire lives without disrupting the status quo and then you come across a unicorn who started college at 15 years old, decoded the genetic makeup of anthrax by 17, and disrupted a multi-billion dollar feminine care industry before 30. Arion Long is the self-proclaimed "Chief Estrogen Officer" at Femly, a hi-tech feminine care company that she started after being diagnosed with a cervical tumor linked to additives in popular products. Femly increases access to natural and organic hygiene products through working with organizations, and sells both products and a proprietary dispenser to help to end "period poverty"
Femly manufactures & delivers eco-friendly & sustainable feminine hygiene products and delivers to your door.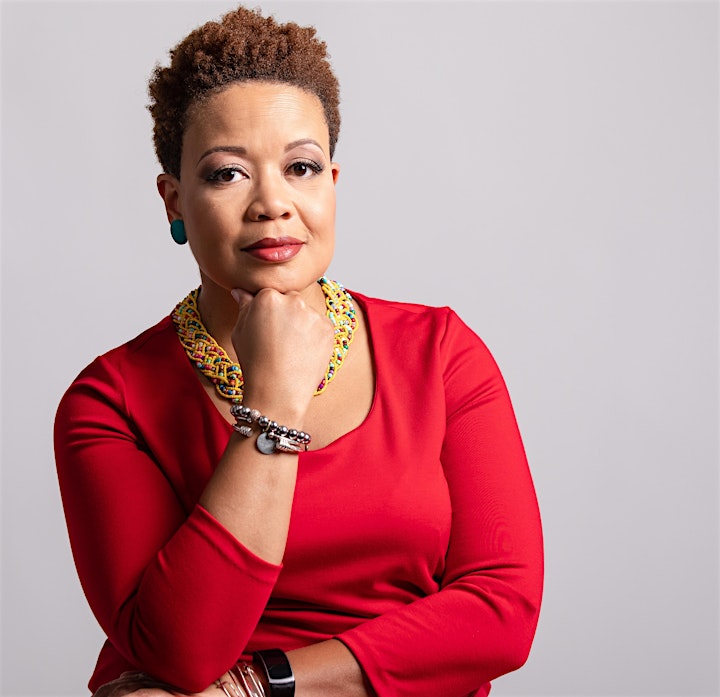 Joelle A. Murchison Founder & Principal, ExecMommyGroup (EMG)
Joelle A. Murchison combines her passion and expertise in education, equity & inclusion and communications in her work as the Founder & Principal of ExecMommyGroup LLC (EMG), an inclusion and leadership strategic consulting practice.A career diversity and inclusion champion, Murchison, a graduate of Brown University, Harvard Graduate School of Education and Syracuse University's Newhouse School of Public Communications, also currently serves as the Executive Director of The Lawyers Collaborative for Diversity and as an adjunct faculty member at the University of Connecticut School of Business.A native of Queens, and raised in Long Island, NY, Joelle takes her professional and leadership queues from her mother, a trailblazer in her own right, who was the 1st African American woman manager in the Social Security Administration in the 1970s. Joelle began her career in higher education followed by a stint in the non-pro5t sector; then transitioning to corporate America - first with United Technologies and then as the inaugural Chief Diversity Officer at Travelers Insurance. Murchison returned to higher education in 2016 as the inaugural Chief Diversity Officer at the University of Connecticut where she served before launching EMG.A recipient of numerous awards, Joelle serves as the chair of the board of RE-Center Race and Equity in Education and a director on the board of College Possible, a national nonprofit focused on college access. In 2020, Joelle was elected to serve as a trustee of the Corporation of Brown University, the university's decision-making body and currently serves as the chair of the Corporation's Equity, Diversity and Inclusion standing committee. Additionally in her most demanding yet ful5lling role, Joelle is the mother of four children between the ages of 7 and 19 who are the wind beneath her wings. At her core, she is passionate about encouraging and inspiring all people to reach their highest potential and about creating space for open dialogue to enhance inclusion and understanding.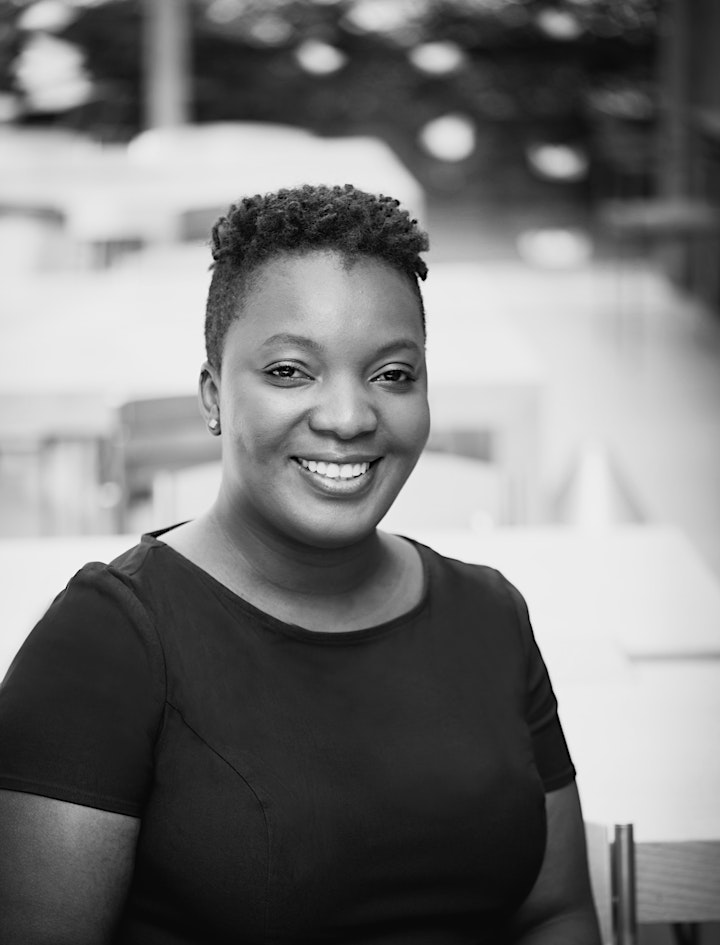 Honoree - Marie Rocha
Founder/General Partner
Marie Rocha has over 20+ years of experience in business and technology as a software engineer and serial entrepreneur. Marie's first startup was a candidates matching platform for staffing agencies, which she built and sold at the age of 19. She later co-founded a sustainable e-commerce store in 2010, followed by IMAK software, a startup building software and platforms for small businesses and nonprofits. As a champion for women, she is one of HAYVN Hatch's founders, a quarterly women-centric pitch event to support women founders seeking funding, exposure, marketing, and growth. Marie recently co-founded, The 99 Problems Super PAC, in 2020 to engage GenZ and millennials to register to vote in elections. In addition, she serves on several boards including Boys and Girls Club of Greenwich, Greenwich Academy, Shipsi, HAYVN, VestHer, UpliftNJ, Stamford Next, James Vick Foundation. She advises and mentors underrepresented founders on their startups in her spare time.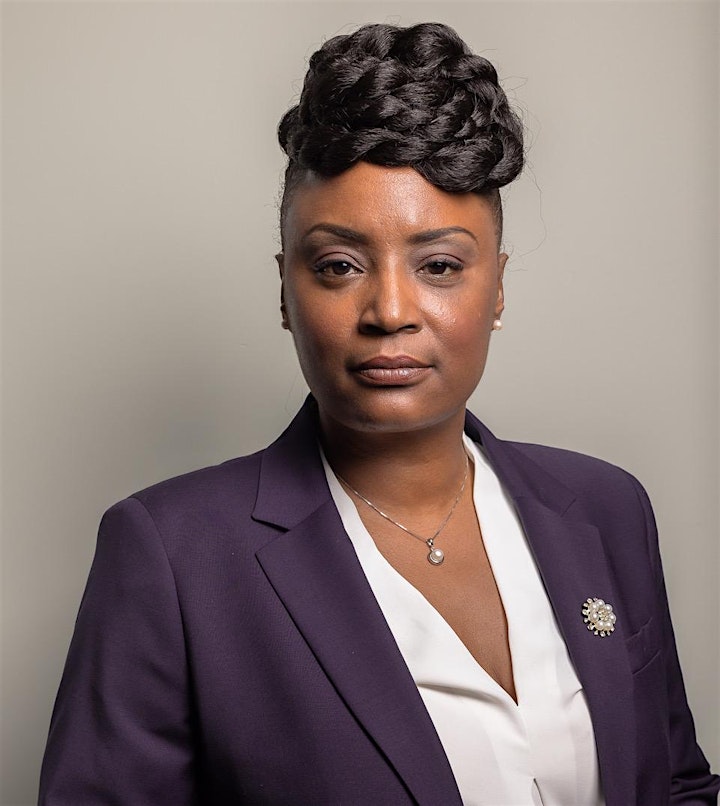 Honoree - Janice Flemming- Butler
Founder and CEO of Strategic Outreach Solutions
Janice Flemming- Butler is the Founder and CEO of Strategic Outreach Solutions, the only Black female lobbying firm in the state of Connecticut. After growing up in a housing project in South Hartford, she began organizing and advocating in 2001, working on issues in the State of Connecticut and nationally. Through her work and from her own personal history, she has developed a unique perspective on the limitations of political power in minority populations. It is this perspective that she uses as a lobbyist--working to connect corporate clients with residents in the community to work together to address problems of common interest.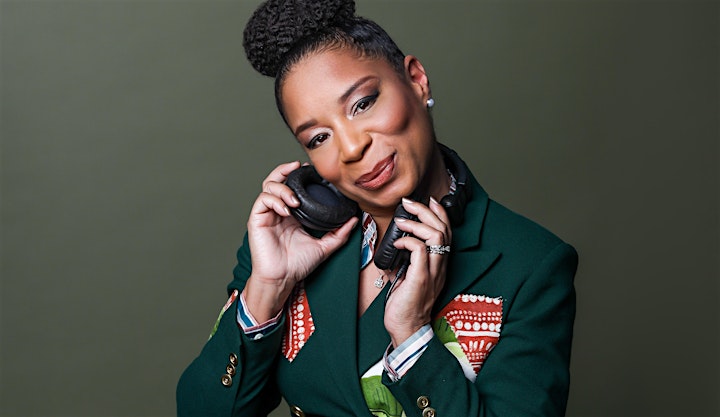 DJ - Qiana "DJ Q-Boogie" Coachman-Strickland
Qiana "DJ Q-Boogie" Coachman-Strickland has a gift - equal parts performance art, intuition, creativity, and raw talent. Audiences delight in dancing to her sets, fusions of Hip Hop, R&B, Funk, House, Top 40, and Reggae. Her passion for music, curating an experience, and creating a vibe have solidified her as one of the most sought after in the industry. Transitioning from full-time corporate to creative entrepreneur, Qiana has built an award-winning business via virtual and in-person brand events. She's navigated various platforms and projects to include an originally produced soundscape for a historically renowned museum, live music mixes and hosting for global virtual conferences for brands such as UConn Health HDI, and has created unique youth programs and showcases to elevate the art of deejaying. As the CEO and Founder of the Female DJ Association and She's the DJ Podcast, Qiana is on a mission to help empower Female DJ's to elevate their DJ Business, enhance their DJ Skills, and build the confidence and power to create their own opportunities.