Description
The second Girls Debate League Workshop of the academic year is here!
The workshop will focus on confidence in debate! Girls will partake in activities to nurture their self-confidence and prartice debate skills to take to every debate round.
Middle school and high school girls interested in debate will have the opportunity to hear from a keynote speaker and debate alumni. Parents and volunteers are invited!
*Breakfast and lunch will be provided*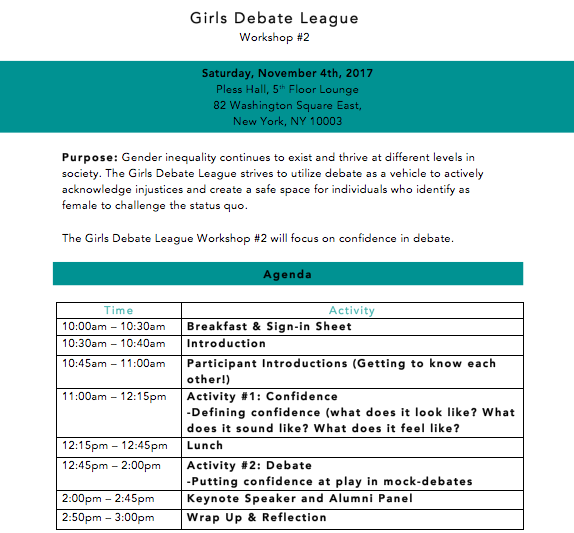 ---
Please be advise that this event is only for individuals who identify as female. Schools and students participating must be members of the NYC Urban Debate League. If you haven't completed a student registration form for the year please click on the link below. We look forward to seeing you!
Location
NYU Steinhardt
Pless Hall, 3rd Floor Lounge (Main entrance on Washington Place)
82 Washington Square East
New York, NY 10003
Subway
to West 4th Street
to West 4th Street
to 8th Street
High School Student Registration Form
http://go.debate.nyc/nycudl-student-permission-slip-hs
Middle School Registration Form
http://go.debate.nyc/nycudl-student-permission-slip-ms-es