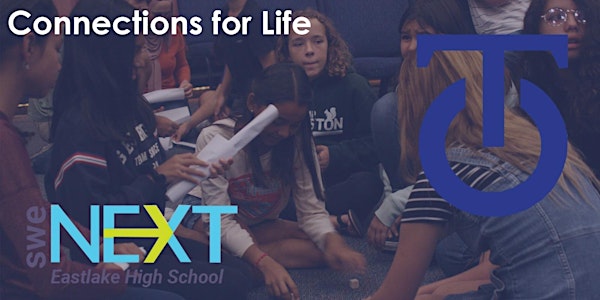 G.I.R.L.S. Conference 2022
TitanBot's 8th annual G.I.R.L.S. Conference invites students to engage with empowering professional individuals in STEAM careers.
When and where
Location
Eastlake High School 1120 Eastlake Parkway Chula Vista, CA 91915
About this event
Eastlake High School's robotics team, TitanBot, is an FRC (FIRST Robotics Competition) team run entirely by students. As part of our team's community outreach, we organize and host an annual G.I.R.L.S. Conference (Girls Inspiring Real Leadership in STEAM Conference), and in recent years have held it in conjunction with our school's SWENext club (Society of Women Engineers Next). This is our team's first event back in-person after two years of virtual conferences.
For our 8th annual G.I.R.L.S. Conference, we hope to engage 6th-12th grade students in learning how to create meaningful connections by networking and communicating with professionals in person, as well as creating a positive online presence. Presentations will be given by professionals in medical, art, computer science (specifically AI), and engineering fields. Networking opportunities will be available with them to help students work on their approachability and communication skills in order to facilitate further relationships for future mentorships, apprenticeships, and job opportunities. Another topic of discussion with our panelists will be social media awareness, including how students present themselves online and how their online presence can impact them in college, careers, and beyond. The ultimate goal of our conference is to provide our attendees with the skills, resources, and confidence they need to pursue STEAM careers, fulfill their passions, and make a difference.
This event will be a hybrid conference, meaning we will have in-person attendance at our venue, but online attendance will also be available via a livestream on Youtube for your convenience. To register for online access click here: https://www.eventbrite.com/e/online-girls-conference-22-tickets-397161830727 . The event will be held in the Ruth Chapman Theater on the campus of Eastlake High School. We highly recommend attending the in-person event as interactive games, raffles, prizes, and a networking lunch will be available!
Our speakers:
Dr. Marie Zhivago is a professional cartoonist and published children's book author, as well as the founder of Dr. Zhivago Global Branding and Licensing. She has 26 years of experience in business partnership in retail, food, and mobile app development, and she has worked as a consultant and educator in Visual and Performing Arts in local school districts. Additionally, she is highly involved in her community and has been a speaker at Comic-Con, the National Council of Negro Women San Diego, and the San Diego chapter of the Black American Political Association of California (BAPAC SD), among many others.
Christina Deckard is a highly experienced individual with over 30 years of STEM experience after working is acoustics, surveillance, lasers, and many more areas for SPAWAR Systems Center, a DoD research facility. She has received numerous awards from the Navy for her work, and she has authored multiple research papers; she is a strong advocate for STEAM education and has been an instructer of physics and mathematics in local San Diego colleges. She currently works for SAIC as contract support to Biotechnology Modernization.
Justina Eten is a clinical laboratory scientist at UCSD in the Immunogenetics and Histocompatibility Laboratory. She obtained a Master's of Forensic Science from National University and served in the U.S. Navy for 10 years as a hospital corpsman.
Mary "Dr. Mimi" Isaac is a practitioner and researcher interested in improving female engagement and retention in engineering and technology who has earned a BS in mechanical engineering (Union '82), an MA in teaching technology education (NCAT '11), and finally a PhD in education (ODU '15). She has over 30 years of experience in numerous areas within the global energy business General Electric, and has been an avid member of STEM communities such as FIRST, SWE, AAUW, ASEE, and many more.
Additional panelists:
Chelsea Ballinger is a lead systems engineer at Booz Allen Hamilton working as an engineering consultant. She earned her undergraduate degree in physics at UCSD and her masters in mechanical engineering at SDSU, then moved on to work for the Department of Defense, and now Booz Allen Hamilton.
Merilyn Stuck is a senior consultant working in program management and cybersecurity with Booz Allen Hamilton. She earned her B.S. in international security at SDSU and moved on to gain her M.S. in cybersecurity at CSU San Marcos. She has worked through many unique internships and has been at General Atomics developing drone technology for the U.S. Marine Corp; she then moved on to Sony, and finally Booz Allen Hamilton.
TitanBot sincerely hopes this conference helps you build Connections for Life! SPACE IS LIMITED SO PLEASE SIGN UP WHILE YOU STILL CAN!
ONLINE ATTENDANCE REGISTRATION LINK:
https://www.eventbrite.com/e/online-girls-conference-22-tickets-397161830727