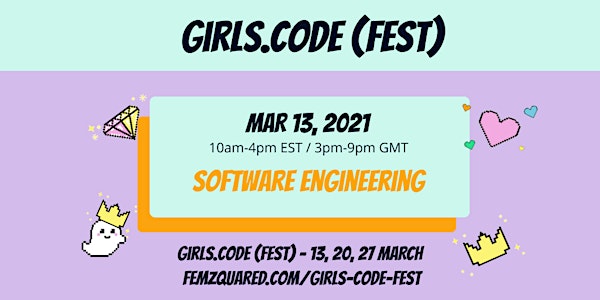 Girls Code Fest DAY 1: Software Engineering
Girls Code Fest is an online, global coding conference dedicated to girls aged 14-22, featuring 13 coding events within STEAM industries.
About this event
Girls Code Fest is a 3-Saturday global, virtual STEAM festival consisting of educational panels and hands-on workshops within 6 industries: Software Engineering; Data Science + Machine Learning/AI; UI/UX/Product/VR. Through these elements we aim to teach girls and young womxn to code, connect them with female leaders within the coding-related industries, kickstart their professional interests & aspirations, and bridge the gender-based tech gap. The virtual festival, happening on 3 Saturdays in March 2021 (13, 20, 27) is going to be accessible to girls and young womxn around the world, as well as feature over 20 female speakers and artists from countries such as the United States, United Kingdom, Europe (Sweden, Switzerland, Croatia), India, Pakistan, and more.
The event is organized by FemZquared and imagiLabs.
Partners: LiveRoom Media; Products by Women; Women That Rock; WomxnIn; F.C.M.A
Visit: www.femzquared.com/girls-code-fest
​Note: Upon signup, you will receive an email with access to the event page.