Girlfriends365 Enlighten Empowerment Soul Session - If Beale Street Could T...
Description
Girlfriends365 is a centric place for women of color to connect, learn and nourish the grace and beauty of women of color. The G365 experience focuses on building a community that promotes self-love through inner beauty, holistic wellness, healing, growth and prosperity for women and communities of color.
Serving authentic power talks, panels, and a enlightened conversation experience with the sole purpose of providing women with resources and tools that creates a greater sense of confidence, meaningful communication, healthy and rewarding relationships, and a passionate well-balanced life. Featuring speakers with stories worth hearing and learning from. Epic and Impactful spaces that provide access to an overall dynamic and excellent experience.
We are excited to bring to you our 2019 Girlfriends365 Enlighten Empowerment Soul Session 'If Beale Street Could Talk: In Conversation with Black Women. Join us for an afternoon of powerful breakthrough conversation, film and chat experience featuring the Academy Award nominated movie 'If Beale Street Could Talk' by the legendary Novelist and Civil Rights Activist James Baldwin. Also, all while enjoying a sistah networking mixer, #blackgirlmagic game stations, swag bags, spoken word performance, food, amazing vendors marketplace and more.
Stay Connected with us for updates on the event on Instagram @naturalheartsistahdotcom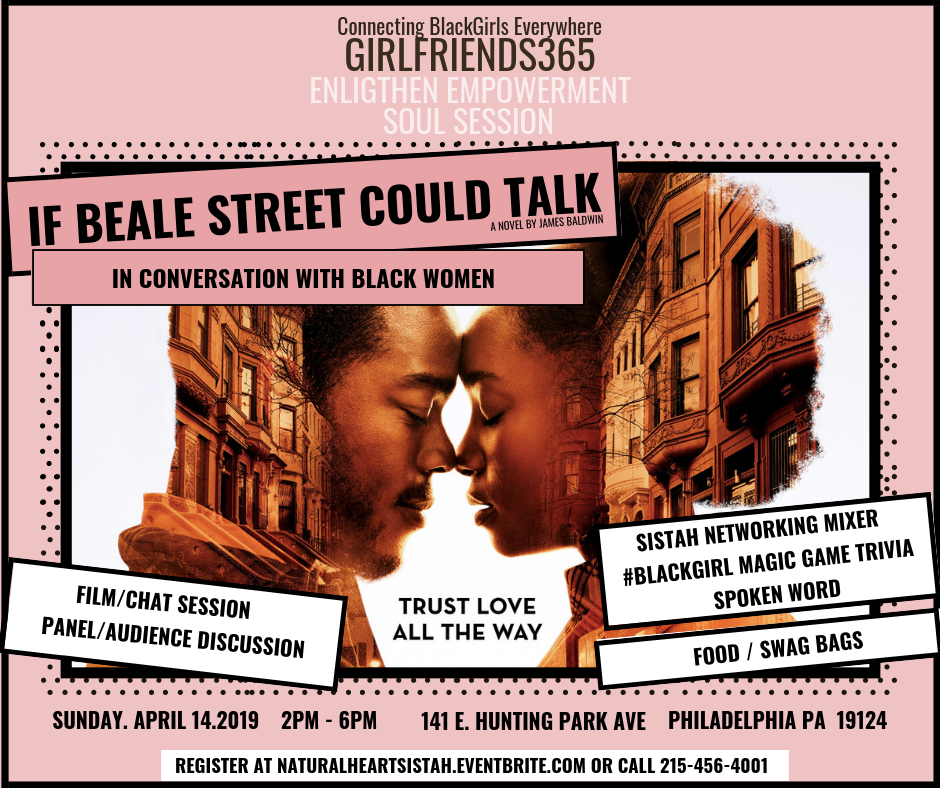 About the Film.
Set in early-1970s Harlem, If Beale Street Could Talk is a timeless and moving love story of both a couple's unbreakable bond and the African-American family's empowering embrace, as told through the eyes of 19-year-old Tish Rivers (screen newcomer KiKi Layne).
A daughter and wife-to-be, Tish vividly recalls the passion, respect and trust that have connected her and her artist fiancé Alonzo Hunt, who goes by the nickname Fonny (Stephan James).
Friends since childhood, the devoted couple dream of a future together but their plans are derailed when Fonny is arrested for a crime he did not commit. Through the unique intimacy and power of cinema, the young lovers experience a kaleidoscope of emotions; affection, despair, and hope.
In a love story that evokes the blues, where passion and sadness are inevitably intertwined, If Beale Street Could Talk honors James Baldwin's honest and stunning words and imagery, charting the emotional currents navigated in an unforgiving and racially biased world as filmmaker Barry Jenkins poetically crosses time frames to show how love, resilience, family and humanity endure.
"...love brought you here. If you trusted love this far, don't panic now."