GIRLFRIENDS ROCK "HAVANA NIGHTS" CUBA CRUISE

Monday, July 15, 2019 at 4:00 PM

-

Saturday, July 20, 2019 at 8:00 AM (PDT)
Event Details
Grab your Travel Squad and join us for our 1st Annual Girlfriends Getaway with "Luxe Vacations", "Check Please" & "According to Paris", for an unforgettable GIRLFRIENDS ROCK "Havana Night" Cuba Cruise, so ladies leave the kids with your spouse or relative. Plan to relax, rejuvenate, soak up some sun, enjoy a little round table girl talk, enjoy old and new girlfriends and so much more!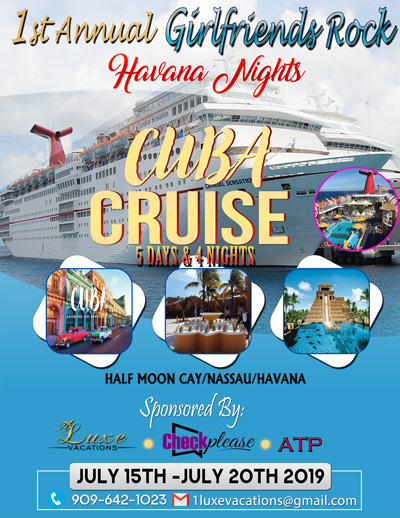 **YOU WILL NEED A PASSPORT AND VISA TO ENTER INTO CUBA.
YOU MUST PROVIDE PASSORT AND CARNIVAL WILL PROVIDE VISA FOR $75.00**
Reserve YOUR Spot with just $25 Today!
***DEPOSIT IS NON-REFUNDABLE and NON-TRANSFERABLE***
$25.00 (Cabin Holding Fee) per person due by EXTENDED to  October 29th, 2018

$150.00 (Initial Deposit) per person due by December 30th, 2018

Once initial deposit has been made, you'll receive monthly payment options


---
Carnival Caribbean Cuba Cruise


Cruise Details: Carnival Sensation
Monday, July 15th, 2019                 Departure: Miami, FL                    4pm


Tuesday, July 16th, 2019                 Nassau, Bahamas                     8 am – 5pm

Wednesday, July 17th, 2019            Half Moon Cay, Bahamas        8 am – 4pm

Thursday, July 18th, 2019               Fun Day at Sea      


Friday, July 19th, 2019                    Havana, Cuba                          7am- 5pm

Saturday, July 20th, 2019                Debarkation: Miami, Fl                 8am
---
Cabins: Prices include taxes and fees
$739.52 per person     4A Interior Stateroom

$742.52 per person     4B Interior Stateroom

$744.52 per person     4C Interior Stateroom


$809.52 per person     6A Ocean Stateroom

$812.52 per person     6B Ocean Stateroom

$814.52 per person     6C Ocean Stateroom

Balcony "Prices Varies, please contact Luxe Vacations for pricing".

Private Party, Excursions & Events.
The above rates are based on DOUBLE OCCUPANCY.
Rooms with 3-4 occupants will have lower rates.
 (Please note that when making your initial deposit if you have a roommate to be sure that you both make your deposits on the SAME date.


  *****Solo Travelers are required to pay 200% deposit and cabin rates. *****
---
WHAT'S NOT INCLUDED IN ABOVE PRICING
Gratuities of $64.75 per person

Airfare (you can book air, hotel &car rentals through Luxe Vacations)

Transportation to/from Airport and Cruise Boat

Travel Insurance (Highly Recommended and available upon request)
If you choose to book your own airfare please be sure to check the times, you will need to make sure to arrive in Miami in enough time to board the ship and give yourself enough time to make it to the airport upon debarkation in Miami.


Additional Information:
All payments towards a travel event package are NONREFUNDABLE and NONTRANSFERABLE. Name changes once you're assigned a cabin, will incur a change fee.

Payments through Eventbrite will incur a service processing fee from Eventbrite. This fee does not apply to your balance.

to make payments without Eventbrite processing fee please contact @1luxevacations@gmail.com for PayPal payments.





Non-payment without notification will result in cancellation and funds will be forfeited.
TRAVEL INSURANCE $95.00
Travel insurance helps to protect you against any unforeseen emergencies which can occur at any time. Examples: travel delay, lost or stolen baggage, personal items, missed connections, hurricanes, Illness during travel and so much more.
Itinerary - Your Official GIRLFRIEND ROCK "HAVANA NIGHTS" Cuba Cruise Itinerary will be issued on October 31st, 2018. You will NOT receive your documents prior to this date. Please retain all travel receipts issued to you by Luxe Vacations.
CONTACT US
Contact information:
Joy Cox
Email: 1luxevacations@gmail.com

BUSINESS HOURS:
SUN – FRIDAY 10AM - 6PM
CLOSED ON SATURDAYS

Social Media
Facebook: 1LuxeVacations, Checkplease and Accordingtoparis
Instagram: 1Luxevacations, Checkplease and Accordingto_paris


Save This Event
When & Where
CARNIVAL CARIBBEAN CRUISE



Monday, July 15, 2019 at 4:00 PM

-

Saturday, July 20, 2019 at 8:00 AM (PDT)
Add to my calendar