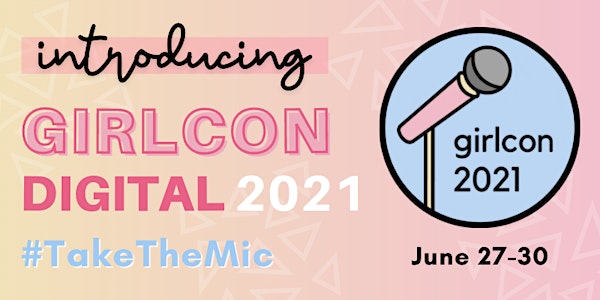 GirlCon DIGITAL 2021
GirlCon is a free conference taking place ONLINE this year, featuring workshops, keynote speeches, and professional development sessions.
About this event
What happens when you gather gutsy, inspiring high-school females to enhance their diverse passions in law, politics, social-good, art, economics, business with technology? Magic.
Join us virtually to take part in the magic! GirlCon is a virtual event taking place at ONLINE for its fourth annual conference (Registrants can pick and choose the sessions they will attend based on availability). GirlCon will have various workshops and keynote speeches throughout each day of the week-long event that illustrate how technology is ingrained into every field. The lack of womxn in tech is a big issue that everyone on the GirlCon team is striving to fix. Our goal is to provide girls with connections to successful women in their choice career field: we want every girl to feel empowered to reach her potential! 
Join sessions for more chances to earn free swag, connect with mentors, learn about technology, and get ready to be launched into your field of passion!
Check out our conference schedule and cohort of awe-spiring women speakers at girlcon.org! Follow us on Instagram, Facebook, and Twitter @girlcontech!
Liability Forms: IMPORTANT!
Before registering, please review the forms below:
No signature is needed here, the completion of the event form will act as a digital signature. Please have a parent/guardian review the minor form below (if under 18 years old) or the adult form (if 18+).