About this Event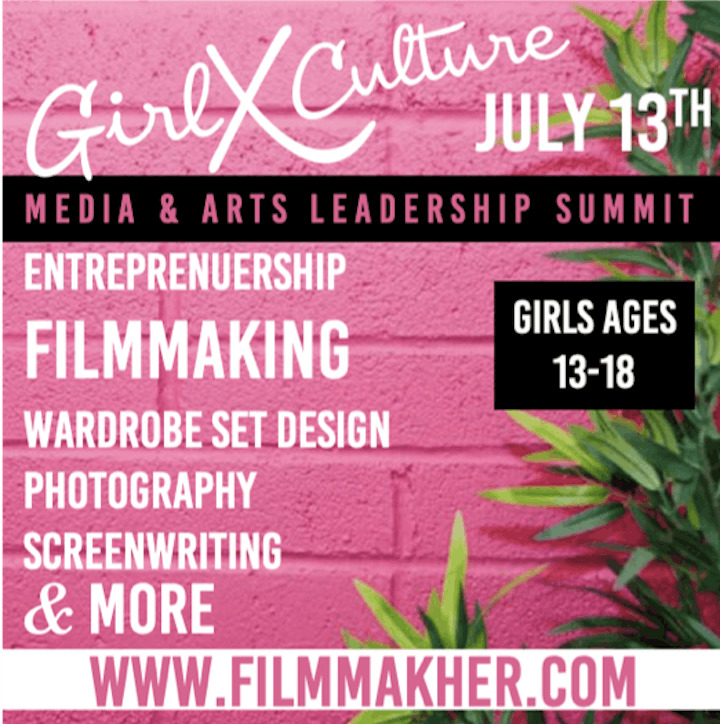 Our Girl x Culture Media & Arts Leadership Summit is an unforgettable experience for girls ages 13-18, designed to promote personal leadership development, stimulate their creativity to expose their natural talents and give the girls confidence to dream beyond their imagination. Our summit is rich, exciting, in-depth and informative. It is taught through a balanced classroom setting using basic teaching strategies, hands-on interaction and engagement with industry professionals. We believe that experience is the best teacher. In our hands-on programming, we teach filmmaking, acting and writing workshops, set design, and wardrobe. Using what they've learned the girls create and produce their own short film, PSA or commercial.
All tickets include a t-shirt, continental breakfast and lunch.
"PASSION COMMUNITY CREATIVITY CONFIDENCE CHANGE" The mission of FilmmakHER is to empower girls and women to make extraordinary contributions to the world through the use of Media & Arts. Our commitment is to create innovative programming that educates and inspires in areas of Film, Music, Journalism, Literature, Marketing, Fashion, Art, Graphic Design, and Entertainment Law. We achieve our purpose through speaking engagements, workshops, and events.
leadership
FilmmakHER is led by a team with over 20 years of combined experience in Reality TV, Film, and Entertainment. FilmmakHER visionary Tyesha Brown has been in the Entertainment Industry since 2005 and is currently VP of Development for 818 Productions. Recent credits and clients include BRAVO "the Singles Project", BET X , TLC "the Leah Remini Project", Wal-Mart Stores(Commercial Casting), FOX "the Shop", and NBC's the Voice.