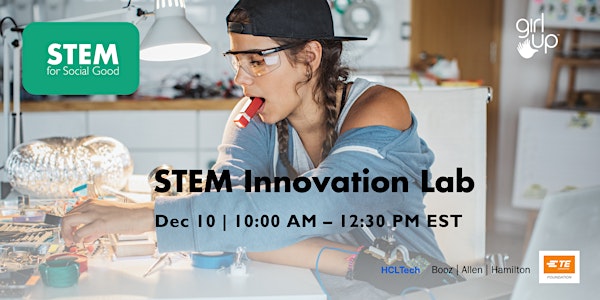 Girl Up 2022 STEM Innovation Lab
Girl Up's STEM for Social Good Innovation Lab is coming to you, virtually! This FREE, virtual, two-hour event is for young leaders 13-24.
About this event
Are you passionate about the ways youth can use STEM to change the world? Want to meet youth just like you pushing past gender stereotypes to make waves in STEM? Interested in connecting with women in STEM in mentorship breakout rooms? Join us at the 2022 Girl Up STEM Innovation Lab to gain inspiration from your peers as they present ways they have implemented STEM projects into their communities!
The STEM Innovation Lab is part of Girl Up's 2022 STEM for Social Good Tour ! This FREE two-hour event will provide event participants with the opportunity to explore their interests in STEM during mentorship sessions, provide celebratory feedback to youth changemakers on their STEM projects, and learn how to apply for a Girl Up $1000 USD STEM Project Award to launch a STEM initiative!
The Girl Up STEM for Social Good Innovation Lab will run from 10:00 AM - 12:30 PM EST (New York City Time Zone, USA) in an interactive, virtual format. This event will be hosted in English, with Portuguese, Spanish, and French closed captions. The event content is mostly geared toward young leaders ages 13-24. S Event attendees will receive a certificate of completion (Hint: this is a great thing to list on future applications)!
The Girl Up 2022 STEM Innovation Lab is sponsored by TE Connectivity, Booz Allen Hamilton, and HCL Technologies.
 About Girl Up
Girl Up is a girl-centered leadership development initiative, focusing on equity for girls and women in spaces where they are unheard or underrepresented. We believe when girls and women are in positions of influence, they work to create a more just and equitable world for everyone.
Girl Up operates a global network of regional affiliates reaching 150,000 girls in 130 countries. We deliver evidence-based leadership development training through our girl-led Clubs, programs, and events. As members of a global movement, girls are a force for social good — connected to a Community of their peers who are advocating for policy change and advancing gender justice.
Founded in 2010 and hosted by the United Nations Foundation, Girl Up welcomes girls and youth of all gender identities to start a Club and join our movement to advance gender justice worldwide. Together, we are expanding girls' skills, rights, and opportunities to lead and changing the face of leadership for generations to come.