Este evento ha finalizado.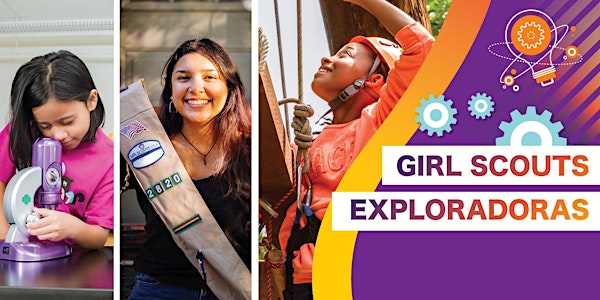 Girl Scouts Exploradoras: Serie Virtual Bilingüe/ Virtual Bilingual Series
¡Estás invitada a la Serie Exploradora de Girl Scouts!/ You are invited to the Girl Scouts Exploradora Series!
Acerca de este evento
Las reuniones serán en español e inglés/The meetings will be in Spanish and English
¡Los invitamos a formar parte de las Girl Scouts Exploradoras! Su niña participará junto a otras chicas de su edad mientras exploran y descubren sus intereses de manera divertida. En Girl Scouts, las niñas aprenderán nuevas habilidades y desarollarán valor y confianza en sí misma.
Las reuniones serán el cuarto (4to) sábado de cada mes - con excepción de fechas feriadas. Las proximas reuniones serán19 de diciembre, y el 23 de Ennero. Después de completar la registración, recibirás un correo electrónico con mas informacion.
We invite you to join the Girl Scouts Exploradora! Your girl will participate alongside other girls her age as they explore and discover their interests in a fun way. In Girl Scouts, girls will learn new skills and develop courage and self-confidence.
Meetings will be the fourth (4th) Saturday of each month -except for holidays. The first meetings will be on December 19, and January 23rd. After completing the registration, you will receive an email with more information.