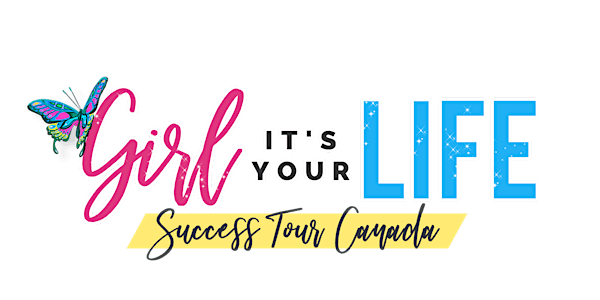 Girl It's Your Life Success Tour Toronto, Canada
When and where
Location
Sheraton Centre Toronto Hotel 123 Queen Street West Toronto, ON M5H 2M9 Canada
Refund Policy
Refunds up to 30 days before event
Description
WHAT IS GIRL IT'S YOUR LIFE SUCCESS TOUR?
A Powerful Conversation Specific for Women Created by Women to Address the Growing "PINK Elephant" In the Room "An Unfulfilled Life."
There has never been a more important time to awaken for us as Women. Girl It's Your Life Success is a 1.5 Day action-packed conference event designed to help REINVIGORATE your Life guiding you forward to Reclaim your VOICE, FOCUS and SUPERPOWER(S)
And at the CORE of everything You do and who You are comes down to your framework.
If you have a Vision for more in your life and you're ready to bring it forward… this event is for you.
It is that time we Shift our focus back to doing our real work.
Our greater work sits within us.
Why we settle to Live Life in Limits vs EXPANSION.

It is at this moment you can LIVE On Your Own TERMS and Put the POWER back in your life.
You Can Do The Impossible.
This is the kind of event that is set up to dive in deep with you to discover how to breakthrough the barriers that limit you from discovering your highest potentials
Create a "BIG You"
What would your money, personal life, work, business, spirtual life, key relationships, health and wellness looklike if you had an opportunity to DEPROGRAM belifs that are not serving you AND Level Up.
Inside this room we are going to reveal the secret codes to living greater and achieving bigger success...

The Girl It's Your Life Success Tour has traveled throughout 17 Cities across the United States with a final stop in Toronto Canada. Girl It's Your Life Success Experts will be live helping you UNPACK the answers and PRIORITIZE the right action steps guaranteed to Empower and Accelerate you.
Get ready to Ramp Up your INNER GAME in just 1 Day.
Girl It's Your Life Success event will take your Happiness, Health, Money, Business, Job, Prosperity & Consciousness to the Next Level. You will Discover powerful insights and techniques for creating radiant health, happiness, prosperity, peace and flow in your life and relationships. If you have BIG Desires for your life, and you're ready to finally call them in… this conference event is for you.

DAY 1 : October 26th [Friday] EXCLUSIVE Girl Meet You Soiree' 7:30- 9:30PM
Welcome with Lori Pelzer + Experts
Explosive Entertainment with Special Guest
Girl It'sYour Life Soiree' "Meet You" Session
Hot Appetizers Provided By Sheraton Centre Toronto Canada
Special Girl It's Your Life Gifts

--------------------
DAY 2 : October 27th [Saturday] High POWER Full Day Training 9:00AM Registration Starts
10:00AM Kickstart with Lori Pelzer
10:00AM-6:30PM Inspired and Powerful GIRL It's Your Life Success Full Day Training.
1:00PM VIP Lunch with Special Guest Speaker
All DAY Breaks All Attendees receive



Tracy is UNSTOPPABLE!
Meet Tracy Schmitt Our VIP Lunch Guest Speaker



Tracy is UNSTOPPABLE - and not just because she was cameoed in the movie Robo Cop.
Unstoppable Tracy #1 International Speaker based out of Toronto is sharing the stage with Jane Fonda, John Travolta, Mel Gibson, Mark Wahlberg and more! Her mind blowing story always gets standing ovations pushing audiences out of their limitation zones. She is the winner of the 2017 Robert W. Jackson Award [Founder of the Canadian Paralympics], 2017 Ontario Premier Awards, 2017 C-SASIL Lifetime Achievement Award and 2018 Women of Essence Global Award Nominee and as seen on CBC, City TV, Global News, NBC, FOX and globally around the world!
Oprah Magazine shared her story as Quest for the Gold World Cup Sailor, who climbed Himalayan mountains, captained 110-foot-tall ship, won paraskiing bronze and funny too.
Oh, did I mention she was born a 4-way amputee?


Get Your VIP Ticket Today Seats Are Limited
October 26th 7:30-9:30PM
October 27th 10:00AM -6:30PM


UNLEASH Your Economic Potential and Power
Women In Business [ GirlPreneur] Bonus Session
Learn Specific Actionable Advise that covers everything from overcoming self doubt, to pursuing side hustles, revenue strategies and crushing it.





We look forward to seeing you in a city near you or in

Toronto, Canada Conference
October 26th 7:30-9:30PM
October 27th 10:00AM -6:30PM
For More Information Visit: www.girlitsyourlifetour.com
Email: Support@loripelzer.com