Girl Effect Investor Gathering
When and where
Location
The Factory 1000 Fulton Street San Francisco, CA 94117
Description
Find more information on the Girl Effect Accelerator please visit - www.girleffectaccelerator.com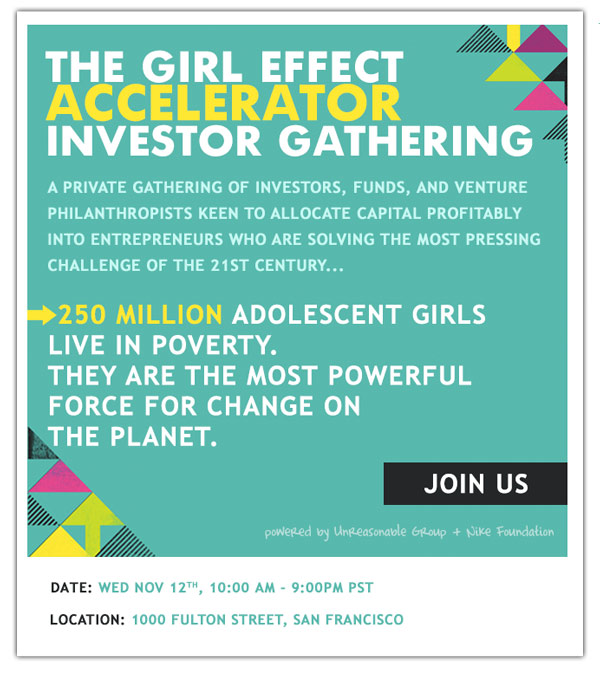 What is this?
Join us for a small convening of 45 investors, funds and foundations. The Nike Foundation & Unreasonable Group have partnered to launch the Girl Effect Accelerator – the world's first accelerator dedicated to entrepreneurs who are positioned to benefit millions of girls in poverty. This is the private investor gathering designed around the accelerator program to unite a cohort of investors and philanthropists hungry to allocate their capital into high-growth ventures impacting millions girls in poverty. The deal flow will be remarkable and the conversations irreplicable. We hope you will join us. This ticket will also give you access to the Nov 11 culminating event at the Palace of Fine Arts.
What types of deals will we be looking at?
You will gain intimate access to the 10 ventures selected to participate in the Girl Effect Accelerator. WARNING: These are not your typical Silicon Valley startups. These companies operate in over 30 countries and averaged $2.2 million in revenue last year from customers living on less than $2 a day. These are the true "black swans" of our time: startups who have significant market traction, are working in the fastest emerging markets of our time, and are positioned to measurably benefit millions of girls in poverty. They range from one of the fastest growing mobile banking platforms in the world (1.8M users in Nigeria), to the largest distributor of solar in the global south (based in India), to the fastest growing mobile education app in Africa. To read about each of the 10 ventures, click here.
Why girls?
It has been shown that an educated girl will reinvest 90 percent of her future income in her family, compared with 35 percent for a boy. And yet 250 million adolescent girls live in poverty and are more likely than boys to be uneducated, to be married at a young age, and to be exposed to HIV/AIDS. Not convinced? Watch this video.
Where do the proceeds from my ticket go?
All ticket proceeds will go towards offsetting the costs of the culminating and investor events.
I already have plans on Tuesday Nov 12... Should I cancel them?
Yes ;-).