Description
TUF Project, Inc. hosts monthly empowerment gatherings called 'TUF Words: Girl Codes for Womanhood' to connect women seeking answers to real-life issues. You'll hear the inspirational stories of women experiencing and overcoming challenges, and we will learn how to push through and grow together. We want you to be encouraged by our stories and become inspired enough to tell your own. You'll receive heartfelt encouragement, compassion and caring support from other women who are just like you!
This month's topic: Situationships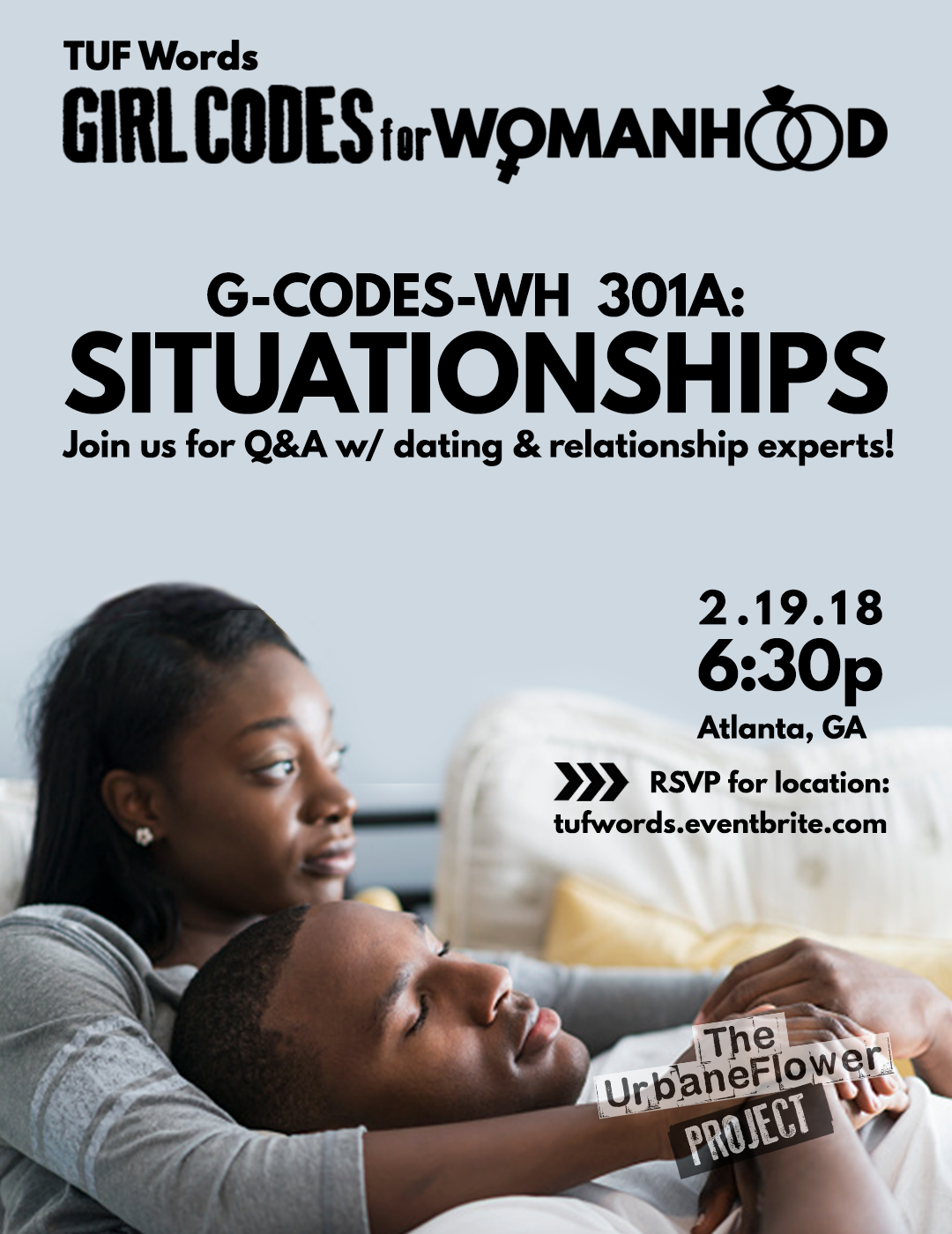 Let's be honest with ourselves about the relationships we're involved in. When discussing your relationship, do you have an "understanding" or is it too "complicated" to explain?Are you in a one-sided relationship with someone who is emotionally unavailable? Are you in a single marriage?

Whether you are married or single, this gathering is for you. We're giving you the real deal on situationships, why you deserve more, and how to cultivate a healthier and committed relationship, the right way.

We have lined up a panel of experts to talk about relationships and dating for singles and married women:

Aqueela Maddox- Relationship Coach
Brandy Stinson- Pearls of Easter
Tabitha Caver- Wife & Entrepreneur
Ebone Abby- Wife & Author
Alexis Thomas- Licensed Therapist (Moderator)

Other Special Guests include:
Tamela McDonald- Licensed Sexual Health Therapist
Rashida Powell- Gwinnett Singles Mixer
Here's a place where you can be YOU! That's right your beautiful self. There is no pressure, no red carpet, no need to be "camera ready." We are always mindful of our sisters who come to share. We protect the space and respect confidentiality.

No Outside Pictures or Video: You will not be displayed on social media without your consent.
RSVP does not include food. Be prepared to cover your meal selections and drink purchase at the venue.
Details will be emailed to registered participants only. Please add info@tufproject.org to your mailing list.
We do not provide childcare.

*The Urbane Flower (TUF) Project does not provide clinical mental health services. TUF Words is moderated by an experienced and qualified professional. If you've previously attended and have seen the benefit, we ask that you share this event to help us connect with other women.