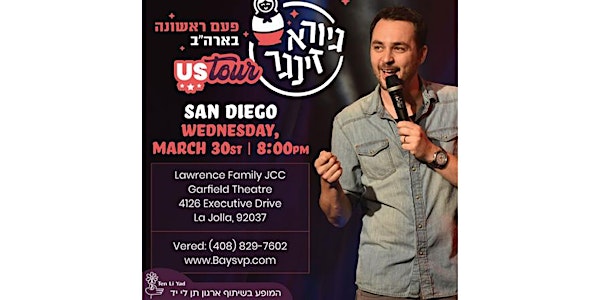 Giora Zinger In a Stand-Up Comedy Show - San Diego
A New Stand Up Comedy Show!
When and where
Location
Lawrence Family JCC , Garfield Theatre 4126 Executive Drive La Jolla, CA 92037
About this event

במופע הסטנדאפ שלו, גיורא זינגר מספר לכם איך זה להיות ישראלי שנולד בארץ למשפחה רוסית, יגרום לכם לתהות שוב האם אתם מרוצים מהזוגיות שלכם וגם יגרום לכם להסתכל במראה ולהבין שאף אחד אינו מושלם, אלא להיפך... גיורא, הסטנדאפיסט עם השם המוזר, מפצה על זה עם המון חוש הומור, חדות וכריזמה, ומוכיח שלא חייבים לרדת נמוך כדי להצחיק עם סטנדאפ איכותי ונקי מגסויות.
הערב בחסות ארגון "תן לי יד" קרן סיוע ותמיכה בנשים מוכות וילדיהן בישראל. כל ההכנסות מהמופע יועברו לתמיכה במקלט לנשים מוכות במרכז הארץ.
The show is sponsored by "Ten Li Tad"/ "Give Me a Hand" organization, a support fund for battered women and their children in Israel. All proceeds from the show will be donated to support a shelter for battered women in the center of Israel.