Description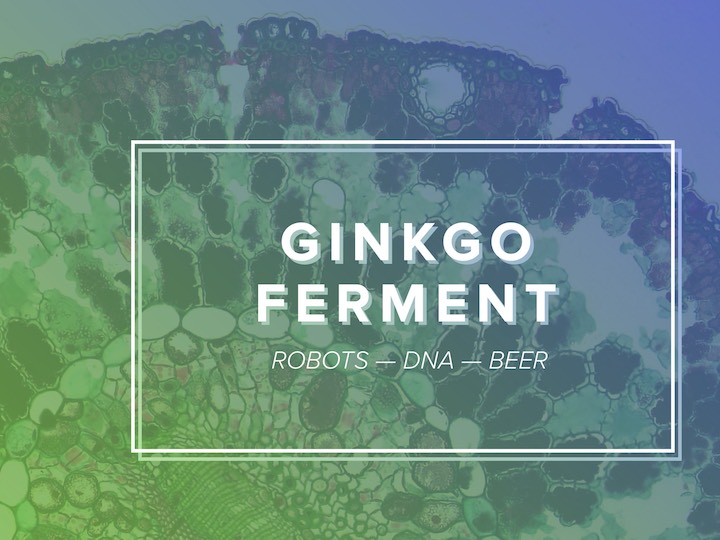 ---


EVENT OVERVIEW
*Please register below for EACH section individually!


Thursday, October 25, 2018
10am - 3pm // Ginkgo Ferment
Ginkgo's inaugural annual meeting!
Registration begins at 9am
Location: Hynes Convention Center (Ballroom B, 3rd Fl), 900 Boylston St, Boston, MA 02115
4pm // VIP Tour of Bioworks4
Can't attend the Bioworks4 Party? Come tour Ginkgo's newest foundry beforehand!
Transportation will be provided from Hynes at 3:30pm
Location: Ginkgo Bioworks, 27 Drydock Ave, Floor 8, Boston, MA 02210
7pm onward // Bioworks4 Opening Party
Celebrate the unveiling of Ginkgo's newest foundry. Libations and dinosaurs will certainly be present. (21+)
Location: Ginkgo Bioworks, 27 Drydock Ave, Floor 3, Boston, MA 02210
Questions or parking? Contact ferment@ginkgobioworks.com.
---
GINKGO FERMENT SCHEDULE (in more detail!)
9-10am Registration + Breakfast
10-10:30am Welcome Address
Jason Kelly (CEO, Ginkgo Bioworks)
10:30-11:10am Moore's Law for Biotechnology Panel
Christian Henry (Director, Pacific Biosciences; former Chief Commercial Officer, Illumina)
Meagan Lizarazo (Executive Vice President, iGEM Foundation)
Michael Egholm (Chief Technology Officer, Danaher Life Sciences)
Moderator: Barry Canton (Co-founder, Ginkgo Bioworks)
11:10-11:30am Fragrance De-extinction
Christina Agapakis (Creative Director, Ginkgo Bioworks)
11:30-11:45am Coffee Break & Fragrance Demo
11:45am-12:30pm Biosecurity in the Age of Synthetic Biology
Tara O'Toole (Senior Fellow & Executive VP, In-Q-Tel, and former Under Secretary of the Science & Technology Directorate of the Department of Homeland Security)
Andrew C Weber (Senior Fellow at the Council on Strategic Risks, and Former Assistant Secretary of Defense for Nuclear, Chemical & Biological Defense Programs)
Drew Endy (Associate Chair of Education in Bioengineering, Stanford University)
Moderator: Reshma Shetty (Co-founder & COO, Ginkgo Bioworks)
12:30-1:45pm Lunch & Explore iGEM
1:45-3:00pm Applications of Synthetic Biology
Mike Miille (CEO, Joyn Bio)
Christophe Schilling (CEO, Genomatica)
Renee Wegrzyn (Program Manager, DARPA)
Michael Gorenstein (CEO, Cronos Group)
Isha Datar (Executive Director, New Harvest)
3:00pm Closing Remarks
Jason Kelly (CEO, Ginkgo Bioworks)
--
3:30pm Shuttles to Ginkgo Bioworks
A shuttle to Ginkgo's HQ will be provided after the meeting for VIP tours (4pm) at Ginkgo Bioworks. The shuttle will run between Hynes and Ginkgo's HQ, so it will return for the second group shortly after 4pm.
4:00pm VIP Tour Ginkgo Bioworks Begin
Can't attend the opening party? Get a private tour of the foundry before the party!
Location: Ginkgo Bioworks, 27 Drydock Ave, Floor 8, Boston, MA 02210
--
7pm on! Bioworks4 Opening Party
Please join Ginkgo in celebrating the opening of our new foundry. Meet Ginks, tour the foundry, workshop and prototype biosensors of the future with Designer in Residence Yasaman Sheri and the Extrapolation Factory, and more. Libations and hors d'oeuvres will be aplenty. (21+)