Gina Gold's TMI:Sex Worker Confidential-Storytelling+Opening Party w/ Cinna...
Description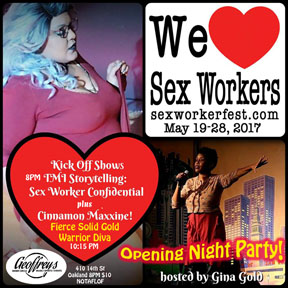 8 PM Grab Your Pussy and Run and Other Stories of Survival and Community
The Festival opens with this topical edition of Gina Gold's storytelling series. Join us for this provocative theme as sex workers educate and seduce you. Learn our skills and tricks as we survive and build community with others who are also targets in these harrowing times. Then stick around for a whole night of fun, humor and further destruction of stereotypes at this Sex Worker Festival opening event, with full bar plus $10 extra for Geoffrey's Inner Circle Buffet (the best soul food buffet in the bay (greens, fish, chicken, Louisiana 'tata salad, the works!) followed by a provocative Late Show with Cinnamon Maxxine and much more.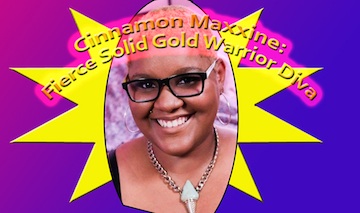 10:15 Cinnamon Maxxine, Fierce Solid Gold Warrior Diva
The Sex Worker Festival's opening night presents artist, activist and performer Cinnamon Maxxine, presenting work that spans genres of burlesque and performance art. Heady and sexy, angry and juicy, bold and intimate, Cinnamon, a self-identified "naked brown, fat, curvy, queer, big booty, space perv, fierce solid gold warrior diva" explores expectations and challenges boundaries of politics of gender, size, art and race. Join us for this Sex Worker Festival opening night with full bar, Geoffrey's Inner Circle Soul Food Buffet and much more. Come early for Gina Gold's "Sex Worker Confidential" story telling.