About this Event
✨JAZZVILLE✨presents the Gin Mill Grifters lead by Tim Gill, the dapper vocalist/trumpeter who wrote the unforgettable song, "Small Batch Bourbon". This is our big Christmas in New Orleans show dats got everyone abuzz. We're gonna deck the halls with beads and balls for some serious swingtime and Dixieland, baby! Don't miss this show!
Tim Gill - vocals/trumpet
Danny House - clarinet/sax
Gareth Price - drums/washboard
Katie Cavera - banjo
Bob Aul - tuba
Ben Devitt - trombone
This WONDERFUL band is made up of some of the finest musicians this side of the Mississippi, and they surely will delight for your drinking and dancing pleasure.
Dapper & Dolled dress requested (but not required).
Doors open at 5:30pm with a 7 pm showtime. Dinner and drinks served throughout the show. No minimum. We encourage you to arrive early for dining to help minimize server activity and noise during the live show.
Pick your seats early. Many of our shows sell out.
Let Jazzville take you back in time when supper clubs and jazz joints ruled the night. We offer straight-ahead jazz, be-bop, vintage and Latin jazz. Come swing with us!
Jazzville is a live jazz scene in downtown Palm Springs presented by DJ Baz/Barry Martin at Wang's in the Desert, hosted by Jeff Wolf of 107.3 Mod FM.
Jazzville calendar: https://www.JazzvillePalmSprings.com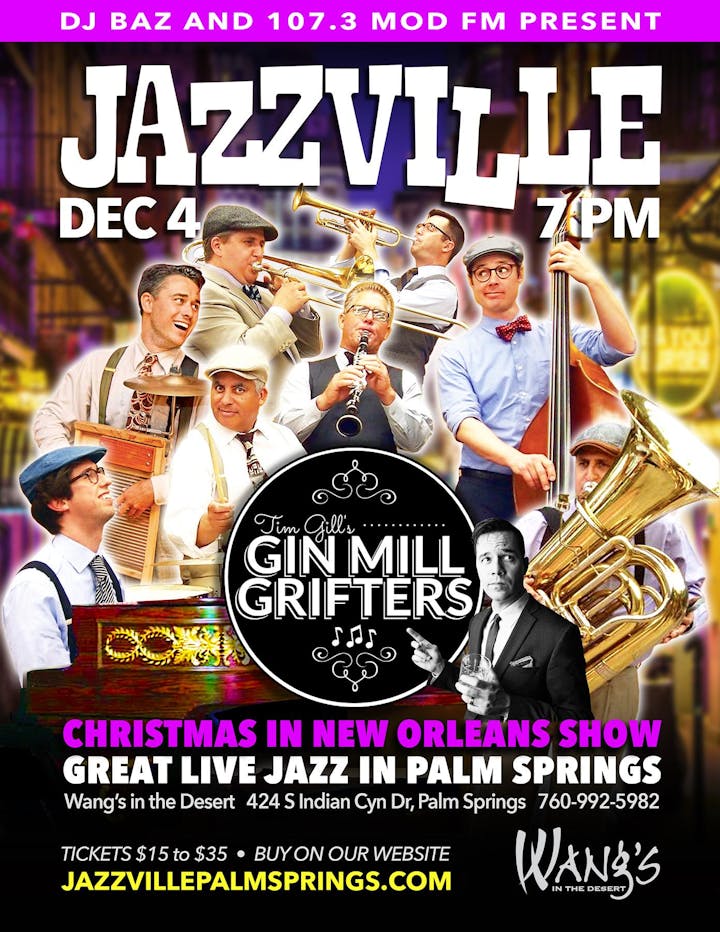 Gin Mill Grifters
See you in Palm Springs on Dec 4 !