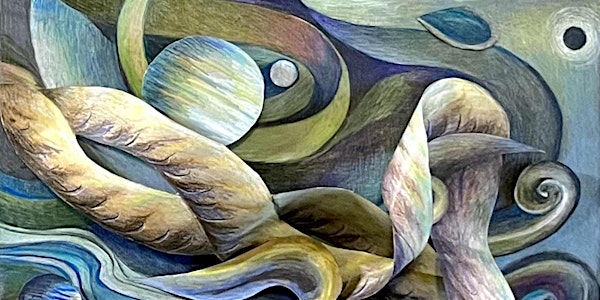 Gillian Bradshaw Smith: Storms of Jupiter - Opening Reception
Join us to celebrate new works by artist Gillian Bradshaw-Smith in this collection of pieces inspired by celestial whirlwinds.
When and where
Location
Ro2 Art in the Cedars 1501 S Ervay Dallas, TX 75215
About this event
Where: Ro2 Art in the Cedars
1501 S. Ervay St. Dallas, TX 75215
When: May 22 – June 19, 2021
Opening Reception: Saturday, May 22, 12-5 PM
Ro2 Art is proud to present Storms of Jupiter , featuring new works by artist Gillian Bradshaw -Smith. The show will run from May 22 through June 19, 2021. The exhibition will open with a reception at Ro2 Art in the Cedars located at 1501 S. Ervay St. Dallas, TX 75215 and will take place from 12-5 PM.
Artist Statement:
Art has always been about play for me. Play is the vocabulary of my art—the tactile enjoyment of using different materials, transforming one material into another, creating depth on a flat surface, breaking the surface into new dimensions.
Last year I saw the spectacular photos of Jupiter from the NASA probe—swirling storms flowing around the center of the immense planet and was inspired to start a series of works to capture Jupiter's power and mystery.
Using 16 x 20 birch wood panels, good stiff paper, and Prismacolor pencils, I cut spiraling shapes from paper and colored both their back and front surfaces. Next, I glued one end to the panel, then twisted and contorted the other end and glued it down as well. Then, I added the circular forms of the moons as punctuation to pause the swirling movement.
The whole process was a form of improvisation, of drawing the background, adding and subtracting paper forms, till the composition captured the energy and beauty chaos of the cosmos. I was not attempting realism, rather an interpretation, a romantic vision of chaos.
My 'Mobius Knots' are created by linking together two Mobius strips of paper. What is a Mobius strip? Unlike a regular loop, the Mobius strip is twisted before the two ends are glued together, thus creating a continuous surface. By linking two of the strips together, I created a three-dimensional drawing that I call a "Mobius Knot." These sculptural shapes play with form, texture, and dimensionality.