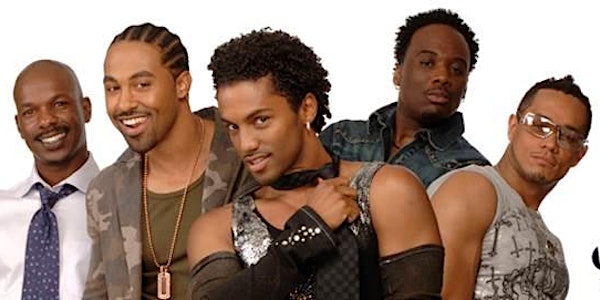 GILEAD presents PATRIK-IAN POLK ENTERTAINMENT's THE 'RONA CHRONICLES
A "NOAH'S ARC" 15th ANNIVERSARY VIRTUAL REUNION SPECIAL "Social distancing & social unrest brings them together"
About this event
Patrik-Ian Polk Entertainment highly anticipated scripted reunion special, "Noah's Arc: The 'Rona Chronicles," presented by Gilead Sciences, Inc., will air on Sunday, July 5 at 8PM ET/5PM PT.
The event celebrates the 15th anniversary of the show's premiere and will stream on Entertainment Weekly, GLAAD, Logo and Patrik-Ian Polk Entertainment's Facebook pages, as well as on Patrik-Ian Polk Entertainment's YouTube.
or
It's time to reunite with the characters of the wildly popular, groundbreaking Black gay television series, NOAH'S ARC. After a 12-year hiatus, Noah, Alex, Ricky & Chance will finally reunite in NOAH'S ARC: THE 'RONA CHRONICLES. Independence Day weekend, Patrik-Ian Polk Entertainment and title sponsor Gilead will present the worldwide premiere of a special reunion episode on Sunday, July 5, 2020 streaming at 8:00PM EDT / 5:00PM PDT on YouTube and Facebook Live. GLAAD and Impulse DC are supporting sponsors.
The Virtual Reunion Experience will kick off with a pre-show tailgate party featuring clips from the series and testimonial videos from fans presented & hosted by MOBI (Mobilizing Our Brothers Initiative), followed by the reunion episode written and directed by the show's creator Patrik-Ian Polk. A post-show LIVE Q&A with original cast Darryl Stephens, Jensen Atwood, Rodney Chester, Doug Spearman & Christian Vincent will be moderated by Karamo Brown (Netflix's Queer Eye).
NOAH'S ARC, a classic LGBT series about a group of Black gay friends navigating the gay dating scene in Los Angeles, ran on MTV/Viacom's LOGO channel from 2005 to 2007 and wrapped up with the award-winning 2008 feature film, NOAH'S ARC: JUMPING THE BROOM (Best Film, GLAAD Awards). Ten years after the wedding, the reunion finds Noah and pals in the middle of a worldwide public health crisis and global social justice movement.
Polk (P-Valley, Being Mary Jane, Blackbird) created NOAH'S ARC to shine a light on the largely untold stories of the Black gay community. The series was the first on American television to feature an all-Black and gay cast of characters. For most African-American LGBTQ people, this was their first time seeing any version of themselves on TV-- and although short-lived, the series' impact is still celebrated today.
"Not a day goes by that I don't get messages, tweets, DM's and emails from the huge NOAH'S ARC fanbase saying how much they love & miss the show and begging for a reboot," says Polk. "While we've all struggled to stay sane during these stressful and trying times, the cast and I wanted to do something special to show our appreciation for all the love we continue to receive from the fans."
Recognizing that in these trying times many LGBTQ non-profits are struggling financially, Polk is proud to announce that this event will also raise money for a host of Black LGBTQ non-profit organizations providing vital services to their communities. The fundraising goal is $100,000, which will be split among 7 non-profits (see list below).
GoFundMe: https://bit.ly/NOAHSARCVirtualReunionCharityFundraiser
NOAH'S ARC creator Patrik-Ian Polk is an Independent Spirit Award and six-time NAACP Image Award nominee. His feature film credits include Blackbird, Punks & The Skinny. He served as Co-Exec Producer of BET's Being Mary Jane, writing and producing the popular series' 2019 two-hour finale, and P-Valley, which premieres July 12th on Starz.
For more information on the reunion special, contact Richard E. Pelzer II, Executive Producer at Richard@Harlem2020.nyc or email noahsarcreunion@gmail.com for press and general inquiries.
The non-profit organizations supported by the NOAH'S ARC REUNION fundraiser are:
Birmingham AIDS Outreach, Alabama's oldest AIDS service organization, was founded as a "grass-roots" response to the devastating and fatal impact HIV/AIDS was having on the Birmingham community. The 35-year-old org provides free services to over 800 HIV positive individuals.
CASA Ruby is the only LGBTQ bilingual and multicultural organization in the Washington, D.C. metropolitan area that provides social services and programs catering to LGBTQ populations. Casa Ruby provides more than 30,000 social and human services to more than 6,000 people each year.
G.L.I.T.S (Gays & Lesbians Living In a Transgender Society) is a New York based group who provides housing, health care and asylum services to transgender sex workers across the US and abroad.
In The Meantime Men's Group has provided hollistic wellness services for intergenerational, Black, gay, same gender-loving and bi-sexual men in Los Angeles County for over twenty years.
LGBT Detroit has worked over two decades supporting and advocating for Detroit's LGBT community. They offer 15 programs, events and activities serving over 800 community members annually.
Mobilizing Our Brothers Initiative (MOBI) curates a series of events for gay men of color, promoting community, wellness and personal development. The signature events are MOBItalks, a personal and professional development series, and MOBIfest, celebrating Black Queer voices in fashion and media.
The Oakland LGBTQ Community Center was opened in 2017 and provides social, educational & holistic health-related programs, services and activities for Oakland's gay community.
GoFundMe: https://bit.ly/NOAHSARCVirtualReunionCharityFundraiser