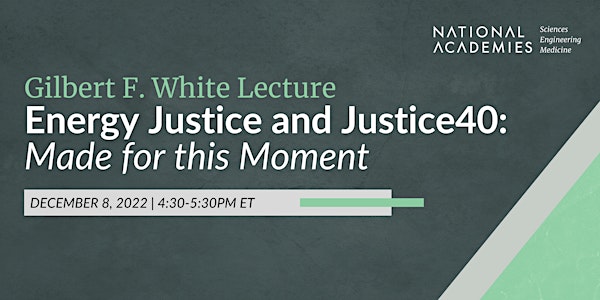 Gilbert F. White Lecture, Energy Justice and Justice40:Made for this Moment
Gilbert F. White Lecture, Energy Justice and Justice40: Made for this Moment
About this event
The U.S. Department of Energy (DOE) is helping achieve national climate goals by driving the clean energy transition forward every day. By prioritizing equity and place-based strategies in its work, DOE is modeling approaches to a clean energy transition that delivers real benefits to underserved communities—including those historically overburdened by the energy system. During this lecture, the Honorable Shalanda Baker will discuss the Department of Energy's approach to a just transition and the importance of meeting the moment.
Shalanda H. Baker is the Director of the Office of Economic Impact and Diversity at the U.S. Department of Energy. Prior to her appointment, she was a Professor of Law, Public Policy and Urban Affairs at Northeastern University. She was the co-founder and co-director of the Initiative for Energy Justice, which provides technical law and policy support to communities on the front lines of climate change. Baker served as an Air Force officer prior to her honorable discharge pursuant to the then existing "Don't Ask, Don't Tell" policy, and became a vocal advocate for repeal of the policy. She earned a B.S. in Political Science from the U.S. Air Force Academy, a J.D. from Northeastern University, and L.L.M. from the University of Wisconsin.
Email Oshane Orr at orr@nas.edu with questions.