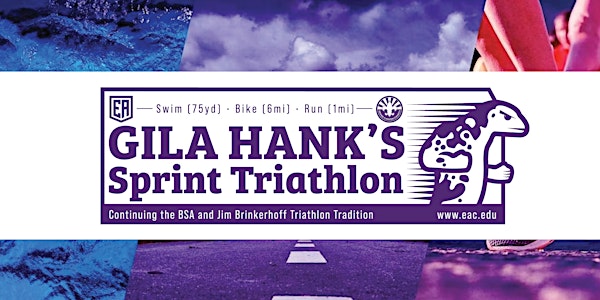 Gila Hank's Sprint Triathlon (Swim-Bike-Run)
Gila Hank's Sprint Triathlon is a swim, bike, run event.
By Eastern Arizona College
Date and time
April 14 · 6pm - April 15 · 2pm MST
Location
Eastern Arizona College 615 North Stadium Avenue Thatcher, AZ 85552
Refund Policy
Contact the organizer to request a refund.
About this event
Gila Hank's Sprint Triathlon consists of a 75-yard swim, 6-mile bike, and 1.5-mile run. Participants can compete as an individual (do the whole thing yourself) or as part of a relay team (swimmer, cyclist or runner) that you form prior to the triathlon. The goals of Gila Hank's Sprint Triathlon are to safely finish the race, have fun, make friends, and be part of something amazing!
Participants will receive a t-shirt, a one of a kind triathlon medallion, a race packet, and an overall time at the finish. Water and fruit will be provided at the finish to assist in recovery.
Gila Hank's Sprint Triathlon is supported by volunteers, sponsors, and the community. During Friday night's registration, a dance will take place. For a nominal fee, overnight camping space will be available on-campus near EAC's John Mickelson Stadium. Vendors will be onsite when available.
Gila Hank's Sprint Triathlon strives to be an inclusive event for people with physical or developmental disabilities. Those with diagnosed disabilities which can fairly and reasonably be addressed with an accommodation should be encouraged to participate. Our goal is to help everyone make it to the finish line by allowing a measure of help. There will be an opportunity to explain and request accommodations in the registration process.
*Please note - last day to register and or request a refund is April 12.
Schedule
Friday, April 14
6 -7 p.m. Triathlon check-in will begin at Eastern Arizona College's Activities Center (rooms 118 and 119) in Thatcher, Arizona. Race packets and t-shirts will be distributed at check in.
Saturday, April 15
Prior to the triathlon start, at assigned times, participants will arrive at the information booth area for body marking, bike inspection, timing chip pick up, and safety briefing.
7 a.m. - Triathlon will begin at staging area west of swimming pool near tennis courts.
Triathlon Overview
After a 75-yard pool swim, swimmers will transition to the east South Campus parking lot near EAC's Guitteau Gymnasium to the bike staging area.
Bikers will head north on College Avenue on a predetermined route for 6 miles, finishing on College Avenue on the west side of South Campus near the north parking lot rack bikes and transition to run staging area.
Runners will leave west out of the parking lot, then north on Stadium Avenue, following a predetermined route for approximately 1.5 miles, eventually winding through campus and ending at the finish line at EAC's Clock Tower on Middle Campus.
Medallions will be given to participants as they complete the triathlon.
A recovery station will be near the finish line area for triathletes.
Timing of participants will be done electronically with time strips at each staging area start/finish.
Parking
Parking will be available at the following locations:
North Campus at Mark Allen parking lot off Stadium Ave.
Parking lot east of EAC's Activities Center (dirt lot).
Parking lot west of EAC's Student Services Building.
Parking lots east of the EAC's Clock Tower.
EAC's John Mickelson Stadium parking lot.
On Saturday, parking along Railroad Drive between Stadium Avenue and College Avenue will be available.
Parking is not available in the lots west of EAC's South Campus buildings.
Camping
Camping areas will be available at EAC's John Mickelson Stadium and adjacent fields for a nominal fee. Porta-Jons will be available at field and other locations on race route.
Frequently asked questions
What is required when racing?
Is check-in Friday night required?
How do the timing chips work?
Where are the timing mats?
Is this event for kids only?