Giggle & Blush Peepshow - Starring Angie Pontani

Friday, August 31, 2012 from 9:00 PM to 11:30 PM (PDT)
Event Details
**GENERAL ADMISSION AVAILABLE AT THE DOOR ON AUGUST 31ST.  DOORS OPEN AT 8PM.**

Ellie Darling proudly presents the 3rd Edition of
Giggle & Blush Peepshow, Starring Angie Pontani from New York!
SHOWTIME 9PM. DOORS OPEN 8PM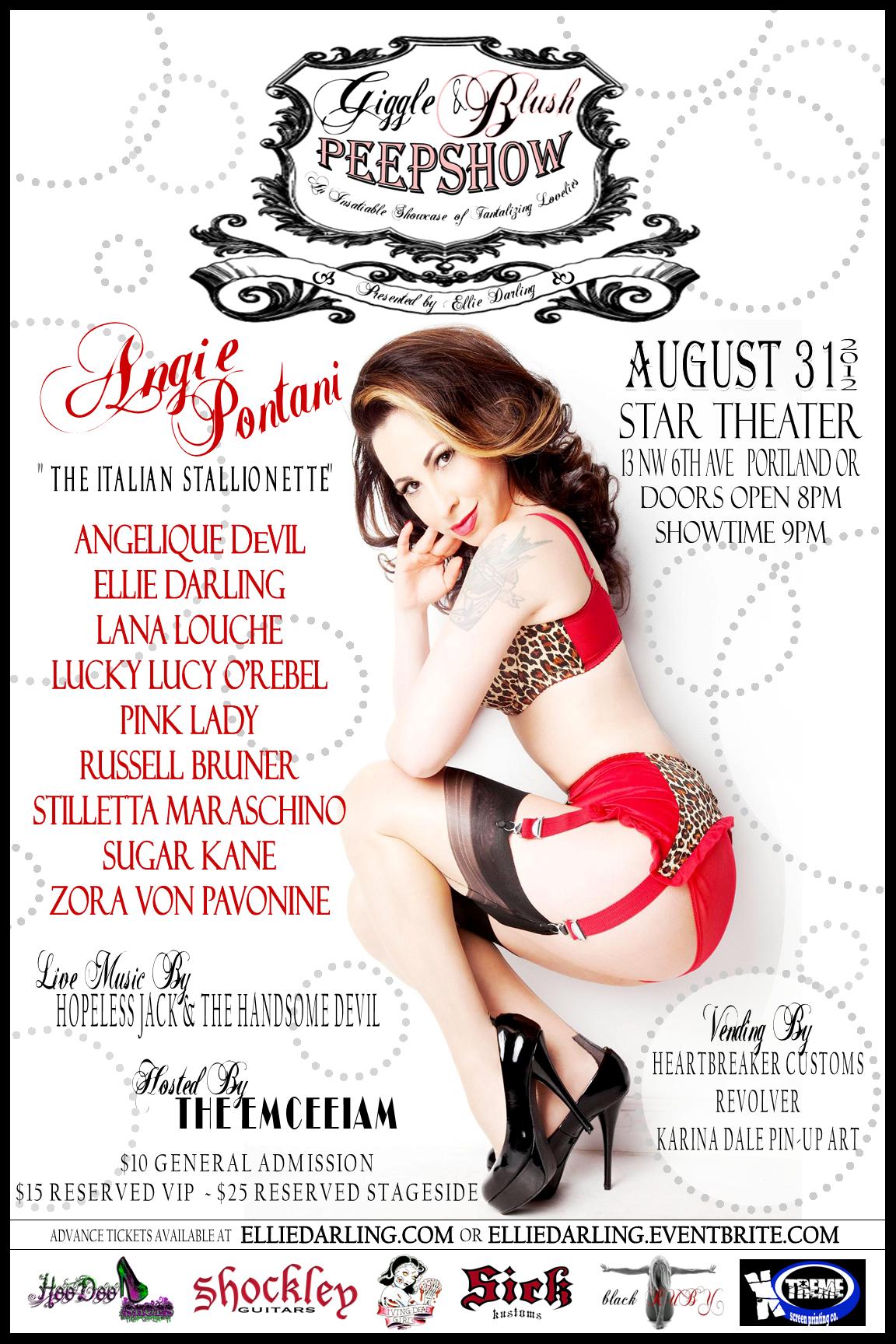 With extreme honor, Giggle & Blush Peepshow welcomes the Burlesque extraordinaire, ANGIE PONTANI, "The Italian Stallionette",to grace the stage of the historic Star Theater on August 31st!
A child of New York and a key player in establishing NYC's burlesque scene, this bump-n-grind bombshell has spread the gospel of burlesque across the globe for over a decade. The New Yorker calls Angie, "first rate, the perfect centerpiece!" and rightfully so, since her signature acts and productions all set standards of style and class. This international superstar's ability to mix glamour of yester-years with contemporary sensibility has earned her burlesque's most prestigious award: "Queen of Burlesque, Miss Exotic World 2008." Aside from its substantial part in Angie achieving burlesque's highest honor, this combination of a deep-seated retro base and a cutting-edge innovative drive is also why Angie has toured multiple runs in the United States and Italy, has also toured Australia and Spain, was featured at Dragon-I in Hong Kong, headlined some of the largest festivals in the U.S. including New York and Dallas Burlesque Festival, and was named "Best International Touring Artist of 2009," by The Naked City/Alternative Media Group of Australia. Even with such travels and acclaim, this modern day vintage vamp, as grounded as she is worldly, equally treasures her hometown titles, "Miss Coney Island," and "Best Body in Burlesque" (2008 and 2011 New York Burlesque Festival).
Angie Pontani, the "Gypsy Rose Lee incarnate" (NYC Edge), is as rooted and ground-breaking offstage as she is on. She is co-founder and co-producer producer of the longest running annual burlesque festival, New York Burlesque Festival; she produced 2010 Burlesque Hall of Fame's The Titans of Tease: 53rd Annual Striptease Reunion Showcase and the Saturday Night Competition; she was co-creator of the off-Broadway hit, This is Burlesque; she is producer of the on-going U.S. tour, Burlesque-A-Pades, starring the "#1 Burlesque Attraction in the Nation"(AOL.com), The World Famous Pontani Sisters. Her productions have shattered, and undoubtedly will continue to shatter, attendance records. Her knack for production and marketing has led her to produce and create a series of dance instructional DVD's: Go-Go Robics I & II, Twist Party featuring Los Straitjackets, and Go-Go Dance with Angie Pontani.
There is so much more to say about this beauty! For more about this Burlesque superstar, please visit her website at http://angiepontani.com/
This edition of Giggle & Blush Peepshow doesn't stop there!  Get ready to be enticed and teased with Portland's premiere, highly sought after Burlesque Performers:
Angelique DeVil – "Putting a little pop-n-lock in the bump-n-grind" http://www.missangeliquedevil.com/
Lana Louche –  http://www.facebook.com/LanaLouche
Russell Bruner – "King of Burlesque" (2012), http://www.facebook.com/russellbruner
Lucky Lucy O'Rebel -  "Pint-Size Pinup", http://www.facebook.com/LuckyLucyORebel
Zora Von Pavonine – http://www.facebook.com/zora.pavonine
Stilletta Maraschino - http://www.facebook.com/Stillettamaraschino
Sugar Kane - http://www.facebook.com/susan.kane.526
Pink Lady - http://www.facebook.com/lindsay.diann
And yours truly, Ellie Darling, Owner/Producer of Giggle & Blush Peepshow http://elliedarling.com/
Featuring live music by Hopeless Jack & The Handsome Devil - http://www.hopelessjack.com/
The Emceeiam will once again delightfully entertain you with her bawdy humor and witty ways as our host! http://www.facebook.com/doonerdean
Vending by Heartbreaker Customs, Revolver, & Karina Dale Pin-Up Art
Thank you to the following supporters:
Sick Kustoms – www.sickkustoms.com
Shockley Guitars - http://www.facebook.com/ShockleyGuitars
Extreme Screen Printing by Enrique Santacruz - http://www.facebook.com/enrique.santacruz.5
Black Ruby Show - http://www.facebook.com/pages/The-blackRUBY-Show
Hoodoo Shoes - http://www.hoodooshoes.com/
Living Dead Girls - http://www.facebook.com/pages/The-Living-Dead-Girls/146761322015682
R. Albisurez Photography - http://www.ralbisurezphotography.com

**MUST BE 21+ TO ATTEND**
All advanced Reserved Stageside Seating and Reserved VIP Seating will have reserved seats regardless of time of arrival.
When & Where

Star Theater
13 NW 6th Ave
Portland, OR 97209


Friday, August 31, 2012 from 9:00 PM to 11:30 PM (PDT)
Add to my calendar