Gigabit Nation: What Have We Learned About Ultra-High Speed Broadband?

Tuesday, May 21, 2013 from 8:00 AM to 10:00 AM (EDT)
Event Details
You are invited....
to an event of the Broadband Breakfast Club
Becoming a Gigabit Nation:
What Have We Learned
About
Ultra-High Speed Broadband?
http:broadbandbreakfastseries.eventbrite.com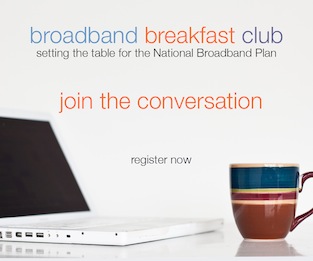 Becoming a Gigabit Nation:
What Have Learned About Ultra-High Speed Broadband?

United States cities like Kansas City, Chattanooga and Lafayette, Louisiana have built Gigabit Networks. How different will these networks be from greater than 100 megabit speeds available via cable modem or fiber optic internet service? And what are the high-bandwidth applications that will follow? Finally, what lessons have been learned from other nation's super-high capacity networks?
Telecommunications advocates, policy-makers, journalists, top officials and the general public, all seeking to trade insights on these important issues, are invited to attend this event of the Broadband Breakfast Club, which includes full American and Continental breakfasts, for as little as $45.00, plus a modest registration fee.
This event is on the record and open to the public. 
Panelists:
Sheldon Grizzle
Founder & Co-Director
GIGTANK
Chattanooga, Tennessee
Sheldon Grizzle is the co-founder of GIGTANK, a program focused on spurring startups that leverage Chattanooga's gigabit FTTH network. He is also the founder of The Company Lab, a hub for entrepreneurs, and co-founder of Blank Slate Ventures, a seed fund for startups in the southeast. Sheldon is extremely passionate about continuing to create a community that applies entrepreneurial principles to all aspects of business and civic life. He is an active investor in the local startup scene and he currently serves on the boards of several startups around the Southeast as well as several nonprofits including the Chattanooga Convention and Visitors Bureau.
Kevin McElearney
Senior Vice President
Network Engineering & Technical Operations
Comcast Cable
Kevin McElearney is responsible for managing Comcast's converged, fiber-rich network, which offers video, voice and data services to more than 53 million homes and businesses in 39 states plus the District of Columbia. Kevin joined Comcast in 2004 to create the company's multi-terabit, converged backbone, which became the industry's first 40 Gbps backbone. Through Kevin's leadership, the team's accomplishments also included several industry firsts related to 100 Gbps technology, including the first production 100 Gbps live network traffic test. Kevin has worked in the Network industry for 25 years, and, prior to Comcast, he served in leadership roles at Continental Cable, RoadRunner, Route Science Technologies, BBN Planet and MediaOne. He was also the network manager at MIT Lincoln Laboratory, a federally funded research and development center chartered to apply advanced technology to problems of national security. In May of 2012, the Federal Communications Commission named Kevin to its new Open Internet Advisory Committee, whose members evaluate the effects of the FCC's Open Internet rules and provide recommendations for preserving an open Internet.
David Sandel
President
Gigabit Communities and Smart Cities
Sandel & Associates
David and his team work with cities, community organizations and service providers to develop plans for the economic development of their Gigabit Community or Smart City. In this regard, David currently serves as an advisor to the Google Fiber Mayors Bi-state Innovation Team MBIT and Mid-America Regional Council MARC of Kansas City. David is also the founder of The Gigabit City Summit -- a Telepresence based global round-table which explores the issues of leadership, funding, economic development and collaboration that are central to the success of all Gigabit Community or Smart City initiatives. Cities that have participated in the global round-table thus far include San Francisco, Kansas City, St. Louis, Toronto, Amsterdam, Barcelona and Singapore. From 2001-2008, David served as President of The St. Louis Regional Exchange Collaborative and was appointed by local government and Washington University to lead, fund and execute a plan for the economic development of the St. Louis metropolitan Internet - the first appointment of its kind in the United States. During this same period, David was also the co-founder of Datotel, a managed services and Cloud provider. From 1997 – 2001 David was a senior systems engineer in the Cisco Service Provider division located in Tulsa Oklahoma where he worked in the product development labs of WorldCom, Williams Communications and Brooks fiber. While at Cisco Systems, David received several awards for Excellence, Product Development and Innovation. David received his Bachelor of Science in Electrical Engineering degree from Washington University in St. Louis where he also attended graduate school. He has also served on a variety of state and local government economic development councils as well as regional and entrepreneurial planning boards.
William Wallace
Executive Director
US Ignite 
William Wallace is Executive Director of US Ignite, a non-profit organization that fosters the creation of next-generation Internet applications. He  brings to US Ignite more than 30 years of experience in the telecommunications industry, most recently as co-founder of DigitalBridge Communications (DBC), a venture-backed startup dedicated to bringing 4G broadband wireless services to underserved portions of the U.S. Prior to DBC, Mr. Wallace was co-founder and CEO of OnePoint Communications, which was purchased by Verizon Communications in 2000.  OnePoint and its successor company, Verizon Avenue, provide bundled communications services to concentrated communities nationwide, including apartment communities, military bases, and rural areas. Previously, he served as head of the Telecommunications practice and Chief Operating Officer for Gemini Consulting, a wholly-owned subsidiary of the Cap Gemini Sogeti group.  In that role, he led teams that developed strategies and improved operations for many of the world's largest carriers.

Scott J. Wallsten
Vice President for Research & Senior Fellow
Technology Policy Institute
An economist with expertise in industrial organization and public policy, Wallsten's research focuses on telecommunications, regulation, competition, and technology policy. His papers have been published in numerous academic journals and his commentaries have appeared in newspapers and newsmagazines around the world. Wallsten is also a senior fellow at the Georgetown Center for Business and Public Policy and a lecturer in Public Policy at Stanford University. He served as economics director of the Federal Communications Commission's Broadband Task Force.  He has been director of communications policy studies and senior fellow at The Progress & Freedom Foundation, a senior fellow at the AEI - Brookings Joint Center for Regulatory Studies and a resident scholar at the American Enterprise Institute, an economist at The World Bank, a scholar at the Stanford Institute for Economic Policy Research, and a staff economist at the U.S. President's Council of Economic Advisers. Wallsten holds a PhD in economics from Stanford University.
Moderator:
The event will be moderated by Drew Clark, Founder and Publisher, BroadbandBreakfast.com, a news and events company building a community around broadband stimulus, the national broadband plan, and intellectual property.  Drew Clark has a long-standing reputation for fairness and depth in his reporting. He worked for the National Journal Group for eight years, ran the telecommunications and media ownership project of the Center for Public Integrity, and was Assistant Director of the Information Economy Project at George Mason University. He has written widely on the politics of telecom, media and technology for a variety of publications, including the Washington Post, GigaOm, Slate, and Ars Technica. Drew launched BroadbandCensus.com in January 2008 as a means of providing objective information about broadband speeds, prices, availability, reliability and competition.
For News and Events on BroadbandBreakfast.com follow us at http://www.twitter.com/broadbandcensus
Event Details
Title:  Gigabit Nation: What Have We Learned About Ultra-High Speed Broadband?
Date:  Tuesday, May 21st, 2013  8 a.m. - 10 a.m. 
Where:  Clyde's of Gallery Place, 707 7th Street NW, Washington, DC 20001
The breakfast begins at 8 a.m., followed by a discussion, beginning shortly after 8:30 a.m. and ending by 10 a.m.
The Broadband Breakfast Club is a "widely attended event" under House of Representatives Rule 25, clause 5(a)(4)(A).
-----
For individuals outside of Washington, or those whose schedule doesn't permit attendance in person, archived webcasts of the Broadband Breakfast Club are available for free on BroadbandBreakfast.com.
The Broadband Breakfast Club seeks sponsorship of our events from interested companies and organizations.  For details on sponsorship opportunities, please contact Sylvia Syracuse at 646-262-4630 or sylvia@broadbandcensus.com. The Broadband Breakfast Club is produced by Broadband Census News LLC. 
Follow us on Twitter at www.twitter.com/broadbandcensus
______________________________________________________________
The Broadband Breakfast Club is Sponsored By:



When & Where

Clyde's of Gallery Place
707 7th St NW
Washington, DC 20004


Tuesday, May 21, 2013 from 8:00 AM to 10:00 AM (EDT)
Add to my calendar
Organizer
BroadbandBreakfast.com is an internet policy news and events service devoted to breaking news on Broadband policy issues including Broadband Stimulus, Wireless, the National Broadband Plan, Universal Service, and more. Our trenchant articles are free at BroadbandBreakfast.com.

To complement our news service, BroadbandBreakfast.com also hosts monthly "Breakfast Club" events and other special events.
Our Broadband Breakfast Club series meets monthly on the THIRD Tuesday of the month (except for August and December).
Events are held at Clyde's of Gallery Place, 707 7th St. NW, Washington, DC. Metro Stop: Chinatown/Gallery Place.
Events are open to the public and held from 8 am - 10 am, with full Continental and American breakfasts served from 8 am - 8:30 am.
To subscribe to our news service go to BroadbandBreakfast.com.
To register for our next event click on
http://broadbandbreakfast.eventbrite.com
To view our past and future events see 
http://broadbandbreakfastseries.eventbrite.com
To view our event videos see
http://broadbandbreakfast.com/category/broadband-tv/
The Broadband Breakfast Club is Sponsored By: