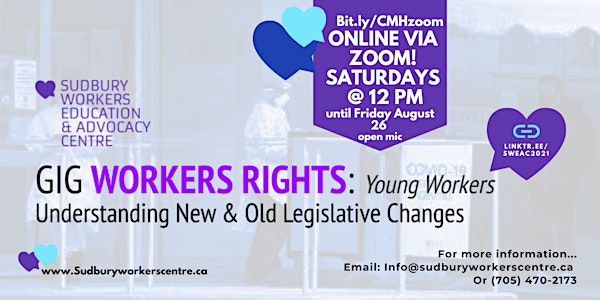 Gig Workers Rights: Students & Young Workers Edition
Gig Workers Rights: Know Your Rights For Young Workers - Stay for the whole series on workers rights in the workplace, Esa, OHSA, & OHRC!
About this event
Join us for a free know your rights workshop!
Learn more about your rights in the workplace - and be aware of recent and older policy changes that may affect workers.
Become aware of the WIPB extension and what it really means for workers?
Are you an artist or gig worker, looking for help to understand the Digital Platforms Act?
Would you be considered an employee?
We are here to help, join us for this free seminar that explores the ESA, OHSA, and Human Rights Tribunal!
Stay connected after the workshop for a free Art Session thanks to a partnership with the Afro Women And Youth Foundation. Learn basic Make-Up Skills, how to spruce up a look for an interview, and quick tricks for young professionals or simply get creative!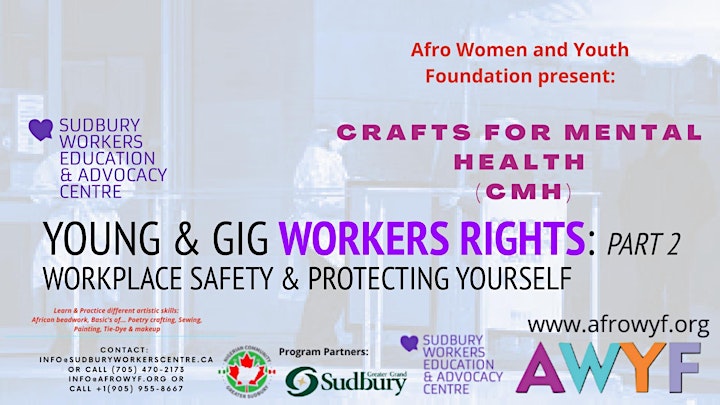 Use the link at Bit.ly/CMHzoom to join the series directly!
Sat. July 30: Basic Makeup for ages 13 -16 ONLY (Facial care, Foundation, Brow game & Lip colour) and SWEAC Presentation - Part 1
Sat. August 6: Tie-Dye & Basic Sewing (Sewing Bonnets and Tie-Dye T-shirts) and SWEAC Presentation - Part 2
Sat. August 13: Painting (Drawing, Shading, layering etc) and SWEAC Presentation- Part 2/3
Sat. August 20: Poetry Crafting & Basic African beading (History, types, create simple designs) and SWEAC Presentation - Part 3
Friday August 26: Self-Advocacy tips by the AWYF team & Arts Showcase: Open Mic Location - Place des Arts