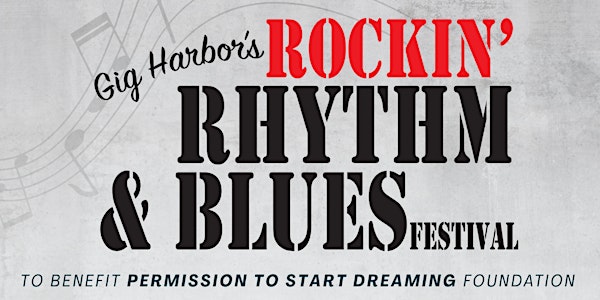 Gig Harbor's Rockin' R&B Festival
Location
Gig Harbor Sportsman Club
9721 Burnham Drive
#7817
Gig Harbor, WA 98332
Music festival featuring some of the Puget Sound's greatest rock and blues bands. 100% of proceeds benefit the PTSD Foundation.
About this event
It's the best day of the year, and one of the South Sound's favorite live music events of the summer. Gig Harbor's Rockin' Rhythm & Blues Festival is back, and you're going to love the lineup.
The Blues Fest is so much more than supporting incredible live music. 100% of proceeds from the festival go directly to the Permission To Start Dreaming (PTSD) Foundation, a nonprofit dedicated to the healing of veterans, first responders and their family members - helping them overcome the trauma they faced while serving our country and communities. Read more about the foundation here: https://ptsdfoundation.org/
The show kicks off at 12:00pm with the National Anthem sung by Maddy Dullum. Over the course of the event, 12pm - 9pm, get excited for the following acts:
2022 Featured Bands:
The Mo Betta Band
"9", with special guest - Jim Valley
HD Fusion
Northern Rebel
Mark Hurwitz & Gin Creek with Maddy Dullum
T-Town Aces
GO Four
Soul Posse
Come hungry and thirsty - there will be a variety of food vendors, plus beer & wine garden. (Don't forget your ID!) While you're here, check out the local artists and craft vendors. Bring a lawn chair, your friends, and of course - your SPF!
The Rockin' Rhythm & Blues Fest would not be possible without the help of our sponsors. Big thanks to:
Rush Hannula Harkins Kyler: P.I Attorneys, Baron Blevins, Harbor Barber, The City of Gig Harbor, Hop Pharm, Kimball Coffeehouse, Gig Harbor Homes Real Estate, Maddy Dullum, Mac & Jacks Brewing Co., Rainier Beer, and The Gig Harbor Sportsman's Club!