Gig Harbor Beer Fit Group - Be Fit, Drink Local (Postures + Pints)
About this Event
Welcome to Gig Harbor's first Beer Fit Group. Grab a friends and come enjoy a workout and a pint at Wet Coast Brewing's private event space in Gig Harbor. The first Monday of every month will feature Postures + Pints (aka yoga + beer). Additional classes such as Zumba, Barre, Pilates etc may be offered periodically on a separate evening. Ticket prices for all events include one pint! For more information about upcoming events, please join our Facebook Group, Gig Harbor Beer Fit Group (BFG).
Note: This class is for Postures + Pints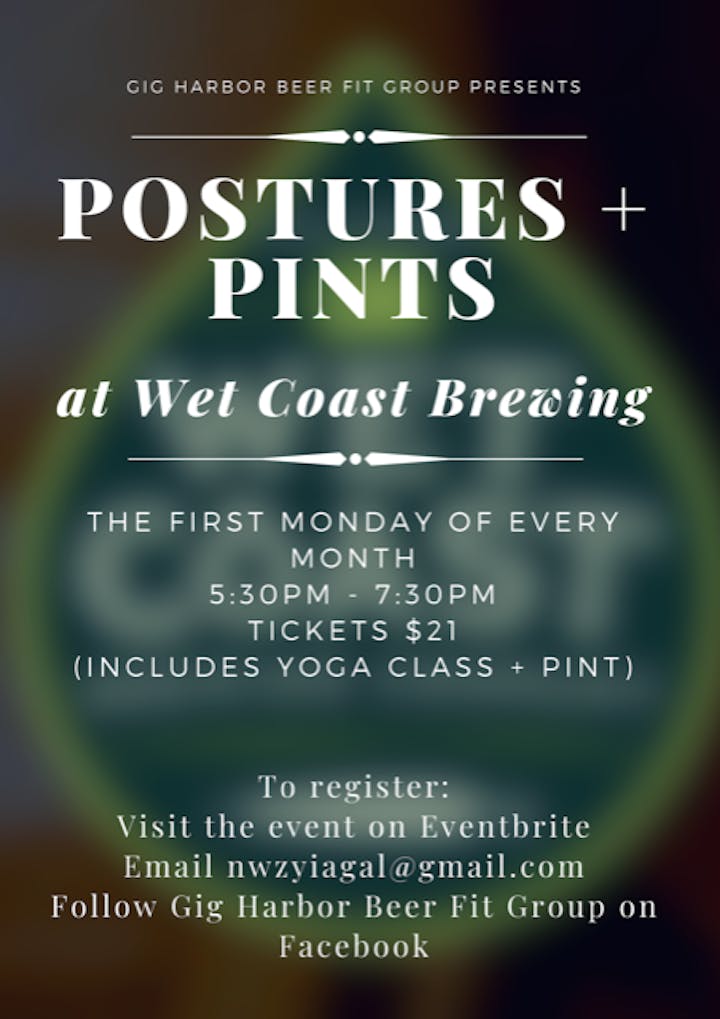 Come join us for Postures + Pints event on Monday March 4th from 5:30pm - 7:30pm. The yoga class will be taught by Kyra Wiens.
In teaching yoga, Kyra Wiens (RYT-200) hopes to share a sense of wonder and curiosity. Her classes safely progress students toward increased ranges of motion, advanced poses and proprioception and balance. As a professional Ironman triathlete, she brings a unique perspective on how the physical and mental aspects of yoga can increase performance. She currently teaches weekly classes at CrossFit Gig Harbor and at Tuladhara Yoga.