Gifts of the Heart Gala Concert and Dinner/Silent Auction
About this Event
Gifts of the Heart Gala-2020
This year's gala will begin at 4:30 pm with a free community awareness program and concert in the sanctuary of Blessed Sacrament Catholic Church. At 6:00 pm we move into the spacious fellowship hall for a family-style dinner and silent auction fun. Sponsorships, group and invidual tickets available to purchase here or by contacting us at faithinclusionnetwork@gmail.com. We plan to provide an ASL interpreter, CART and hearing loop for the concert. Please contact us if you many need any additional accommodations.
Performers and Speakers at Gifts of the Heart Gala Concert, 4:30 PM:
The Norfolk Street Choir Project, Founder and Director, Robert Shoup
The Norfolk Street Choir, established in 2016 as a program of Freemason Street Baptist Church, provides community and an opportunity for Norfolk's impoverished population to participate in a universally uplifting, encouraging endeavor: group singing. The NSC meets once a week, with members actively participating in rehearsals that include vocal and musical instruction as well as ensemble rehearsals of songs. The Choir performs publicly from fall through spring at various events in the city. For those who, because of their present economic and social standing, are not frequently heard, the Norfolk Street Choir provides a forum where singers can "have a voice," encouraging and inspiring one another and their listeners through music. Among the Choir's songs is one that beautifully expresses the mission of this effort: "Can you see a ray of hope? One pale, thin ray reaching for the day… we can build a beautiful city, yes we can. Yes, we can."
In addition to some of their own selections, The Norfolk Street Choir will be performing the premiere of "We All Belong", a song written by Executive Director of FIN Karen Jackson and arranged by Robert Shoup.
Todd Rosenlieb Dance Studio-Adaptive Dance Class
The Adaptive Dance Class from TRDance has long been a part of FIN's Gifts of the Heart Gala and has, in fact particpated in all four past events. The class is for children with Down Syndrome and is a partnership among TRDance, CHKD, and DSAHR. These are specialized classes that utilize ballet and modern technical vocabulary to help each young dancer grow and develop. The class is taught by a dance instructor and a physical therapist from CHKD participates in the class. Several volunteers assist the children as well.
Tenor Soloist and Speaker, BJ Camano
BJ also has performed in the choirs that have participated in past Gifts of the Heart Gala performances. This year we welcome BJ to perform as a third year college music student and also share a few words about his journey. BJ grew up in Virginia Beach, VA and is a student at Randolph-Macon College.
Author, Self-Advocate, Laura Robb
Laura C. Robb was born with Arthrogryposis Multiplex Congenita (AMC), a physical disability. Limitations have always affected her daily life, but she doesn't see obstacles. She sees these limits as opportunities for depending on God and her community.
Laura constantly finds ways to embrace the story she is living, chasing dreams and overcoming the challenges as they come. As she shares her own journey, Laura hopes to encourage others that thriving beyond limits is possible. She will be reciting a poem from her newly published book, Beyond, Limits. Longings. Love. Loss, a Collection of Poems.
Gala Dinner and Silent Auction Schedule 6:00-8:30 PM
6:00 PM-Drinks, fellowship time and silent auction
6:30 PM-Welcome, Fr. Eric Ayers, Dinner Served
7:00 PM-Dinner Program
What is FIN and how can I help?, Karen Jackson, ED of FIN
Musical Performance-TBD
Gifts of the Heart Necklace Raffle Drawing
7:45 PM-Final bids on Silent Auction Items
8:00-8:30 PM Check out
Check back for more details in the coming months.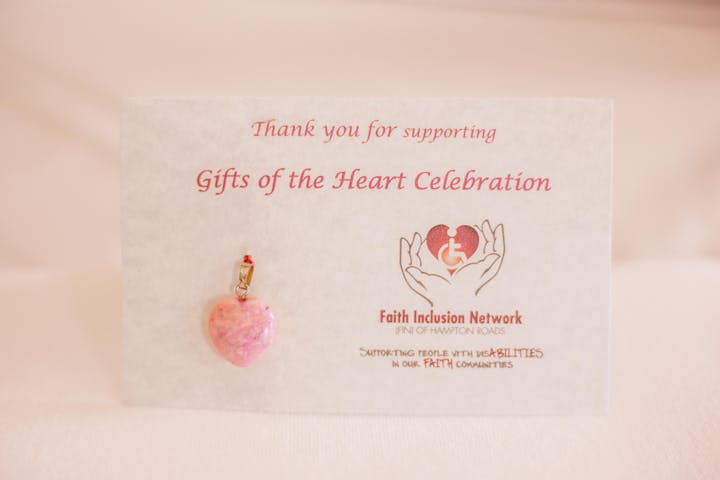 Much of this video was filmed at Gifts of the Heart Gala, 2018. Many thanks to the talented FIN friend, Adam Bova for filming and editing and of course, thank you to the many people who spoke and participated in the event.