Description
Gifts of the Heart Gala Celebration
A Community Awareness and Fundraising Event for Faith Inclusion Network of Hampton Roads
Dinner, Dancing, Silent Auction and Evening Program
Sunday, March 11, 2018
5:00-8:00 pm
Congregation Beth El
Accommodations for the on-stage program will include ASL Interpreter, Hearing Loop and CART. Please let us know as soon as possible if you are in need of other accommodations and we will do our very best to provide what is requested.
Dear Friends,
Members of our interfaith organization share the belief that all people, regardless of abilities, should not only be given the chance to be part of a congregation by participating in worship, religious education classes and social events, but also be given the chance to share their own gifts. Thus, we name our awareness and fundraising event, "Gifts of the Heart Gala Celebration", because we all have gifts to share and when we all get together, it is indeed a celebration.
I sincerely hope you can join us for our fourth bi-annual Gifts of the Heart Gala Celebration on March 11th! Although not required, this is an opportunity to wear your finest and enjoy an evening of fellowship, inclusion and lots of fun!
Karen Jackson,
Executive Director, FIN
Special Guest Speaker-Lisa Olson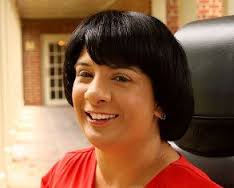 Lisa Olson has learned to face life's obstacles without having arms and legs. Nevertheless, the Lord's divine hand has been very evident, from her birth and rescue by a Christian Doctor in India, to her adoption by an American Missionary and life in the U.S.
Lisa earned a Bachelor's degree in Communication, from Lee College, and a Master's degree in Journalism from Regent University. Lisa established Manyata Ministries in January 2013. The ministry's mission is to deliver God's message of acceptance and love to the nations. She speaks to various groups and appears in the media to share her remarkable life story. Lisa's life is an amazing example of how God has a purpose for each of us.
EVENING SCHEDULE
5:00 pm-Enjoy the NPS Strolling Strings while you sip punch, shop the silent auction and share fellowship time with new and old friends
6:00 pm-Family style dinner served
On the menu: Egglplant Parmesan, gluten free pasta and sauces, salad, garlic rolls and birthday cake for dessert
6:15 pm-On stage program begins
7:15-8:00 pm-Enjoy some more socializing and dancing and put your final bid in for silent auction items.
Silent Auction will close 10 minutes after on stage program ends