Gifts from the Kitchen

Saturday, December 9, 2017 from 9:00 AM to 12:00 PM (EST)
Ticket Information
This event is invite-only
You need an invitation to register for this event.
Contact the host
to find out more.
Event Details
Register early as classes have limited space and fill up fast! 
Gifts from your kitchen are a lovely way to show your friends how much you care! Preparing convenience mixes (both food and non food) at home is cost effective, simple, fun and delicious. In this class, you'll prepare three items in packaging suitable for gift giving. You'll receive recipes for each item and ideas for many more. 
 (This is a hands-on class and everyone will be handling food - we ask that participants wear closed-toe shoes and their hair held back. Youth aged 12 and up are welcome when accompanied by an adult.)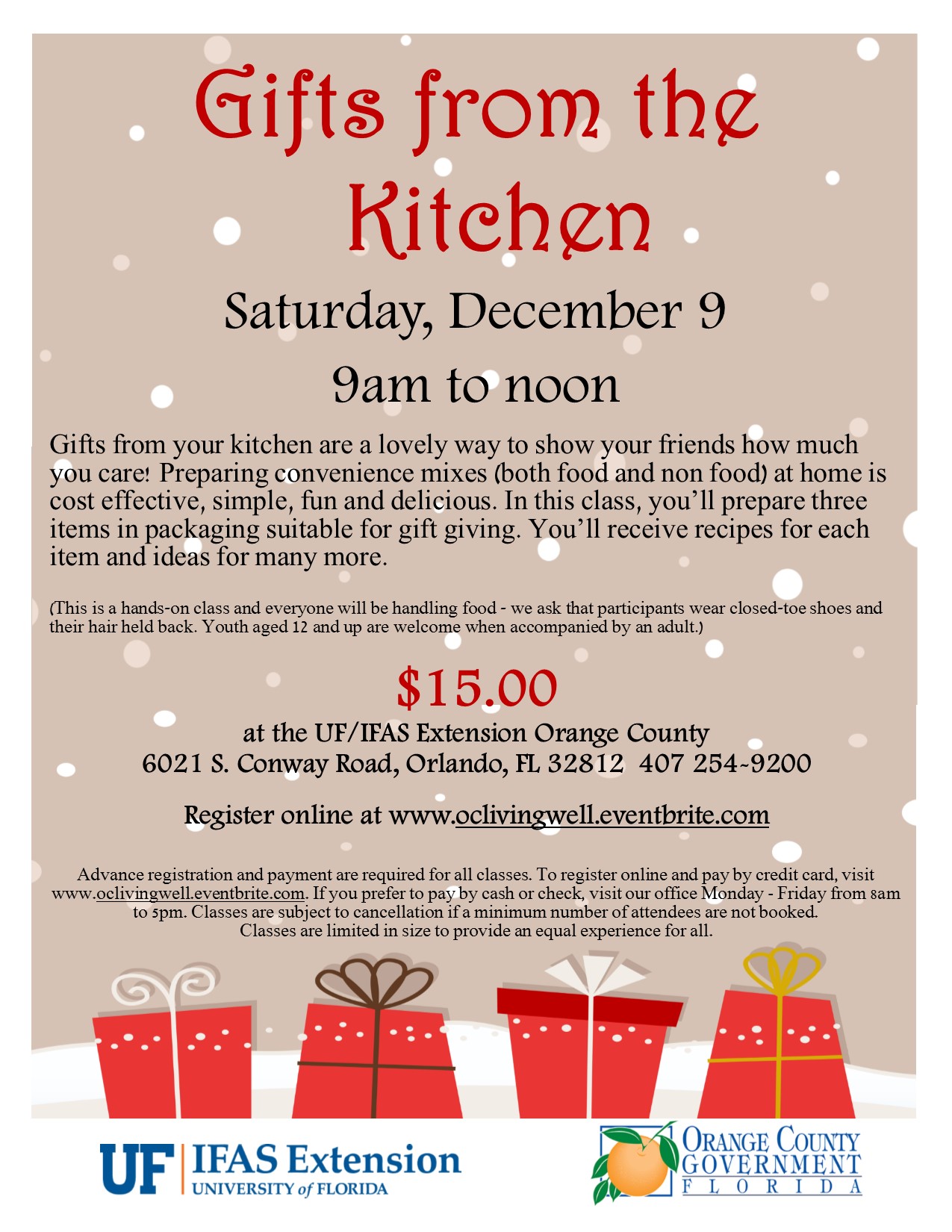 UF/IFAS Extension Orange County
6021 S. Conway Road, Orlando, FL 32812  
Advance registration and payment are required for all classes.
Classes are subject to cancellation if a minimum number of attendees are not booked.
Classes are limited in size to provide an equal experience for all.
This is a hands-on cooking class. Please wear closed-toe shoes and wear hair pulled/pinned back.
For further information contact LuAnn Duncan at laduncan@ufl.edu or 407-254-9207.
Policies: Cancellations - If your class is canceled for any reason you will be notified no less than 24 hours prior to class start. We will provide a full refund for cancellations made by Orange County Extension. Refunds -  may take up to 30 days to process. Payment - We require full payment at time of reservation so be prepared with a credit card to complete this transaction. Refunds - Refunds will be made in the event of a class cancellation or if the registrant requests a refund 24 hours prior to the class time. Reservations - You must be 18 to make a reservation. If you are under 18 and want to attend a class, your parent or guardian must register and attend with you. 
 The Institute of Food and Agricultural Sciences (IFAS) is an Equal Opportunity Institution authorized to provide research, educational information, and other services only to individuals and institutions that function with non-discrimination with respect to race, creed, color, religion, age, disability, sex, sexual orientation, marital status, national origin, political opinions, or affiliations. U.S. Department of Agriculture, Cooperative Extension Service, University of Florida, IFAS, Florida A&M University Cooperative Extension Program, and Boards of County Commissioners Cooperating.
Organizer
An Equal Opportunity Institution.
UF/IFAS Extension Orange County
University of Florida, Institute of Food and Agricultural Sciences
6021 S Conway Rd
Orlando, FL 32812
407-254-9200

Click the link below to read our quarterly newsletter:
http://orange.ifas.ufl.edu/fcs/index.html