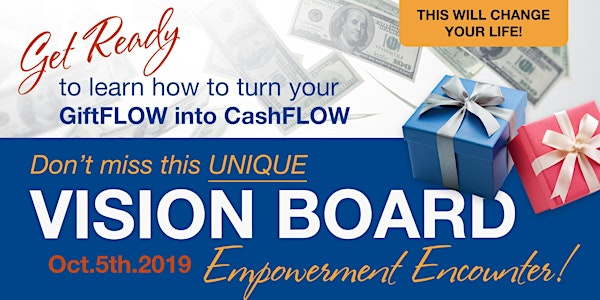 GiftFLOW to CashFLOW - Vision Board Empowerment Encounter
When and where
Location
TownePlace Suites by Marriott Orlando Altamonte Springs/Maitland 151 Douglas Avenue Altamonte Springs, FL 32714
Description
SPECIAL THANKS TO EVERYONE who registered for this event. The event SOLD OUT!
----
VisionFLOW + GiftFLOW = CashFLOW
We all have been divinely and uniquely gifted. There's something you can do and offer the world that will open the floodgates to divine increase, but it all starts with a vision. Have you tapped into this wellspring of wealth?
Make plans to join me, Tarsha Campbell, Your Next Step Coach, Consultant & Mentor, for this unique vision board workshop as I show you how to bridge the gap between your gifts and talents, what you're envisioning, and the CashFLOW waiting to be released in your life.
Registration includes:
Your unique vision board kit, empowerment session, group coaching & a delicious lunch
Register today
Space is limited - It really is.
* Register through the secure Paypal link, which allows you to use your PayPal account or use your debit or credit card.

---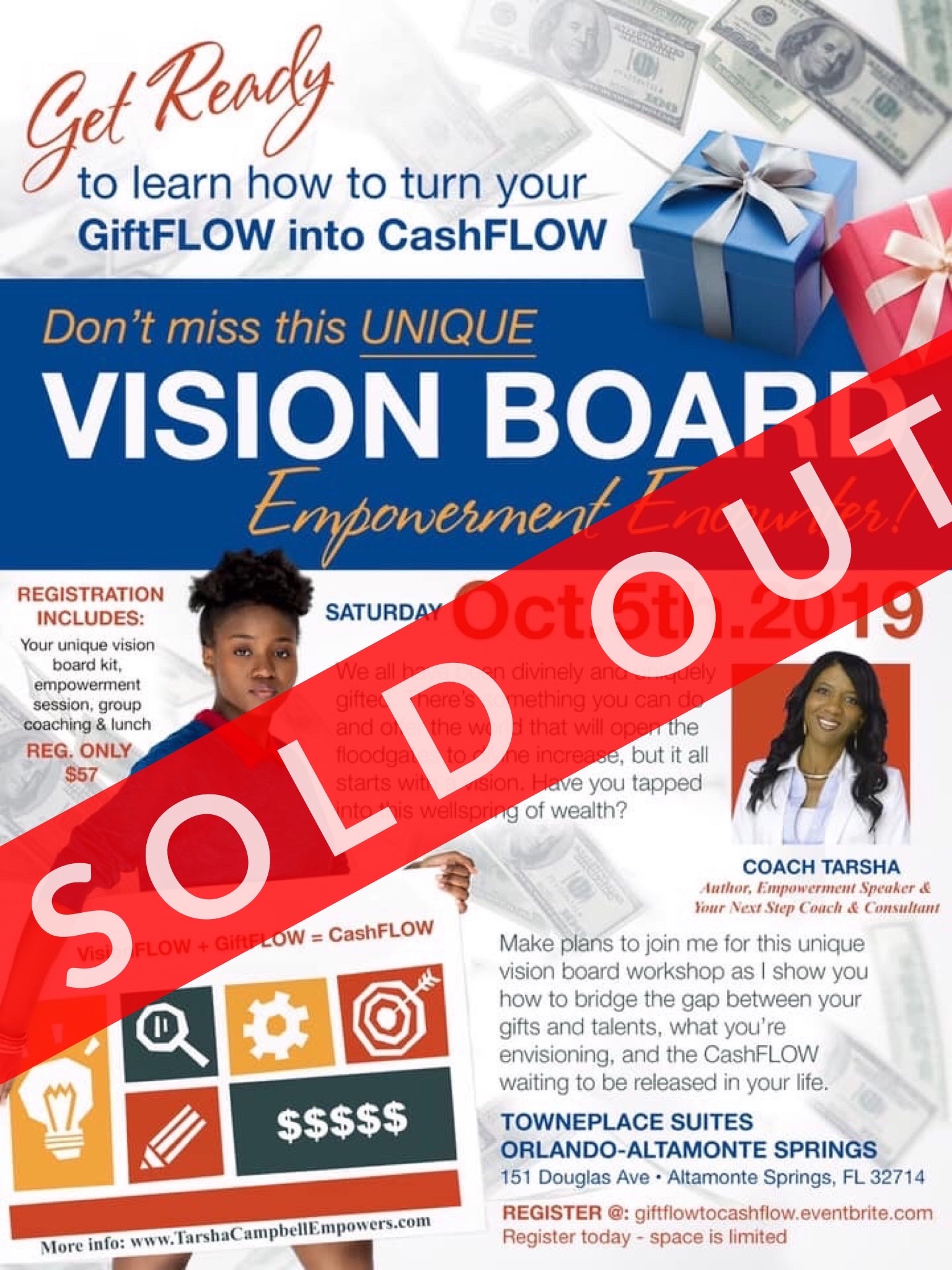 Final note
***
What this event is all about?
What you can expect?

Please note:
When I speak of gifts, I'm NOT referring to spiritual gifts and using them to make money (boooo…bad idea!).

But, I'm speaking of your specially endowed gifts and talents like creative, entrepreneurial, or career giftings. These could include gifts such as: crafting, drawing, singing, acting, baking, speaking, teaching, writing, cooking, design, musical talents, technological or business gifts, etc…and the lists goes on and on.

As a coach and empowerment speaker, my goal for this event is to help you pinpoint your gifts, activate or stir them up. I also want to show you the important role vision plays when it comes to birthing divine and creative money-making ideas using your gifts.

And finally, I want to share with you the "Next Step Strategy" designed to help you turn your GiftFLOW into CashFLOW. I've done it and I want to show you how.

See you there!
Come expecting to leave empowered!

- Coach Tarsha
---
To learn more info about Coach Tarsha, and how she empowers others, visit: