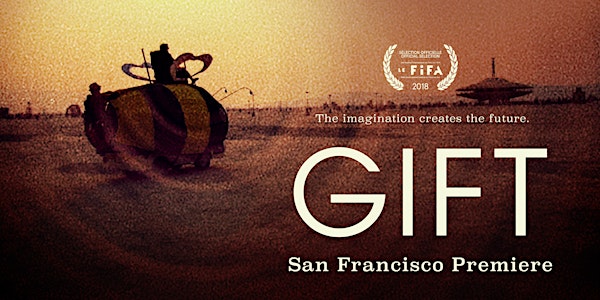 GIFT film premiere & party, with special guests
When and where
Location
The Castro Theatre 429 Castro Street San Francisco, CA 94114
Description
You're invited to the US premiere of "GIFT," a richly cinematic feature documentary about art and gifting following character-driven stories of real-life gift economies around the world (including Burning Man).
Launching at the gorgeous Castro Theatre with filmmaker Robin McKenna and special guests, this benefit screening for Shareable will feature an allstar roundtable discussion and party after the screening.
One night only on Nov. 29. Watch the trailer here. Buy your tickets today to join a celebration of all that makes us human.
Inspired by Lewis Hyde's beloved book, "The Gift: Creativity and the Artist in the Modern World," "GIFT" is a richly cinematic film exploring the parallels between artists' work and a gift economy. Interweaving the stories of a young Kwak'wakwala indigenous man undertaking preparations for a potlatch, an Italian living museum occupied by migrant families, a bumblebee art car at Burning Man, and artist Lee Mingwei sharing the "transformative gift" of song, the film is a tribute to something that can't be measured, counted, bought or sold.
PROGRAM:
Burning Man's Dark Angel will MC the following program:
Kanyon "Coyote" Sayers-Roods from the Ohlone Tribe will open the evening with a territorial acknowledgement.

Artist and culture jammer John Law will introduce "GIFT" with a talk about the transformative power of and need for gifting and art in society. John has shaped or founded legendary cultural interventions such as Billboard Liberation Front, Suicide Club, Cacophony Society, and Burning Man.
The screening will be followed by a roundtable discussion with director Robin McKenna, Michelle "Smallfry" Lessans (featured in the film), Marina Gorbis of the Institute for the Future, Holly Million of Artists United, and John Law. Shareable's Neal Gorenflo will moderate.
Join us afterwards for drinks and an afterparty in the mezzanine.
In the spirit of the movie and book, you're invited to bring a gift to share for one person or many, be it an experience, or something tangible. And dress creatively / in costume... if you're so inspired!
YOUR GIFT:
All attendees get a free ebook, "Sharing Cities: Activating the Urban Commons," published earlier this year by event co-host Shareable. It's a 275 page guide to urban regeneration through sharing. Normally $9.99 on Amazon.
BENEFICIARY:
A portion of ticket proceeds will be donated to GIFT premiere co-host Shareable, a local nonprofit media outlet and global action network that empowers people to share for a more resilient, equitable, and joyful world. Learn more at Shareable.net.
GIFT TICKETS:
If you'd like to come, but don't have the means, please email: neal@shareable.net. Gift tickets are available.