Description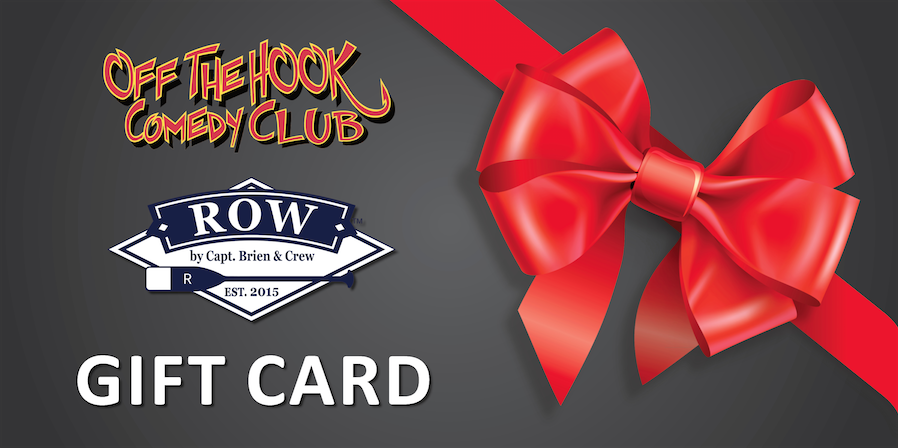 Not sure what to get for that special someone? Gift cards make a wonderful gift. A gift card can be used towards the purchase of any food or Bev or event at ROW seafood and Off the Hook Comedy Club.
Once you purchase a gift certificate, just send the confirmation email to the lucky recipient or print it and put it in a card to be delivered by hand. To Claim for specific tickets to an event you can call our box office or in person at 2500 Vanderbilt Beach Rd. Ste.1100 Naples Fl, 34109.

Gift Card Terms and Condition
No hidden fees: The full amount of the purchased gift card is applied directly to the cost of the event or food and beverage purchase. There are no hidden fees, no activation fees, no set up fees, no maintenance or redemption fees.
Expiration: Gift certificates expire one year after date of purchase.
Replacement: If you lose or misplace your gift certificate, please contact our Box office with the Purchaser information. The email confirmation is for your information only; the actual gift card information is also retained by ROW seafood and Off the Hook Comedy Cluband a new email is easily sent out for replacement. Please supply us with the name of the individual who purchased the gift card and the approximate date so that we may locate it in our system.
Redemption and value: Gift card are issued and redeemed in US $ and must be used in full on one time visit. If there is a balance left on the gift certificate after services or products are provided by ROW seafood and Off the Hook Comedy Club, the balance amount is non-refundable. Gift cards cannot be redeemed for cash by the recipient.
Merchant Rights: ROW seafood and Off the Hook Comedy Club reserves the right to refuse a gift card as payment for services if there is reasonable doubt as to the gift certificate's authenticity or duplication.