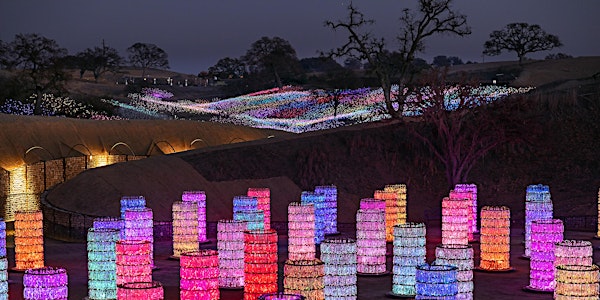 Gift Certificate | BRUCE MUNRO: LIGHT AT SENSORIO
Gift Certificate - Bruce Munro: Light at Sensorio
When and where
Location
Sensorio 4380 Highway 46 East Paso Robles, CA 93446
About this event
Internationally-acclaimed artist Bruce Munro premiered his largest artwork to date—an enormous multi-acre walk-through installation—at Sensorio in Paso Robles, California. Due to overwhelming public demand, Sensorio has announced the extension of Bruce Munro: Light at Sensorio, retaining the immersive light installation in residence on an ongoing basis.
Covering 15 acres of Paso Robles' rolling hills, Bruce Munro: Field of Light at Sensorio utilizes an array of over 58,800 stemmed spheres lit by fiber-optics, gently illuminating the landscape in subtle blooms of morphing color, through which the public may stroll. In addition, guests will experience an entirely new, adjacent viewing area featuring Munro's Light Towers. Created to celebrate Paso Robles' extensive wine country environs, Light Towers features 69 towers composed of more than 17,000 wine bottles, illuminated with glowing optic fibers whose colors change to a custom musical score.
Powered by solar, the stunning exhibition captivates visitors, inviting them to engage with the landscape and environment through an ethereal light-based and sculptural experience.
The exhibit was singled out by The New York Times as #6 in its "52 Places to Go in 2020" and described as "the future of public wellness" (Forbes), and a "pilgrimage-worthy art escape" that is "meant to complement, never compete or detract, from the beauty of the landscape" (Travel + Leisure).
FREQUENTLY ASKED QUESTIONS
GIFT CERTIFICATES ARE ONLY APPLICABLE FOR LIVE EVENTS THAT HAVE TICKET AVAILIBILITY.
GIFT CERTIFICATES WILL ONLY BE HONORED IF REDEEMED ONLINE PRIOR TO VISIT.
OCTOBER:
6:00pm —10:30pm (Thursday THROUGH Sunday)
NOVEMBER 1st – 5th:
6:00pm —10:30pm (Thursday THROUGH Sunday)
NOVEMBER 6th – DECEMBER 31st:
5:00p — 9:00p (Thursday/Sunday)
5:00p — 9:30p (Friday/Saturday)
January 2023 - Will be posted soon!
We have announced our residency and are now a permanent venue. Check back each month for future dates.
PHOTO POLICY
All guests are welcome to shoot photos/video with hand-held equipment (removable lenses ok), but Sensorio does not allow tripods, lighting, or any extensive photo/video equipment on site. Commercial use, reproduction or sale of any images is prohibited, all rights to images of Bruce Munro's artworks are held by a third party, which does monitor usage worldwide.
PET POLICY
Only service dogs/emotional support animals are allowed. A service dog is defined as a trained animal to do work or perform tasks for, and to assist, an individual with a disability. An emotional support animal is a type of animal that provides comfort to help relieve a symptom or effect of a person's disability.
What can I bring into Bruce Munro: Light at Sensorio?
You may not bring food, beverages, tripods, pets, roller blades, skateboards, bicycles, professional cameras, video or recording equipment, grills, hibachis or cooking equipment into Sensorio. It is a violation of California law to carry or possess any firearm, knife, weapon or fireworks on the property. Smoking is prohibited anywhere onsite.
Will there be food and alcoholic beverages for purchase?
Yes, there will be food and alcoholic beverages available for purchase. Photo ID is required for any alcoholic beverage purchase.
How long should I plan to spend viewing the exhibition?
Field of Light is a self-guided walking tour. The outer most pathway is 1/2 mile with benches at different viewpoints. You may enjoy Field of Light at your own pace.
What should I wear?
Sensorio is an outdoor art exhibit space that takes place in the evening. Please check the weather and dress accordingly. Comfortable footwear is highly suggested.
What happens if it rains? Do you cancel the event?
If Sensorio cancels the event due to extreme weather conditions, all attendees will be notified via email. All ticket holders will be refunded and invited to repurchase.
What comes with VIP tickets?
Check our website ticket information for details. VIP ticketholders will need to email info@sensoriopaso.com to request a transfer.