Description
GICMP'S 7TH ANNUAL PROPHETIC CONVOCATION, HOSTED BY APOSTLE DWANN HOLMES ROLLINSON IS SET TO BE PHENOMENAL!! PLAN YOU TRIP TO JACKSONVILLE, FLORIDA TO BE PROPHETICALLY EMPOWERED, UPLIFTED AND RELEASED TO YOUR NEXT LEVEL!!!
GRAB YOUR PROPHETIC POSSE, TRIBE, FAMILY AND SAVE THESE DATES !!!!
Plus, put your mantle to work and come get CERTIFIED IN PROPHETIC CHAPLAINCY and PROPHETIC INTERCESSION. Get on TRACK to be hired as a PROPHETIC CHAPLAIN or PROPHETIC INTERCESSOR.
YOU DON'T WANT TO MISS THIS PROPHETIC CONVOCATION!!
LEARN WHAT IT REALLY TAKES TO BUILD YOUR PROPHETIC ECONOMY FOR THE KINGDOM AND YOUR HOUSEHOLD.
If you're a MARKETPLACE PROPHET, MARKETPLACE LEADER, CREATIVE PROPHET or a prophetic leader expecting to learn HOW to build your prophetic economy GOD'S WAY, don't miss this year's PROPHETIC CONVOCATION!
I DON'T CARE WHAT YOU'VE BEEN THROUGH, NEVER FORGET, YOU WERE PROCESSED FOR HIS GLORY!!
GRAB YOUR EARLY BIRD SPECIAL RIGHT NOW FOR THE AWESOME INVESTMENT OF $75 FOR ALL ACCESS!
RATE INCREASES ON AUGUST 1ST to $150- DON'T MISS OUT ON THIS SPECTACULAR SAVINGS!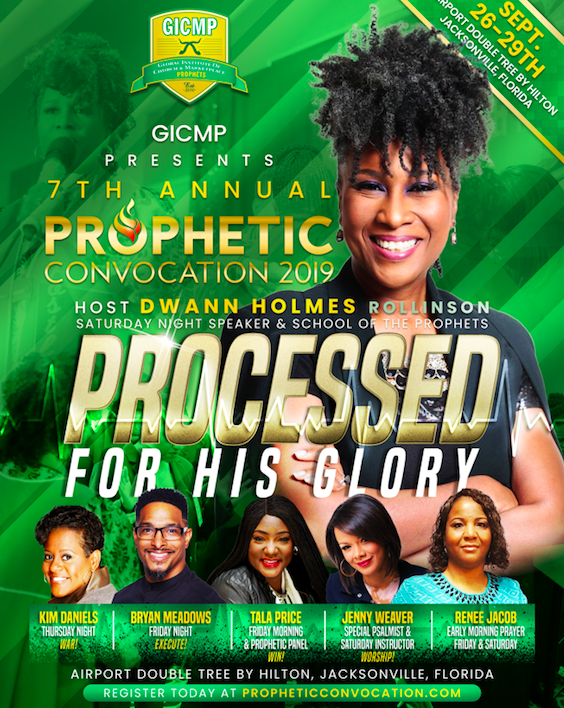 THESE GICMP PROPHETS AND PROPHETIC VOICES WITH SPECIAL GUEST TALA PRICE OF NEAR,
WILL BE ON OUR PROPHETIC PANEL THIS YEAR at PROPHETIC CONVOCATION IN JACKSONVILLE, FLORIDA!!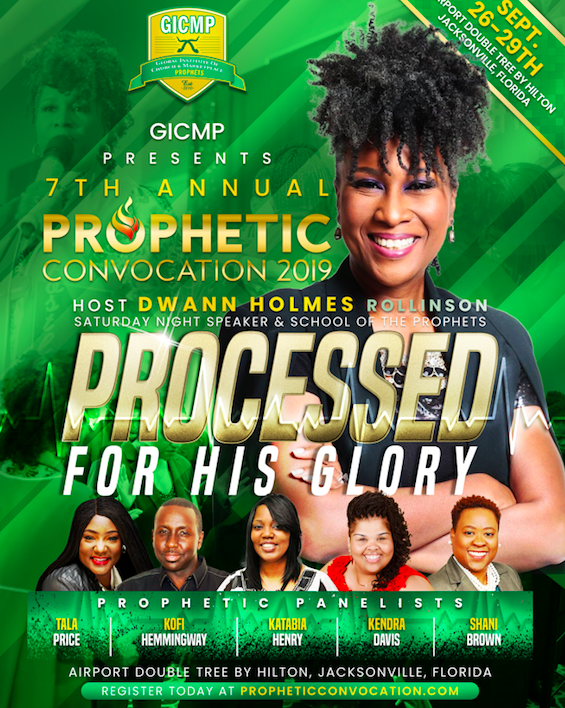 APOSTLE KIM DANIELS

SPOKEN WORD MINISTRIES THURSDAY NIGHT

PROPHET RENEE JACOB

GICMP & IMPACT FOR CHANGE MINISTRIES FRIDAY AND SATURDAY MORNING PRAYER

APOSTLE BRYAN MEADOWS

EMBASSY INTERNATIONAL FRIDAY NIGHT

PROPHET TALA PRICE

NEW ERA APOSTLESHIP RESTITUTION FRIDAY MORNING TRAINER & SATURDAY PROPHETIC PANEL

APOSTLE DWANN HOLMES R

HOST & GICMP FOUNDER SATURDAY SPEAKER, FRIDAY & SATURDAY TRAINER

PROPHET JENNY WEAVER

JENNY WEAVER WORSHIPS GUEST PSALMIST & SATURDAY DAY TRAINER