About this Event
This workshop helps product leaders to develop their company's product strategy.
This full-day Product Strategy Workshop has a highly interactive, step-by-step approach that introduces multiple tools, models, and frameworks. We strongly encourage at least two people from each company to attend and it's fun to bring more. (CEO/product leader pairs are ideal, but multiple product leaders from one company can work together.) If folks attend solo, we will pair them with other product leaders to develop a product strategy, focused on a product that all team members know and love.
During the day, participants will work through a series of models to define their own product strategy, using pre-formatted Google Slides. These models range from the "GLEe" model (Get Big, Lead, Expand), which encourages long-term thinking, to the "DHM" model, which helps teams discover how to delight their customers in hard-to-copy, margin-enhancing ways. As the day progresses, teams will pull their work together into the SMT model to synthesize their strategies, metrics, and tactics. They'll also bring their product strategy to life with a four-quarter rolling roadmap. Towards the end of the day, teams will present their product strategy and get feedback.
The workshop ends with a simulated "Quarterly Product Strategy Meeting" with four modern-day Netflix case studies, demonstrating how Gib utilized quarterly product strategy meetings at Netflix to put strategy into action on an ongoing basis.
Below is the agenda for the day:
Note: Doors will open at 8:30 am with a light breakfast. We will start the workshop at 9:00 am sharp. We will cover a lot of material in one day so there's no time to dawdle! The workshop ends at 5:00 pm but we'll have a little "happy hour" afterward -- it's a good opportunity to get to know your product leader peers in a more casual setting.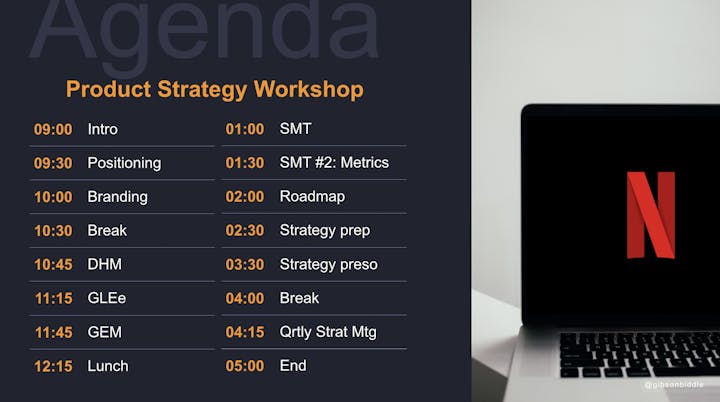 Organizer Description
About Gibson Biddle. In 2005, Gib joined Netflix as VP of Product, helping the company grow to 20 million subscribers. In 2010, he became Chief Product Officer of Chegg, a textbook rental company that went public in 2013. Today, Chegg engages 10M students/year and has a market cap of $5 billion. Gib is now an adviser for multiple consumer tech companies and a board member at NerdWallet, a SF-based fintech startup. For the past three years, Gib has also been a guest lecturer in entrepreneurship at Stanford.