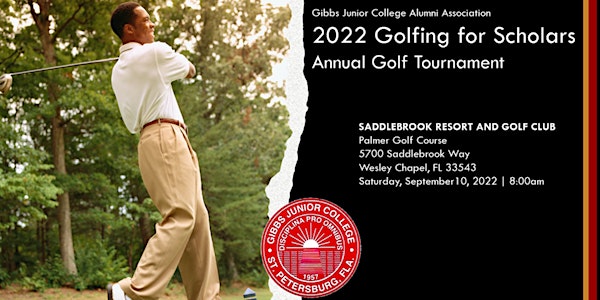 Gibbs Junior College Annual Golfing for Scholars Golf Tournament
Location
Saddlebrook Resort and Golf Club
5700 Saddlebrook Way
Palmer Golf Course
Wesley Chapel, FL 33543
How can you have fun and provide scholarship support for students? By playing in the GJCAA Annual Golfing For Scholars Tournament.
About this event
Gibbs Junior College Alumni Association, Inc. is hosting its 14th Annual Scholarship Golf Classic on Saturday, September 10, 2022 at Saddlebrook Resort and Golf Club; one of the premiere golf courses in the country. Our theme this year is "Golfing for Scholars." We are proud of our history and are excited about our future.
The golf tournament is a great opportunity for you to participate in "Keeping the Legacy Alive" by supporting our scholarship endowment. The alumni association, through your support, has awarded more than 57 scholarships to deserving minority students attending the St. Petersburg Gibbs Campus located in St. Petersburg, Florida.
The Golf Tournament Committee has worked long and arduous hours to ensure that this event is one that you don't want to miss. Come join us for a weekend of great golf, food and entertainment. The kickoff event begins Friday evening September 9th at 6 p.m. with a Welcome Reception in our hospitality suite at Saddlebrook Resort and Golf Club. The golf tournament will tee-off at 8 a.m. Saturday, September 10th on the Palmer Course. The tournament will be followed by a luncheon and awards ceremony.
Saddlebrook Resort and Golf Club
5700 Saddlebrook Way | Palmer Golf Course
Wesley Chapel, FL 33543
DO NOT USE CREDIT CARD OR PAYPAL OPTION WHEN CHECKING OUT. PLEASE ONLY USE THE INVOICE AND CHECK BY MAIL OPTIONS.
Come celebrate the weekend with us by "Golfing for Scholars." For more information, please contact Rufus Lewis, Tournament Coordinator at (813) 876-9654 or lewis.rufus@aol.com. You may also contact GJCAA president, Bill McCloud regarding sponsorship opportunities at (813) 852-2481, bhmcloud@verizon.net, or visit www.GibbsJuniorCollegeAlumni.org.