GiantBug Education- SeaCoast Kite Design and Flight Competition- Win an Apple Watch

Saturday, June 6, 2015 from 2:00 PM to 5:00 PM (EDT)
Event Details
SOLD OUT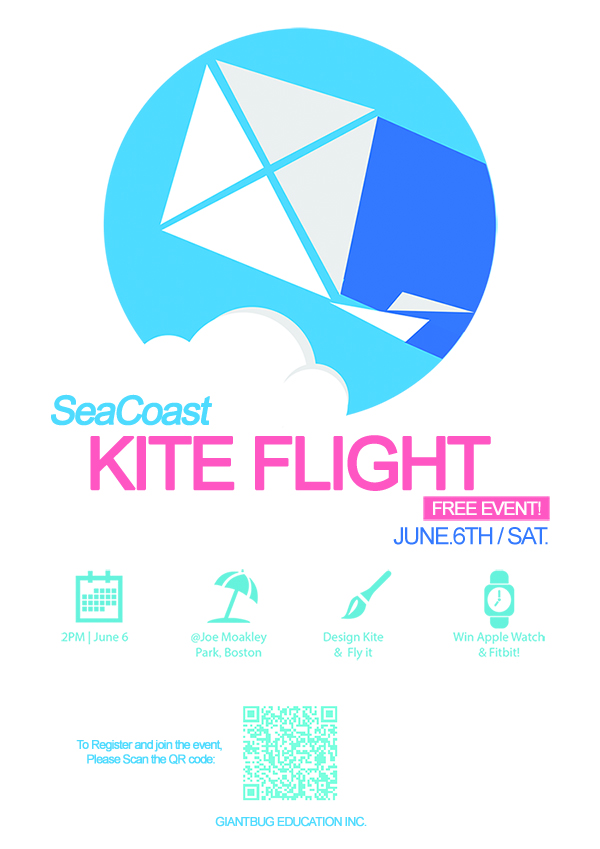 We're giving away 2 Apple Watches and 3 FITBIT wristbands as well as gift certificates to our classes during this high-flyn' event.
Attendance is limited , Easy Red Line access and Free Parking.
2 PM:

Kite Decorating Competition: We provide you with a blank kite, paint and an hour to design your kite. Best voted design wins an Apple Watch. After you design it, use your kite to compete in our longest-flight competition.

3 PM:

Kite Flying Practice

4 PM:

Longest Flight Competition: (No experience required) Longest flight wins an Apple Watch. If after an hour multiple kites are still flying- we will give away the Apple Watch with a raffle consisting of those left.

4:30-5 PM:

3 GiantBug scavenger hunts: We're giving away 3 fitbit wristbands to each person who find the most "giant bugs"

Those who come are all entered to win a gift certificate to use on our courses. ($=giantbug money)
_________  
On Saturday June 6 at 2 p.m., GiantBug Education is celebrating the grand opening of its non-traditional, community taught education classes and spotlights called DeBored with a kite flying event in Joe Moakley Park, Boston. GiantBug Education wants to invite everyone in Boston to celebrate their own new beginnings and their wishes for prosperity while enjoying beautiful spring weather.
GiantBug's Kite event will let participants design their own kite and decorate it with their hopes and dreams for the future and then let it soar. 
This is the perfect time for students or young professional to take a breather from the stresses of work or school. Enjoy the weather while letting dreams and aspirations for the future fly. 
 SCROLL DOWN FOR EXACT LOCATION and EVENTS SCHEDULE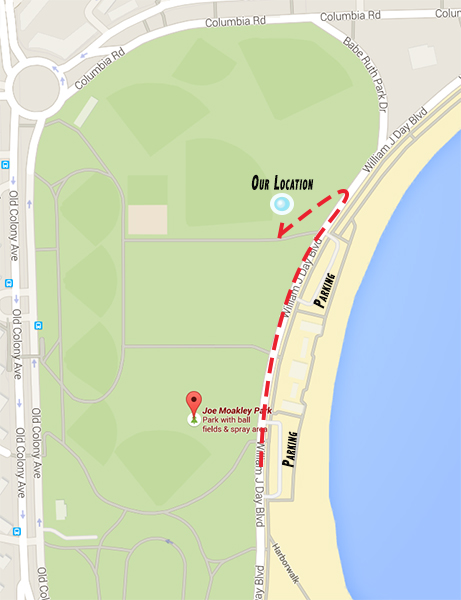 ---
EVENTS AND TIMES:
2 p.m. KITE DESIGN
Starting at 2 p.m. we will have 1 hour for kite designing.
You must have selected the design-your-own-kite to participate in this segment and win the Apple Watch. The Apple Watch will be awarded based on a vote of best design at the end of the event. The winner must have designed the kite on site.
(this kite allows you to participate in all three events)
Design your kite prize list:
1st Prize: Apple Watch
2nd Prize: 200$ Gift card to GiantBug Education
3rd Prize: Portable Charger Bank
---
3 p.m. PRACTICE FLYING KITES
We will have an hour of practice kite flying with a kite flying professional to teach those interested.
---
4 p.m. KITE FLYING LENGTH COMPETITION
We will have a competition to see who can fly their kite the longest and the winner will recieve an Apple Watch.
To enter this portion of the event, you can either bring your own kite or use one of our pre-desiged kites or use the kite you designed earlier.
Pre-designed kites are first-come-first-served in terms of patterns and art.
Kite flying length prize list: 
First Prize: Apple Watch
2nd Prize: 200$ Gift card to GiantBug Education
3rd Prize: Portable Charger Bank
---
4:30, 4:45, 5 p.m. GIANTBUG SCAVENGER HUNTS
Located around the park are giant bugs! Find the most bugs in 15 minutes and bring them to us! The person who finds the most bugs during this event will get a fitbit wristband. There are three scavenger hunts. (Free to enter)
---
These giveaways will be  raffles and the drawing will be at 5. 
(must be on site to win all prizes.)
**We will not be held liable for any onsite injuries due to sports activties.
FREE EVENT IN BOSTON JUNE! 
When & Where

Joe Moakley Park
1005 Columbia Road, Boston, MA 02127



Saturday, June 6, 2015 from 2:00 PM to 5:00 PM (EDT)
Add to my calendar
Organizer
GiantBug Foundation
GiantBug Foundation is a 501(c)(3) federal tax-exempt educational organization working with schools, programs, and students from all over the world. GiantBug Foundation is devoted to eliminating educational inequality based on race, income or gender while empowering those who are committed to serving underprivileged regions. In order for us to assist more students, especially those with scarce educational resources, we sincerely hope to work with corporations, foundations, and individuals who share our vision and hold the same passion for education.