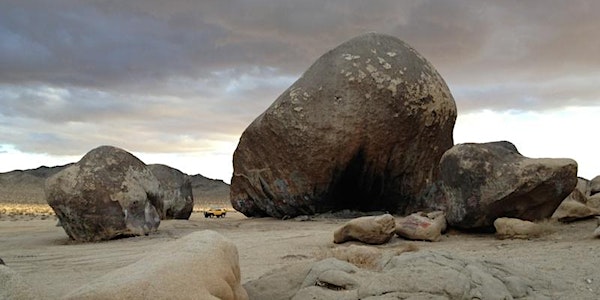 Giant Rock Trail Desert Cleanup
When and where
Location
34.33275, -116.3888
Description
Come and join us Trash Free Earth and our friends, Dehsart, clean a historic area. A place where is known for having the largest free standing boulder in the world, Giant Rock. It was also known for its UFO conventions drawing thousands in the 50s and 60s.
Please note limited space available and registration is required.
If you are interested in volunteering, please register through this Eventbrite page and sign our electronic waiver before the event. Electronic waiver link: https://waiver.fr/p-weS8d
Address - Please use GPS Coordinates (copy and paste to your GPS): 34.33275, -116.3888
Attire: comfortable clothes and closed toed shoes.
Volunteers of all ages welcomed: **Volunteers under 13 years of age must come with an adult. Please sign electronic waiver link: https://waiver.fr/p-weS8d
What's going to happen with the trash we collect?
Dehsart, will endeavor to creatively re-use whatever materials as part of the stage decor for the children's theatre workshop at the Hi-Desert Nature Museum the following week.
TFE will provide all cleaning supplies.
Activities after the cleanup:
*After the cleanup TFE will be heading to Joshua Tree National Park for some hiking. If you are interested in joining us, please let us know the day of the event.
**We are also planning in stopping by at The Integratron . It's a historical structure is a resonant tabernacle and energy machine sited on a powerful geomagnetic vortex in the magical Mojave Desert. Some of us are also doing a Group Pop Up Sound Bath (resevation required. if interested please let us know.) It is known for an unforgettable sound experience for those who seek deep relaxation, rejuvenation, and introspection. All Sound Baths are 60-minute sonic healing sessions that consist of 25 minutes of crystal bowls played live and the balance of the hour to integrate the sound and relax in the sound chamber to recorded music. There is a fee of $35/person. For more details please click here.
***Some volunteers will also be attending Hi-Desert Nature Museum - The Encelia Chamber Ensemble (Featuring pieces from master composers, such as Mozart, Beethoven, Vivaldi, Grieg, and Percy Grainger.) - June 11th at 7PM for details click here.
Thank you for your interest in joining us, we hope to see you soon!
Let's continue to be the change we wish to see in our world. :)