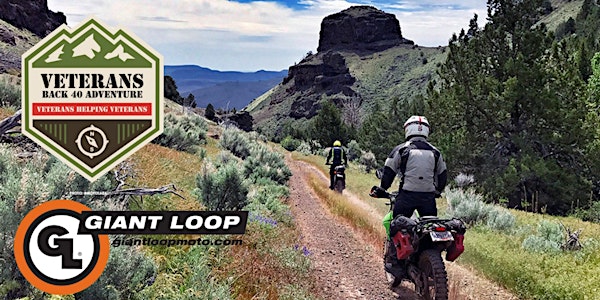 Giant Loop Ride/ Crystal Crane Hot Springs Weekend Ride
9th Annual Giant loop Crystal Crane Hot springs Dualsport/Adventure Bike Ride.
When and where
Location
Crystal Crane Hot Springs 59315 Oregon 78 Burns, OR 97720
About this event
***UPDATE*** Event has been rescheduled for Sept 18th-20th
We are fortunate enough to have 10 spots available for the 9th Annual Giant Loop Crystal Crane Hotsprings event. If you are a veteran of any military branch and are interested "Lets do this!" This event normally fills quickly. Please make sure your dates are clear before applying for this event. We will be guiding 5 Veterans on some of oregons most beautiful areas to ride. Crystal Crane campground hosts one of natures coolest attractions. After a great day of riding you can enjoy a nice soak in crystal cranes natural hotspring. Our goals are to build strong relations with the Veteran community. Building long lasting trustful relationships with one another, and most importantly build comradery.
This event includes
* Two nights of no-hookups camping and hot springs access
* GL drinkware and 2020 GL Ride t-shirt
* Two catered dinners, two catered breakfasts, snacks and beverages
* Extensive GPS tracks library with routes to suite all bike types and riders – four-plus years of collecting and confirming routes
* Games and prizes
* 20% off coupon redeemable at GiantLoopMoto.com or in the GL ADV Shop in Bend, Oregon
* On-sight medical support provided by Adventure Medics
Location: 59315 OR-78, Burns, OR 97720
From Bend, Oregon
Take NW Franklin Ave to NE Greenwood Ave
5 min (1.6 mi)
Follow US-20 E to E Monroe St in Burns
2 h 6 min (129 mi)
Follow OR-78 E/Crane Blvd to your destination
Suggested Packing list- Tent/sleeping bag/Sleeping mat/Hammock, Toiletries/Baby wipes, Headlamp,Flashlight,Toolkit/Extra inner tube,Bug spray,Extra snacks,Phone, Camera, Helmet, Gloves, Waterproof Pants/Jacket/gloves(several water crossings on route),Change of clothes, Sunglasses or Eye protection,Shoes/Flip flops
If a medical emergency arises, one of our staff members will contact 911. We will also carry two separate first aid kits on each ride. All participants attending the VB40A rides will at all-time wear proper D.O.T helmets, gloves, jacket, and ankle supporting boots while operating motorcycle. A VB40A staff member will check your gear each day to ensure that all equipment is safe for that day's ride. If any equipment fails or is not working properly, please notify one of the staff members immediately.
If you are participating in a VB40A ride and using VB40A equipment, Its is requested that a proper PMCS( preventive maintenance, checks, and services) is conducted on your Motorcycle. A staff member will also each day prior to the ride, check your motorcycle to ensure that your motorcycle is safe to operate on the roadway. It is also your responsibility to notify of any problems that happen to the bike along the way.
Veterans Back 40 Adventure is a 501(c)3 non-profit D.B.A as Warfighter Outfitters is originally based out of the Pacific Northwest with a subchapter in the Tennessee region. Our mission is to help veterans build an ongoing community of support and camaraderie by utilizing recreational motorcycle therapy. You might not per se have "problems" but your battle buddy attending our event might need the camaraderie to help him get unstuck.
Our staff consists of current and previous military personnel and select professionals who are passionate about the welfare of veterans. Our program uses the term "dirt therapy" to describe our process of relieving the daily stresses our veterans encounter. Our program utilizes dual-sport and off-road motorcycles to take veterans on multi-day off-road adventures. The adventures are provided with no cost to the veteran.