Calling all Ghouls from out of their tombs. Grab your fancy attire and put on your darkest robes.
About this event
We will be hosting an event at the historic "Immanuel Presbyterian Church" in Los Angeles. This building has been used for many films, TV shows, and music videos by My Chemical Romance, Korn, Ozzy Osbourne, and Eminem (just to mention a few).
Date:
Saturday August 21, 2021 5:00 - 11:00 PM
Sunday August 22, 2021 5:00 - 10:00 PM
60+ Spooky Vendors
Food Trucks
Admission to "The Ghoul Market" is free, but you must register.
Admission to "The Sanctuary Experience" will be $20 for anyone 3 years and older.
The Sanctuary Experience will take you deeper inside the beautiful halls of First Immanuel Presbyterian Church, where you will visit a chapel with a hanging cross. Your tour will end at the iconic Sanctuary where you can relive your own "Helena" dreams in front of the iconic chapel scene. However, there are surprises around every corner (some jump scares may not be suitable for small children).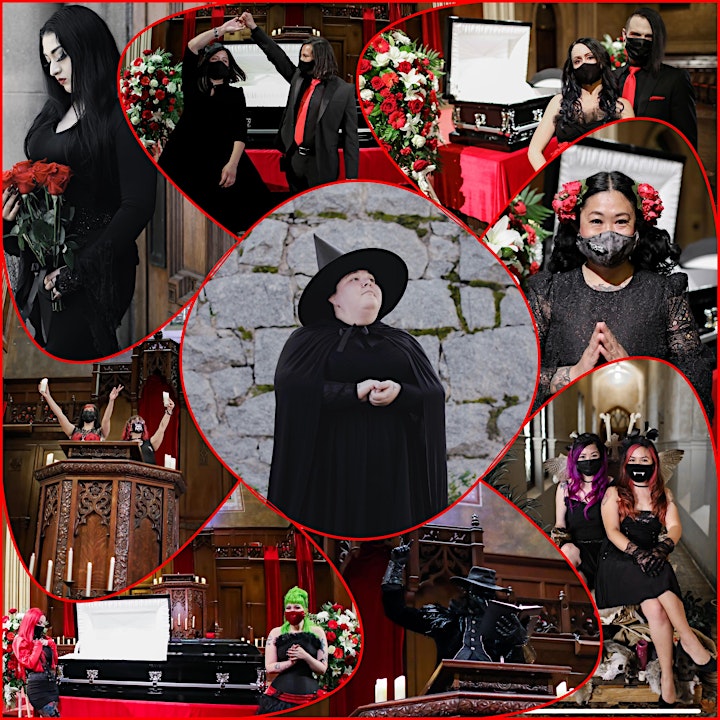 ADD-ON: "A Grim Shoot", this will allow you to schedule a 20-30 minute session with professional photographer Christina Grim. Receive a front of the line pass at all photo-ops inside "The Sanctuary Experience". And, receive 6-10 high resolution, fully edited, images which will be emailed to the address on file. MUST HOLD A VALID "THE SANCTUARY EXPERIENCE" TICKET FOR EACH GUEST, MAXIMUM PARTY OF 5 GUEST PER SESSION. Christina is a photographer with a style as unique as she is.
Also, part of the proceeds from this will go to the Immanuel food pantry which feeds 1,500 families and individuals in the area every week.
Tickets, event information, and updates can all be found at:
Make your final arrangements now! We are dying to see you.....
FREQUENTLY ASKED QUESTIONS
SHOUL I MAKE A RESERVATION FOR BOTH THE GHOUL MARKET AND THE SANCTUARY EXPERIENCE?
You will receive credentials when you enter The Sanctuary Experience which will also get you into The Ghoul Market and a separate reservation is not required.
If you would like to enter The Ghoul Market before your Sanctuary Experience, then make a separate reservation for The Ghoul Market with an earlier time slot.
DO I NEED TO SHOW UP AT MY SCHEDULED TIME
You can arrive anytime after your time slot but not before.
Time slots have proven to help guest have a better experience and avoid overcrowding.
CAN I BRING MY KIDS?
Yes! SpooksieBoo Events hopes to create an environment that the whole family can enjoy. Vendors are hand selected to ensure they fit within our "No profanity/no nudity" policy. Music and entertainment is also edited to ensure it is age appropriate.
CAN I DRESS UP?
YES! Costumes and cosplays are always encouraged! This is your opportunity to hang out with all the like-minded weirdos who love the same things you do.
Organizer of Ghouls' Night Out