Description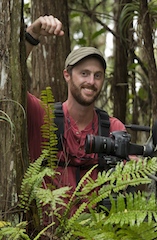 Join filmmaker RIchard Kern as he narrates his 37 minute documentary "Ghosts of the Western Everglades" at the Friends of Fakahatchee welcome back dinner Saturday, Dec. 17 at the Everglades Adventure Center in Everglades City.
Richard Kern is a second generation filmmaker working together with his father, Rich Kern who co-founded the non-profit environmental education organization Encounters in Excellence in 1980. After graduating with a degree in Literary and Cultural Studies from the College of William and Mary in 2002, Richard spent several years working as a visual artist in Miami. In 2009 he joined the Encounters in Excellence team. In addition to writing, filming and producing, Richard presents his films to over 50 Miami-Dade County Public Schools each year, reaching more than 40,000 students across the county.
Although specializing in Florida's amazing natural history, the Kerns have taken their cameras into places all over the world to bring back an environmental message to the next generation. Kern footage has been seen on the Discovery Channel as well as networks in other countries.
The Everglades Adventure Center (formerly the Seafood Depot) is located at 102 Collier Avenue in Everglades City. The event begins at 5 p.m. with a cash bar followed by a 6 p.m. buffet dinner and Kern's presentation.