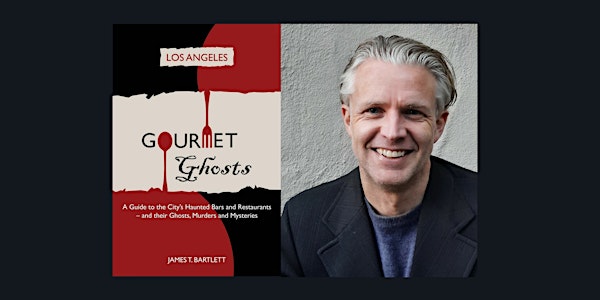 Ghostly L.A. history with James T. Bartlett
Explore L.A. history and ghostly tales with author James T. Bartlett
About this event
Join James T. Bartlett, author of The Alaskan Blonde and Gourmet Ghosts, on the Edendale Zoom Thursday October 20th at 6:00 p.m. PST for some weird L.A. history and local ghostly tales! We'll have all kinds of interesting stories of true crime, murder, haunted places and more to get you in the Halloween spirit.
In Gourmet Ghosts and Gourmet Ghosts 2, Bartlett explores the Southland's most haunted bars and restaurants, the perfect guidebooks if you want to dine with a ghost and enjoy a spooky night on the town. And his brand new book, The Alaskan Blonde, is a fascinating investigation of a notorious unsolved murder from the 1950s, with illicit affairs, gunshots and deadly consquences stretching from the frozen North to the streets of Hollywood. All three are available for purchase and can also be found in our LAPL collection.
Email eden@lapl.org for the Zoom link to join.