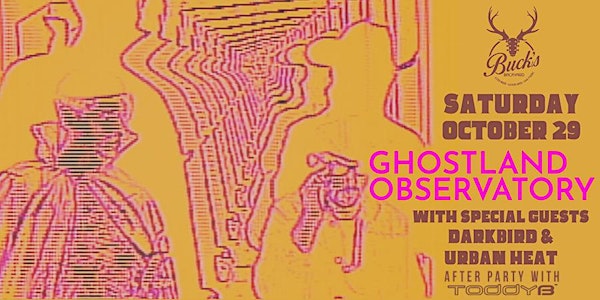 Ghostland Observatory
ALL AGES
With Special Guests Darkbird and Urban Heat + Afterparty w/ Toddy B
Soak up a night of shimmering, electro-cosmic rock music from GHOSTLAND OBSERVATORY sure to keep your feet dancing and spirits high!
When and where
Location
Buck's Backyard 1750 S Farm to Market 1626 Buda, TX 78610
Performers
Headliners
More Performers
About this event
Get here early to savor the sounds of special guests, URBAN HEAT and DARKBIRD! They will be opening the show with electro-rock and post punk sounds to keep you grooving as you gear up for Ghostland Observatory's set. Stick around for the FREE afterparty with live DJ Toddy B!
Darkbird @ 7pm
Urban Heat @ 8pm
Ghostland Observatory @ 9:30pm
-----------------------
Please see the venue map below as a reference when choosing your preferred ticket purchase. Please note that this map is an approximate guide and that tables may change formation as needed. Our ticketed tables are not assigned—instead, they are available on a first-come, first-served basis.
*VIP SKYBOX SEATING: Our brand new VIP Skybox provides attendees with the ultimate concert experience. It is perched above the crowd and right by the stage, so you and your group will have the best seat in Central Texas to see your favorite band. It also comes with dedicated waitstaff and room to relax.
-----------------------
Ghostland Observatory's entire approach to music – sonically, aesthetically, conceptually – is essentially a melding of the two distinctly different personalities of its two members, Thomas Ross Turner and Aaron Behrens. Whereas Turner, the producer/drummer/keyboardist of the duo, finds solace in the minimal, bleak cable-patch squawks of Karlheinz Stockhausen and the analog-disco-thump of Giorgio Moroder, Behrens' interests lie more along the lines of psychedelia, rock and various country and blues artists. The result is a shimmering, pulsing pop music that is at once kinetically alive with Behrens' striking vocals and driving guitar work but also anchored firmly by Turner's percussive beats and Moog-generated melodies and hooks. Common descriptions include "electro-dance rock," "synth-funk" and "Freddie Mercury-helms-Daft Punk."
-----------------------
Lyrics to the first song Kelly and Brian would ever write together set the stage for the romantic waterloo that would become Darkbird. Kelly Barnes left Los Angeles after a broken marriage resulted in a broken band. Just prior to the move, she unexpectedly hit international success, as the vocalist on the massive hit "Get Shaky" with the late DJ Ian Carey. While the track and a few others were financially significant to the ex-wife and waitress, Kelly was ready to explore another path that was more personally expressive.
After a tragic house fire in NYC, Brian Cole opted for a fresh start. As his belongings smoldered in the winter snow, he decided to pack up what was left and head south in search of warmer days and better luck. Ironically, while most go to LA or NYC to make their dreams come true, Brian and Kelly found each other on the musician page on Craigslist in Austin, TX. While they had hoped to leave their pasts behind, inevitably, the heartbreaks found a place they call home in Darkbird.
Darkbird is: Kelly Barnes // Brian Cole // Chris Spencer // Ethan Yeager // Damien Howard // Eric Wilson
-----------------------
Urban Heat are a 3-piece American post-punk band from Austin, TX. The band formed in 2019 when creative center Jonathan Horstmann enlisted Kevin Naquin and Paxel Foley to form a live show based on his analog sound design experiments. The result fuses dark 80's stylings with modern flourishes, with Horstmann's throaty baritone delivering musings on existence and romanticism against an unrelenting industrial gothic pulse. Their live show is undeniably energetic and engaging, earning them slots at Seattle's Freakout Fest in 2021 and SXSW 2020 and 2022. In 2019 Horstmann was selected as a member of Project ATX6, which saw the band's frontperson performing at Thailand's Jai Thep Festival and CMW in Toronto.