About this Event
Just when you were about to commit to Halloween plans, the 20mission crew emerges again with an event that will leave you dying for more!
The city's most haunted house party is bringing its notorious theatrics to Luxx for a night you'll never forget.
Our timeless manor is full of mortifying musicality, apparitional art, petrifying performances, and luxurious lounging. It'd be a ghastly move to flake on this one again!
So drop everything and lock in what you really want, before it vanishes into the night:
https://ghostedagain.eventbrite.com/
Get your hopes up yet again. As always, this will be our best party ever!
👻👻👻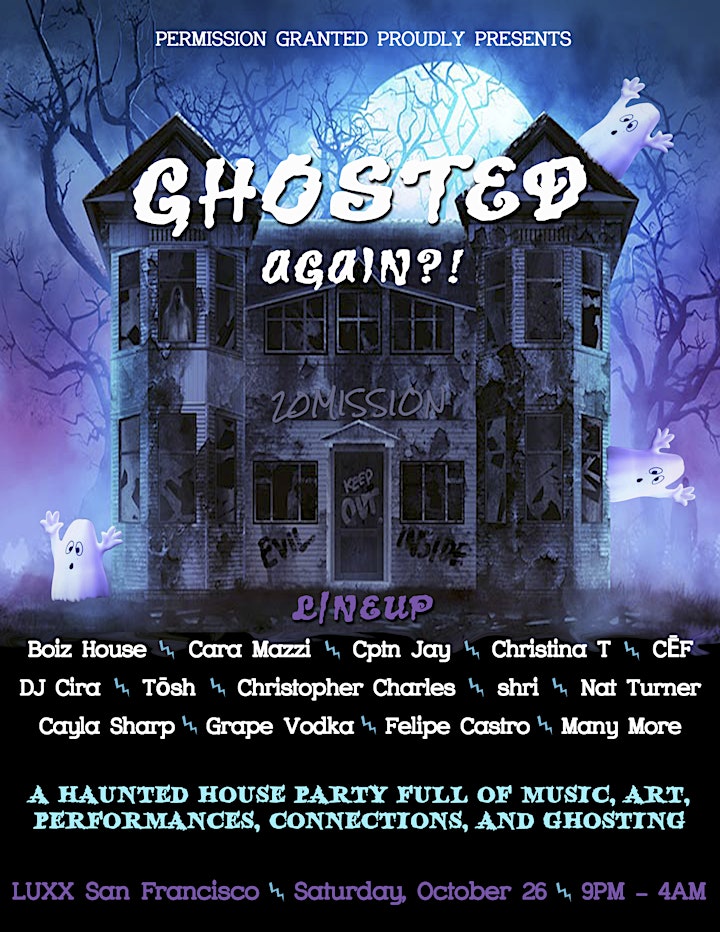 👻 Music Lineup 👻
:: Boiz House | soundcloud.com/boizhouse
:: Cara Mazzi (Demure Circle) | soundcloud.com/cara_mazzi
:: Cptn Jay (Airpusher) | soundcloud.com/cptn-jay
:: STiRTy Crew | soundcloud.com/the-alcazar
:: Christina T (Deep Sea) | soundcloud.com/djchristinat
:: Tōsh (Hotel California) | soundcloud.com/toshbeats
:: CĒF (Demure Circle) | soundcloud.com/cefmusic
:: DJ Cira (Booty Patrol) | soundcloud.com/djcira
:: shri | soundcloud.com/shri-bear
:: Many More (Icarus) | soundcloud.com/beau-gaerlan
:: Cayla Sharp | soundcloud.com/cayla-sharp-1
:: Nat Turner (The Disco Den) | soundcloud.com/natalie-turner
:: Grape Vodka | soundcloud.com/grapevodkayo
:: Felipe Castro (The Icaros Experience) | soundcloud.com/flipca
👻 Art & Activities 👻
- Various photo booths including Snap Yourself!
- Interactive installations by LoveTech
- Sexy gambler games by Casino Risqué
- Roaming photography including Dirk Wyse
- Face painting by Cassandra Love Lambert
- Chair massage by David Llewellyn Holcomb
- UV Paint Room by Mehdi Aourir
- Tasty Halloween Treats by Diana E Brooks
...and so much more!