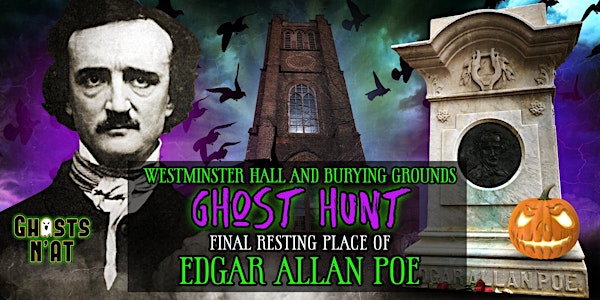 Ghost Hunt | Edgar Allan Poe Gravesite | Westminster Hall & Burying Grounds
9/24/22 - Go on a REAL guided ghost hunt of the Westminster Hall & Burying Grounds in Baltimore, MD - Edgar Allan Poe's final resting place
When and where
Location
Westminster Presbyterian Church 515 West Fayette Street Baltimore, MD 21201
Refund Policy
Contact the organizer to request a refund.
Eventbrite's fee is nonrefundable.
About this event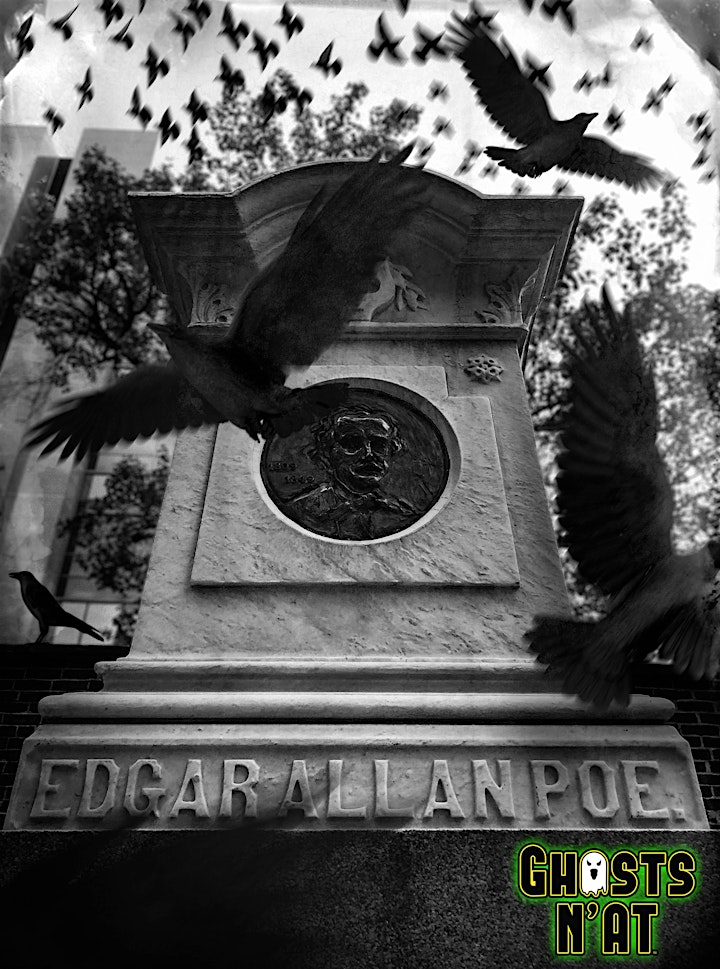 THERE ARE ONLY 10 TICKETS LEFT FOR THIS GHOST HUNT!
...." QUOTH THE RAVEN, "Nevermore."
Welcome to the Westminster Hall & Burying Grounds in Baltimore, Maryland - the final resting place of Mr. Edgar Allan Poe.
With respect, we will be leading you on an adventure of a lifetime - a REAL guided ghost hunt of Westminster Hall, the cemetery - including Poe's final resting place, and the catacombs hidden in the depths below this former church.
On Saturday September 24th 2022, you will enter the gates of Westminster Hall with Ghosts N'at - a team of experienced paranormal investigators armed with the latest and greatest in paranormal tools and technology. The ghost hunt is a guided ghost hunt. Together, We will attempt to make contact with "The Other Side" and perhaps we will reach the legend & genius that is Edgar Allan Poe...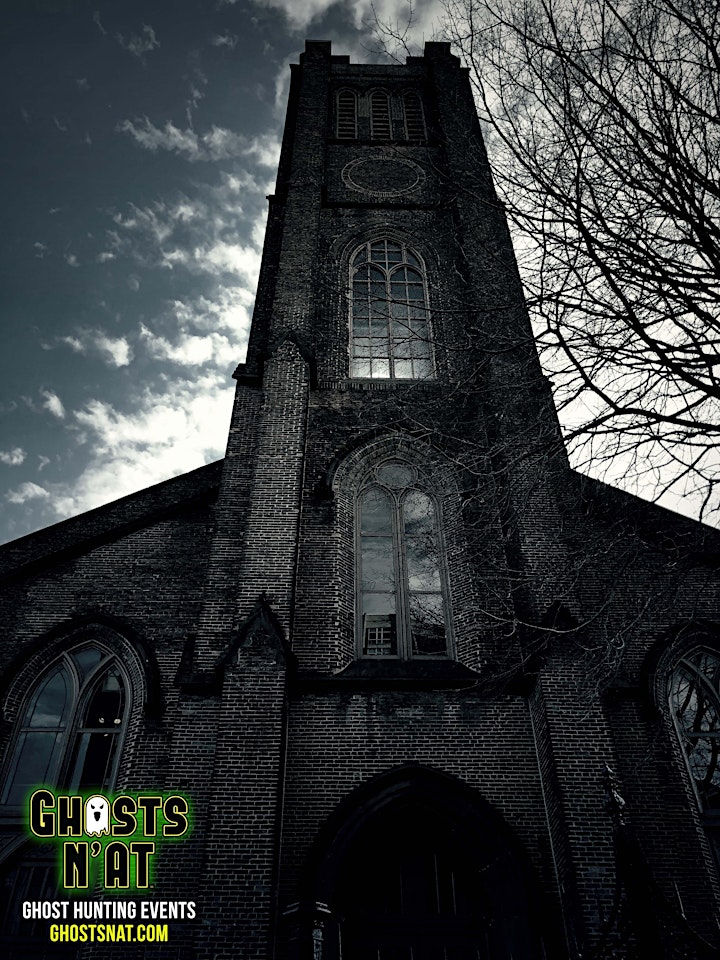 The graveyard was established in January 1787 by the First Presbyterian Church of Baltimore. Over the next 60 years, the "Burying Grounds" became the final resting place for many important and influential Baltimore citizens.
On October 4th 1849 - Edgar Allan Poe was found in Baltimore near East Lombard Street. He was sick, semi-conscious, and wearing clothes that were not his. He was taken to a local hospital, and reported to be "delirious". 4 days later, Poe died at 5 A.M. He is said to have repeatedly called out the name "Reynolds" on the night before his death. His cause of death remains a mystery to this day.
Poe's funeral was held Monday, October 8, 1849. It was a dark and dreary day. His service lasted only 3 minutes, with no sermon given due to "too small a crowd".
Originally, Poe was laid to rest in the back part of Westminster cemetery without a headstone. In 1875, Poe was exhumed & moved to the front part of the cemetery along with a new monument placed in his honor. Poe's late wife and other family members now rest alongside him.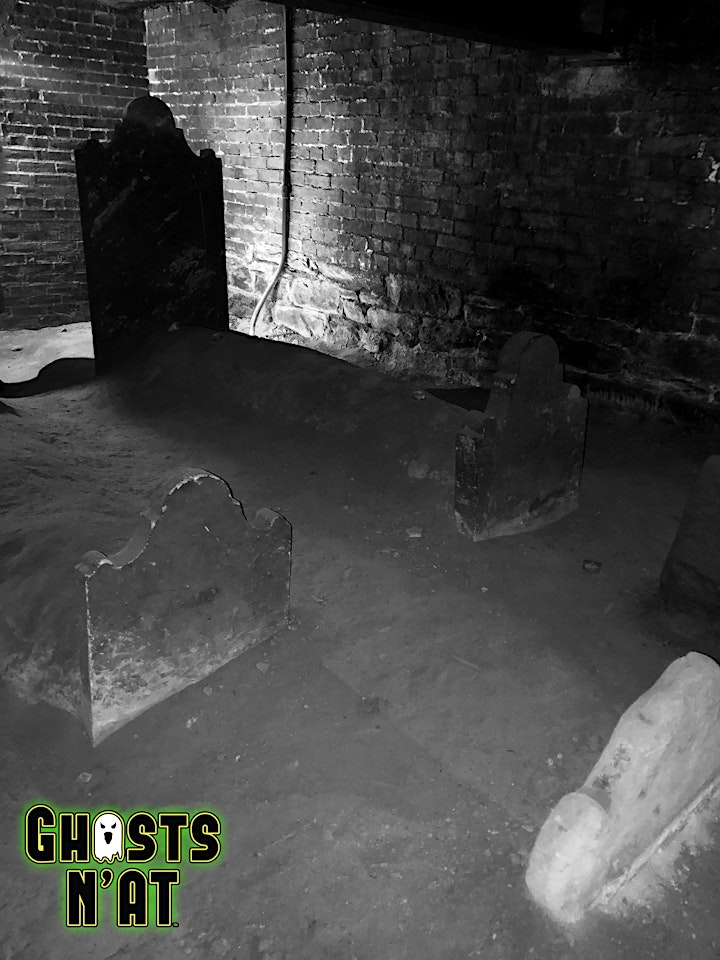 In July 1852, Westminster Presbyterian Church was erected over top the graveyard, its brick piers straddling gravestones and burial vaults to create what later Baltimoreans referred to as the "catacombs." The congregation of this church continued until 1977.
Rumors of ghosts & hauntings have long be associated with Westminster Hall. It was featured on an episode of "Creepy Canada" - with paranormal investigators discussing potential phantoms.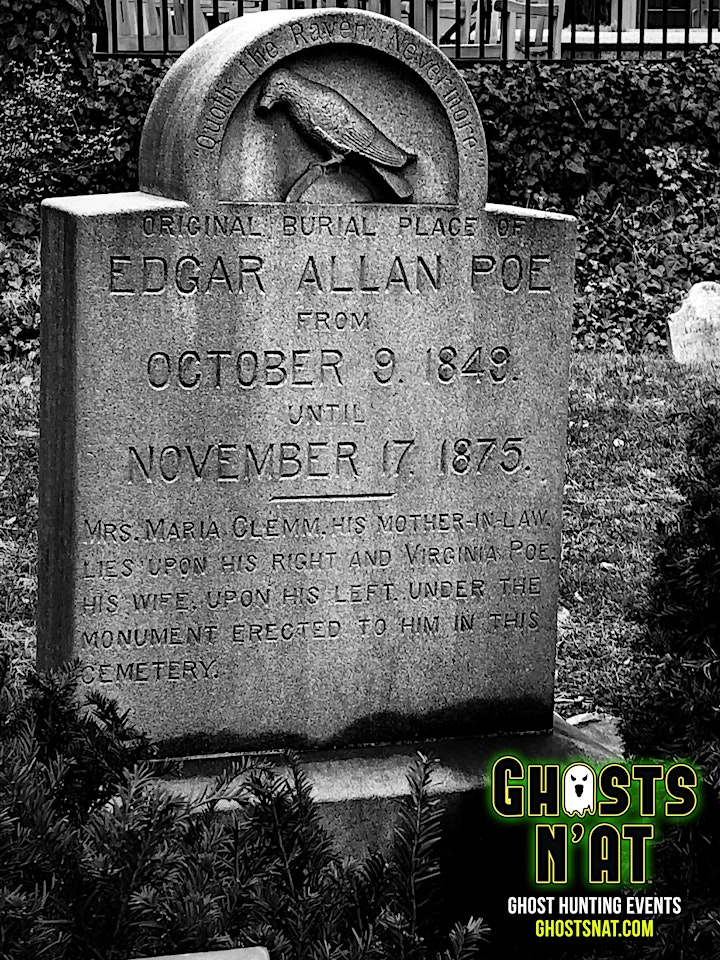 ***SHOULD THIS EVENT BECOME AFFECTED BY COVID-19, REFUNDS WILL BE OFFERED! YOUR PURCHASE IS SAFE WITH US***
*Participants must be 18 years of age or older. Minors 12 - 17 are permitted with parent or guardian.
*You are required to bring a flashlight.
*Tickets are non-refundable.
*Alcohol is not permitted during the ghost hunt. If we feel that you are under the influence, Ghosts N'at reserves the right to remove you from the property.
*We are not responsible for tickets purchased through third parties
Ghosts N'at is the #1 Paranormal Experience! Learn more about Ghosts N'at at www.ghostsnat.com